Dublin manager Dessie Farrell accepts that his side have had a comfortable passage to the All-Ireland final but has warned his players that Mayo will pose a much tougher challenge.
The Dubs have won their four championship games by an average of 17 points and had 15 to spare over surprise Ulster champions Cavan in the semi-final.
In his first season in charge, they appear to be cruising to a sixth title in a row but Farrell is wary of the opponents that ran Dublin to within a point in 2016 and '17.
"It doesn't worry us but it is a fact that there is a big step up in standard now," he said of his side's unimpeded progress to date.
"Invariably, when you get to this stage of the competition, more is expected and demanded off you in terms of your own level of performance.
"Having watched Mayo play (Tipperary) and seen them come through the Connacht campaign, they have been hugely impressive.
"James Horan has done a great job in transitioning so many new players in. They have been playing a lovely brand of football and bringing a level of intensity, injecting a lot of pace to their game.
"They are a formidable opposition. There's a huge rivalry between Dublin and Mayo over the years and Saturday is going to be no different."
Mayo have five goals and it was Cillian O'Connor shining again in the confusion of the Croke Park fog #RTEGAA @RTE2 @RTEplayer pic.twitter.com/1VNFks5SKL

— The Sunday Game (@TheSundayGame) December 6, 2020
Mayo crushed Tipperary by 5-20 to 3-13 in their semi, and Farrell has been focusing more on the 'for' column in that scoreline than the 'against'.
"It was a huge score that Mayo racked up," he reflected. "Cillian O'Connor had a fabulous individual performance.
"They have added some new players to their forward division. Tommy Conroy is in the full-forward line and has been an exceptional player this season as well.
"They have injected pace throughout. They are formidable up front and will test us to the limit defensively.
"I know there has been some speculation about the Mayo defence but to be fair I think they knew the game was in the bag,
"They have some some really solid experienced defenders and the new guys that have come in have done a really good job all season as well.
"So we won't be reading too much into any suspected frailties."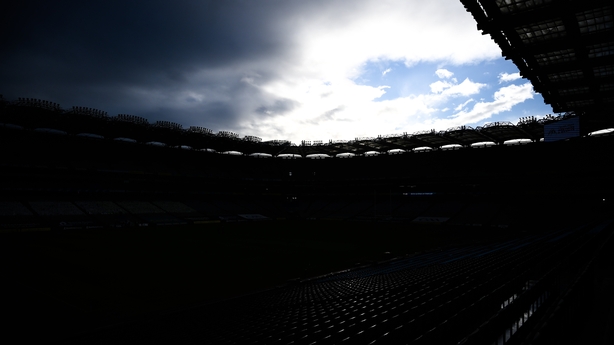 Covid-19 has ensured that Saturday's final will be the closest one ever to Christmas Day, eclipsing the 1916 decider, which was played on 17 December of that momentous year.
Farrell says the unusual timing adds to the sense of the occasion at the end of a season it was feared might not be completed.
"There's a sense of excitement for sure, he said. "It's an All-Ireland final in Christmas week, something very different.
"It's been a tough year for a lot of people but there is a lot of optimism and light at the end of the tunnel, in terms of the vaccine roll-out and maybe a very different 2021.
"It's been challenging for players as well but it's great to have got the games back on and got to this point. It's been important that people have something to look forward to.
"Players from both sides would very much welcome a nice Christmas present this year."
Watch the All-Ireland senior football final between Dublin and Mayo live on RTÉ2 from 3.40pm Saturday, listen to live commentary on RTÉ Radio 1 or follow our live blog on RTÉ Sport Online and the RTÉ News app. Highlights on The Saturday Game (9.55 pm RTÉ2).