For the second time in three games, Cavan overturned a major deficit at the weekend en route to an improbable victory and a place in a second successive Ulster final.
Manager Mickey Graham credited the "calmness" of the half-time atmosphere with enabling his players to focus on the task at hand but on Sunday, they were aided by a disputed second half penalty, which left Down feeling aggrieved.
Kevin McKernan was ultimately adjudged to have picked the ball off the ground after a rugby union like scramble in the Down goalmouth. The Down manager Paddy Tally lambasted the decision in post-match interviews but Cavan weren't inclined to spend too much time pondering their good fortune.
Graham was adamant it was time his team got a bit of luck, saying they'd only registered "three scoreable frees" in the course of the Ulster championship, and he insisted that, on balance, the bigger teams "get the big calls".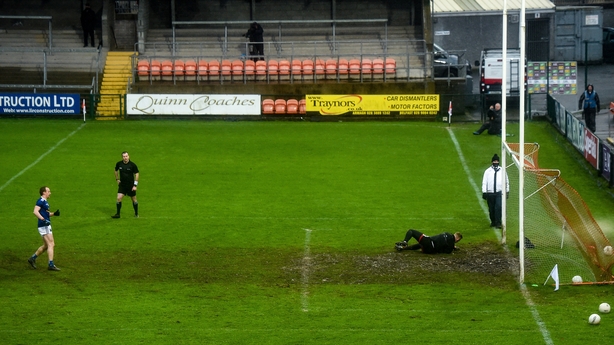 In the wake of the weekend's other Ulster semi-final, there was some discussion as to whether Michael Murphy gets enough protection from referees but Graham jokily batted away the notion, saying: "Maybe, we need protection from Michael Murphy ourselves!"
"It always seems the big teams get the big calls. Do they get the easier calls? Probably at times, the referees know all these players by first names.
"The top teams are probably playing regularly with the top referees and they probably know them a lot better. At times, they seem to be able to communicate stuff to referees, whereas if we ask a question, we're basically told to go away!
"Teams do train for that, getting referees onside, getting umpires onside. Some big calls can be made and influence a game.
"Donegal are a top team. They're not up there for nothing. It's not all about football - maybe we're naïve in Cavan because we haven't been dining at the top table for a long time. We need to get a wee bit cuter down here."
Graham knows there is an intense craving for provincial success in the county as they seek a first Ulster title in 23 years.
A glance at the roll of honour in Ulster is both a reminder of Cavan's traditional pedigree but also of a paradise lost.
The county remains way ahead in the provincial roll of honour - with 39 Anglo Celts won compared to 17 for Tyrone in second place - and this despite having only won one Ulster title in the past half-century.
Graham was a member of that victorious squad back in 1997, coming on as a sub in the closing minutes as they edged out then National League champions Derry in a nervy decider in Clones.
Of course, those neutrals who do remember the game primarily recall it for Jason Reilly's match-winning goal and his accompanying 'Ravanelli' celebration, much in the vogue at the time. Another tidbit to be reminded of, particularly in this week, is the identity of Cavan's manager that summer, Donegal's Martin McHugh, the star-man in their All-Ireland victory five years earlier.
"Considering the tradition and everything else that's gone with it, it definitely has been too long," Graham told RTÉ Sport.
"Cavan have the most amount of Ulster titles. To think that we haven't won since '97 and before that it was '69.
"It's a long, long time in the making. Cavan people crave for success and unfortunately, we've had nothing to shout about in 23 years. It's long overdue."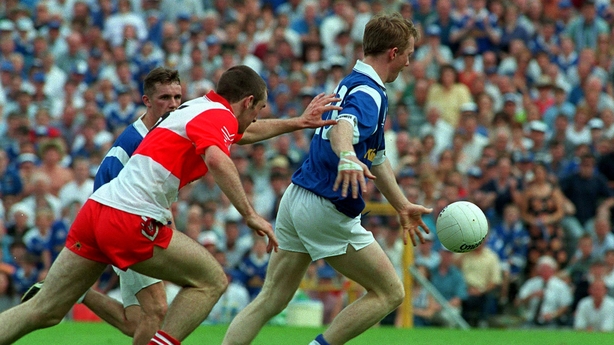 For much of the modern era, reaching provincial deciders has proved beyond Cavan. Prior to Graham's arrival as manager, they had contested just three in the past 35 years (1995, 1997, 2001).
Now in his second season, Graham has taken them to two in a row. On taking the job at the end of 2018, he identified his immediate task as altering the culture within the set-up.
"To be successful at anything, the culture within any organisation, whether it's business or sport, needs to be right.
"If you've the right people with the right mindset, and you set standards for yourself and demand the same standards from everybody, then you'll find you'll get a group a lads who will come together and deliver.
"We felt there was a lot of lacking at the time (in Cavan) and we tried to get the lads to take responsibility. This is their team.
"They have to look out for each other. It's not all about football. They have to think outside of football and the role models that they are."
Oddly, Cavan's stellar form in the Ulster championship under Graham is sharply at odds with their ropey league record. As well as leading his side to successive Ulster deciders, Graham has presided over back-to-back relegations.
2020 looked like being a write-off for Cavan after their relegation to Division 3 in bizarre circumstances in the opening weeks of the re-start.
However, in an era when teams are increasingly inclined to judge their season by league performance, Graham avows a more bluntly traditional approach.
"It's all about championship football. I said to the lads, while the league is important and it's important to be playing against top teams, it's all about championship.
"We felt were a bit disjointed during the league because we had injuries and there was also a lot of Covid around Cavan at the time. It hit us badly and our preparation was disrupted.
"As the weeks went on, we felt we started doing things better, getting a bit more cohesion within the group. Here we are six weeks later and we're still playing football."