From the glamour of a school sports hall in Dublin to the paradise of Freeport, Grand Bahama... Pat Spillane was about to realise there was a big difference between Irish Superstars and International Superstars.
The Kerry wing-forward was the inaugural winner of the popular sports entertainment show, which basically pitted the country's top athletes off in a televised sports day.
His prize was a trip to the Caribbean and the chance to make some serious money against some of the world's top sportspeople.
The school teacher from Templenoe was an amateur among pros, but he had the chance to pocket up to €3000 per event if he could win.
Instead Spillane left frustrated, sunburned and wondering what might have been, after the offer of a trial with the San Diego Chargers.
Eleventh of 12 competitors, at least the eight-time All-Ireland winner could say he got the better of Brazilian racing car driver Emmerson Fitipaldi, a man who sat down for a living.

On the latest episode of the RTÉ GAA podcast, Spillane tells us how he refused to be interviewed by the ABC broadcaster (and Formula 1 legend) Jackie Stewart after a poor showing in the soccer penalties and how he should have perhaps refused a separate interview with RTÉ's own Jimmy Magee, after the late broadcaster revealed Spillane's final prize of €2100 to the nation and Revenue. 
"How did I do? I was crap at it. I was up against guys like Dwight Stones, who was the world high jump champion at the time, Joe Theissmann, who was one of the great quarterbacks from the Washington Redskins, Greg Pruitt of Cleveland, Emerson Fittipaldi the racing driver."
The heat was definitely a factor for the fair-haired Spillane ("I could have played with Cork without buying the jersey, because I had red arms and a white body") but he saw a cooler opportunity to cash in.
"You got 10 points if you won, and 10 points were equal to $3000, now $3000 in 1979 was  good money. And if you came fifth you got one point, which was $300.
"There was one event, swimming, I couldn't really swim, I was a bad swimmer at the time, I remember the night before, you chose your event, and only four had chosen to go in the swimming. I suddenly realised, Jesus, if I enter the swimming, although I would probably struggle to get to the end of it, I would get $300.
"And I came last by a mile but I got $300 for it." 
We need your consent to load this YouTube contentWe use YouTube to manage extra content that can set cookies on your device and collect data about your activity. Please review their details and accept them to load the content.Manage Preferences
However Spillane is still haunted by his performance in what should have been his best event.
"The one event, I swear to god, where I had a chance and could have done it blindfolded was the soccer. You dribbled around a couple of cones and you beat the goalkeeper. You had three shots, three dribbles. Do it in the fastest time and score the three goals.
"The rest of them were crap at this, absolutely brutal, and there was an American in goal who couldn't block anything. I had the $3000 in my pocket before I had even started. This was money for jam.
"I rattled off the first one and didn't I miss the shot, then I missed the second one and blew up altogether. I didn't know if I scored with one, but I finished last anyway.
"You know who was the interviewer for NBC television? Jackie Stewart, the racing driver, he was doing the interviewing. I refused Jackie an interview after that. I mumbled a few F's and blinds."
RTÉ's Magee had been given the tough gig of accompanying Spillane to Grand Bahama and when it was all finished and Canadian soccer player Brian Budd had been crowned champion, Spillane spoke to Jimmy.
"It's in the archives somewhere, an interview where Jimmy says, 'well Pat you're going home with $2,500'... I can't remember the exact amount. And then you see me say, 'I don't know Jimmy if you should mention the money, because of the tax'."
Another opportunity arose that could have made this money seem inconsequential and could have changed the face of Gaelic football, and the NFL, forever.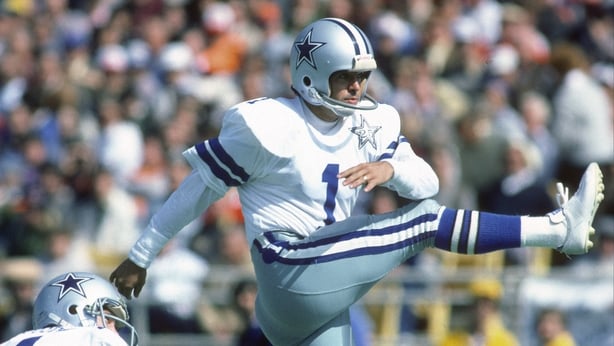 "There was an NFL kicker, from the Dallas Cowboys, Rafael Septien (above), he was competing as well. ABC or NBC decided to do a kicking competition between myself and Septien.
"We went four for four and he got the fifth one and then they asked me if I would do punting, would I punt the ball.
"And sure I could punt the ball... it went to the other island in the Bahamas. Believe it or not, there was a guy there from the San Diego Chargers and he offered me a trial.
"It was 1979 and Kerry were starting to go well and I decided I'd stick with the football."
Sure, with €2100 in his pocket heading back to 1970s Ireland, what need had a future nine-time All-Star for the NFL?
Listen to the RTÉ GAA Podcast at Apple Podcasts, Soundcloud, Spotify, or wherever you get your podcasts.