Often you don't get what you deserve in sport and Kerry natives reflecting on an epic performance by their young team in Croke Park over the weekend will certainly feel they had done enough to thwart Dublin's history chasers.
The harsh reality of championship football is that great champions - particularly those with the reservoir of character as deep as this Dublin team's - have to be shot with a silver bullet after they've been stabbed to make sure they're not coming back.
It appeared that the Kingdom had done all that was asked of them. They matched Dublin around the middle third to create a clean forward supply line and produced a defensive display that very few observers anticipated. Ironically, it was their more than capable attack that left an exposed Dublin in the game.
Wastefulness in front of the posts early in the game and composure in building attacks late on gifted the champions opportunities to save themselves when the end was nigh.
Kerry Successes
Peter Keane and his coaching team got so many things right in preparation that it is difficult to point to gaps in hindsight with any great conviction.
The addition of Jack Barry enabled the challengers to match him against Brian Fenton to great effect from open play, but it also gave them an additional ball winner around the middle third to go after longer kick outs. Parity was achieved in this key facet of the game – something that looked highly unlikely in advance.
Dublin realistically only had Fenton and Howard to aim for consistently when they went long whereas Kerry had Moran, Barry and Adrian Spillane - an additional option which allowed them to isolate one of the three in a mismatch regularly.
In defence, the Kerry match ups all worked superbly. We have not seen Sunday's level of aggression, focus and defiance from these Kerry defenders previously. For long parts of the game, Dublin's key architect Ciaran Kilkenny was anonymous thanks to Gavin Crowley's work ethic.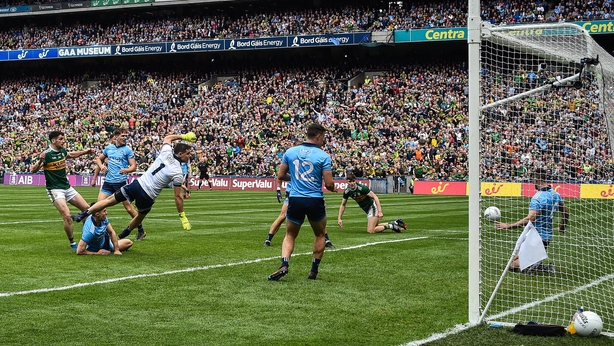 The searing competition for ball that Foley, Morley and O'Sullivan summoned across eighty minutes of breathless resistance meant that Rock, Mannion and O'Callaghan spent much of their time in possession trying to maintain it, rather than creating.
Deploying Paul Murphy as a cover player dropping off the deeply deployed Howard had minimal impact on Dublin's initial build up play, but his positioning offered Kerry markers enough reassurance to aggressively attack the ball. Importantly, Murphy was able to turn Dublin ball carriers back by doubling up and this ultimately forced them into low percentage shots as they tired.
Where Kerry erred in preparation was in planning for Jack McCaffrey, who ultimately dragged the champions back from the brink. Its not as simple as matching McCaffrey's pace - as Gavin White undoubtedly can - to blunt his threat.
Reducing the 2015 footballer of the year's influence on any game requires a challenge that changes his mindset. Paddy Durcan was able to achieve this expertly for Mayo in the semi-final because he offered a real and present threat in every attack. McCaffrey was forced to spend mental and physical energy closing Durcan off and attacking himself carried the worry of being countered.
White offered no threat in McCaffrey's mind and so he focused on his own game - to superb effect. As Durcan has illustrated, McCaffrey's attacking runs open up space that can be effectively exploited behind him. White offers the pace required but not the threat. Stephen O'Brien offers both and could play a significant part in curbing and exploiting McCaffrey in the replay.
Tactical Errors
Since the lessons learned against Donegal in 2012, Jim Gavin and his coaching team have been almost flawless in their tactical evolution and decision making. Sunday did not follow that pattern.
Defensively, Dublin have tinkered with their system through the super eights and seemed spooked by Cork's successful targeting of Cian O'Sullivan in his traditional cover role in round one of that series. Others have played the role, but their tried and tested model revolves around a designated defender anchoring the defence off a deep working half forward – as Paul Murphy has done for Kerry.
For this final, Brian Howard was designated to provide cover from his middle third berth. Although similar, the difference in timing for cover to arrive caused the Dublin markers no end of trouble.
When Kerry were able to either break quickly off their own kick outs, or turn Dublin over, Howard didn't have time to set up and Cooper, Fitzsimons and Byrne were on their own. This exposed Dublin badly in the opening 20 minutes and Jason Sherlock was deployed several times with adjustments for Howard.
Beginning the game with what is, for Dublin, an unusually casual approach to defensive security highlights a confidence in their own ability to dominate possession bordering on arrogance. Inexplicably, the solution arrived at and mandated by the Dublin side-line was to stop Howard dropping off and instead ask him to press in the middle third, presumably to slow supply to Geaney, Clifford and O'Shea down. It didn't work.
Early ball in the first half continually allowed the Kerry attacking trio to exploit the space Dublin had left behind them and only uncharacteristically loose finishing offered the champions a reprieve.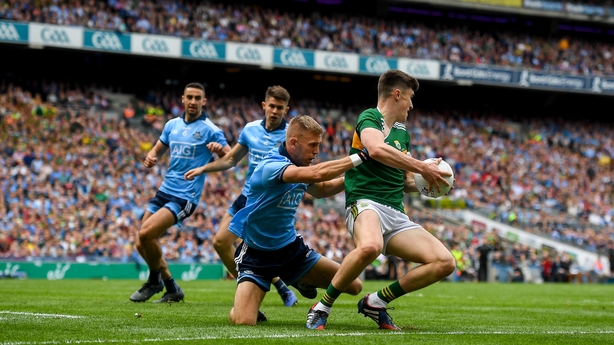 Wear and Tear
It has suddenly become apparent that the miles are starting to add up for Dublin. Perhaps Jim Gavin anticipated exactly this when he mixed the squad up through their National League games and hoped to time the impact of some key older legs for the business end of the season.
Already we had seen signs of significant wear and tear on Philly McMahon, Cian O'Sullivan, Johnny Cooper and James McCarthy. The phasing out of all four began over the winter. However, the lack of presence and leadership at the back in dealing with the Kerry floods must have alarmed Jim Gavin.
When you consider that McManamon, Connolly and Andrews occupy "impact sub" roles then any perception of unlimited depth can certainly be challenged.
Irrespective of how the replay goes, Kerry have served notice that a changing of the guard is imminent and Dublin have a challenge on their hands to rebuild their defence.
Just about enough Composure
If this Dublin team has patented a calling card for themselves in big games over their unbeaten run it has been composure under pressure. They never panic.
Maybe it was the heavy atmosphere of the magnitude of chasing five All Ireland titles in a row suddenly pressing down but as time dissipated and Kerry turned the screw, Dublin's decision making was cloudy.
Struggling to find O'Callaghan or Mannion with quality supply against an extra defender, Dublin had to resort to holding possession and patiently create openings. Their normal fluidity and assuredness was missing as the wrong players appeared in possession in the wrong areas of the field. Kerry squeezed and Dublin panicked.
Chasing an equaliser over the closing minutes, Dublin uncharacteristically snapped at low percentage shots from outside their comfort zone under pressure. The malaise was epitomised by the deployment of the untested Paddy Small as first attacking sub. Small was ponderous in possession and was guilty of two missed opportunities at clutch moments.
Ironically, what proved to be play of the day for Dublin came from Kevin McManamon in the 74th minute when he hunted David Moran down in his own half back line to turn a crucial ball over. Fifteen seconds later Dean Rock fired over what would be the equaliser that saved Dublin's championship dreams.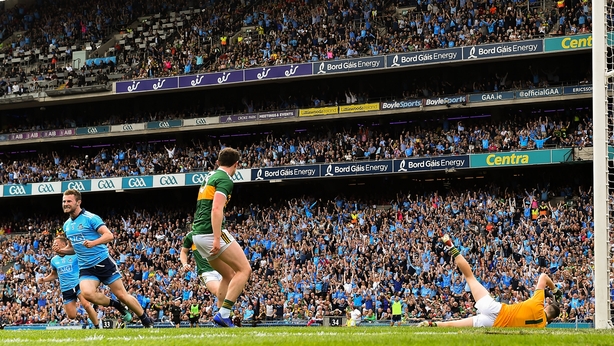 Expectations
After a classic final for the rest of us, both teams will reflect on what might have been different as they plan for better in the replay.
It is natural to assume that Dublin will recalibrate their structure and personnel to good effect based on the lessons of their near miss - and that will happen. Another natural expectation is that key players in the Dublin team can only improve - but the justification for that second belief is shaky.
Much of Dublin's below par performance was caused by Kerry's individual and collective approach. Peter Keane can rightfully expect that a similar defensive and ball winning effort in two weeks can build a match winning platform for Geaney, O'Shea and Clifford once again.
Replays are always about who learns the most. Usually that is about the original favourites refocusing their mindset to eliminate complacency but its not as clear now just who the favourites are.