A journey through the All-Ireland qualifiers can be precarious and laden with dangers dictated by the luck of the draw - note Mayo's experience in 2019 - but it can also offer invaluable opportunities to hone the overall tactical and personnel permutations that will best serve the team in the whitest heat of Championship football.
Tyrone and Mayo have travelled that path under different circumstances but with very similar results this year.
Early Season Ideals
Irrespective of the natural benefits of the Allianz Football League and the opportunities for development it presents, everyone plans their season to hit the ground running when the ball is thrown in on the first day of the provincial Championships.
For weaker teams a couple of wins can bring acknowledgement and tangible achievement and for the stronger teams it is still the cleanest route to the business end of things. The direct route to the quarter-final series also brings the added benefit of silverware of course.
The tightrope walk facing losing provincial finalists is the most precarious element of the qualifier draw.
Drawing a top-tier team that has regenerated in that scenario is disastrous. With no disrespect intended, all four were hoping for Laois or Clare last Monday to ensure they have a fighting chance of making it through this weekend.
Losers' Psychological Blow
It's not that any of these games are not worthwhile contests on an even playing field, but it is far from even.
Having collected the emotional highs on the way and dreamed big dreams courtesy of making a provincial final, the losers have a significant psychological blow to get past. Their opponents have navigated at least a couple of rounds of lesser opponents to recover their own belief and sense of purpose.
To reinforce the importance of mindset in this scenario, only Cork could take any solace or confidence from their provincial final loss. In their case, they stepped out of Munster with as much credibility as any team could have hoped for after a defeat and their players will have felt the collective pat on the back they've received for their efforts.
Factoring those simple preparation elements into assessing this weekend's games, only Meath Vs Clare and Galway vs Mayo would conceivably be contests.
In the first game, ability, based on league form was enough of a buffer to give the Royals a fighting chance - it was a question of whether they had recovered sufficiently from the Dublin trouncing to do themselves justice. They did, just, and will be better for the game going forward.
The all-Connacht tie was more difficult to predict. Galway had to get past their second-half implosion against Roscommon but had additional time in which to do it.
Mayo also had to deal with no small amount of attrition to their personnel options courtesy of the high-intensity path they had taken irrespective of the momentum it had given them.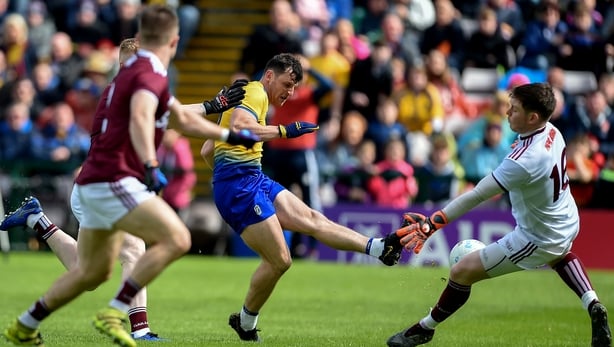 A Better Path
Although their qualifier runs have taken them headlong into the opening round of the Super 8s, of the Division 1 challengers Tyrone and Mayo are perfectly prepared for what lies ahead. Their route to the quarter-finals offers an advantage that the provincial winners don't have - although it will have minimal impact on the champions.
Donegal and Kerry in particular have had the Munster and Ulster championships they had hoped and planned for. Nothing fundamental really went wrong for them and they largely coasted through outside of brief tests.
That's far from a mortal wound - Dublin deal with it all the time - but the necessity to self-examine in defeat can be a powerful process.
Often coaches can settle early on an understanding of both game-plan and personnel that they believe is the best fit to enable their team to be effective and successful in a Championship environment.
The window between league and Championship is used to hone that approach and only injury or a dramatic change of form ever reroutes the original plans.
Alternative thinking becomes difficult when the entire coaching team are focusing on minor tweaks to a structure they already believe in and a team that is largely playing together in the pursuit of that ideal.
In Tyrone's case, the return of form and results in the second half of the Allianz League underlined their belief in this year's evolution to a more kick-leaning attack and a numerically less well manned defence.
That was until their experience at the hands of Donegal in Ulster initiated a revision that has produced a more streamlined and efficient approach in those two key areas: game-plan and personnel.
The Tyrone we've seen storm back through Longford, Kildare and Cavan bears a striking resemblance to the 2018 model game-plan.
First and foremost, Colm Cavanagh has resumed his position in the pocket at the heart of defence. As well as his effective reading of danger, his sentry role affects those around him with the reassurance of a comfort blanket that was sorely missed in the Ulster championship.
They have also reverted to sitting deeper as a unit before tackling and therefore much more difficult to break down – a task Cavan more or less gave up on before half time on Saturday. There are personnel changes too with five of the defence that started against Donegal moved out.
Cathal McShane remains the focal point of the Red Hand attack though is now more of a decoy to create space for willing runners from deep.
Given his effectiveness, McShane takes two defenders with him on any run he makes and the resulting gaps are manna from heaven for the Tyrone running game. McShane was really only found with a kicking game on Saturday after Cavan had abandoned cover to chase the game.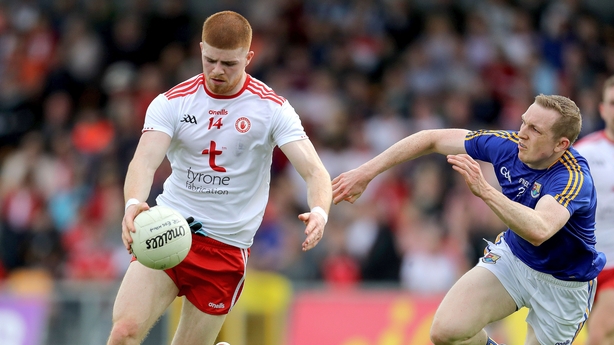 Mayo's Journey
Similarly, Mayo have evolved effectively albeit through a more precarious qualifier route. The man for man defence against runners that exposed them to sucker punches against Roscommon is long gone and pragmatism has prevailed.
The change came slowly but out of necessity; Armagh would have beaten them in Castlebar without the more full-time use of Colm Boyle as a sweeper.
Deploying Boyle deeper earlier in opposition build up has shored up their defence by providing a layer of cover against early ball but also shifting the middle third back to deal with Boyle's man.
As a result, they are much less porous to the run also. There isn't the same pace of old in Mayo's counter-attack through the middle, so the challenge is to kick earlier where they can and Saturday displayed plenty of evidence that they can do that.
One aspect of their structure that sustained Mayo at the weekend was their effectiveness off their longer kick outs, which had a 71% success rate compared to Galway's 50%.
These restarts allowed them to build higher quality attacks and go some way to explaining their relatively comfortable victory despite having fewer shots (24/27) and more wides (10/6) than Galway.
Obviously goals win games when the margins are so tight but their use of the ball will need to be more efficient in the weeks ahead if they are to take full advantage of their possessions to create attacks.
Out of necessity as much as anything James Horan has shuffled his deck for each game and is now acutely aware of what most of his panel is capable of under duress. Every one of their three qualifier games were high intensity and pressurised.
However, the main positive of experimentation has been the settling and confidence of Darren Coen as a real target man of substance. He has been a revelation and adds significantly to the Westerners' armoury.
Qualified Success
Both Tyrone and Mayo are success stories for the longer qualifier routes. Because of the depth of their respective panels they have been able to work through their kinks and arrive at the Super 8s with more robust game-plans, momentum and players hitting form.
Those are three superb assets for what is the pinnacle of the season.
Three games on the bounce will turn into six by the time the round robins have been completed.
Although their panels will be stretched even further, the luxury to rebuild on the move has road tested their upgrades and puts both in the box seat for semi-final places.
The hurdles at that point are higher again.