Mayo burst through backdoor and made it into the Super 8s ending their seven-game losing run in all competitions against Galway.
They squeezed past their nearest and dearest by three points in an All-Ireland round four qualifier at the LIT Gaelic Grounds.
Having missed out on the last eight in 2018 for the first time in seven years Mayo had to go the long way about it following Connacht semi-final defeat to Roscommon.
They beat Down on the road, Armagh in Castlebar and then took the Tribesmen's scalp on an intense evening in Limerick.
There were rows before throw-in, players tussling all over the field trying to lay down a marker. Once the ball was in though, it was the men in red and green who brought the intensity when it counted.
Despite being depleted by injuries they showed all of the hard-edge and know-how that has made them one of the hardest to beat and most enjoyable to watch teams of the past decade.
And they'll need all of those battling qualities next weekend when they begin their All-Ireland quarter-final campaign with a trip to Killarney to take on Kerry. Meath or Clare in Croke Park and then Donegal at home follow.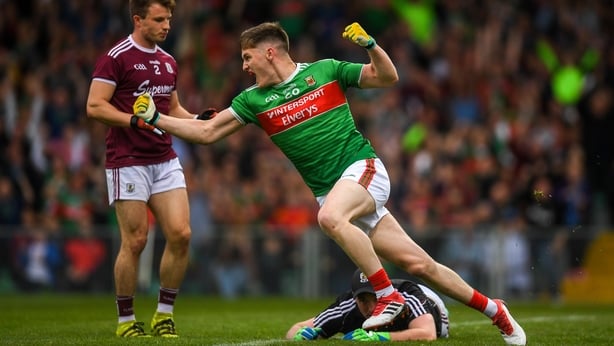 Before throw-in both the sides announced changes to the teams that appeared in the programmes and those switches played a part in the narrative of the first half.
Former Footballer of the Year Lee Keegan was thought to be ruled out with an ankle injury picked up in the win over Armagh last week, but he wore number 26 and warmed up a few times, helping to whip up the Mayo crowd.
Also in green and red, Donie Vaughan and James Carr started ahead of Michael Plunkett and Ciarán Treacy.
Walsh took the big decision to drop goalkeeper Ruairi Lavelle, who struggled to get his kick-outs away in the Connacht final defeat to Roscommon, and stick Bernard Power between the posts. In defence, Eamonn Brannigan replaced Sean Andy Ó Ceallaigh and in the middle Seán Kelly took over from Tomás Flynn.
Power, like Lavelle, struggled early on to find his targets off the tee and Galway were starved of primary possession. With Mayo two points up early on, he hit a kick-out over the sideline and it was returned with interest, ending with Carr scoring the first of his two goals.
His second was a real classic, though Galway fans will be wondering how he was allowed to run so far unchallenged before he nearly took the net off its moorings.
This put Mayo 2-02 to 0-02 in front and the Tribesmen's defence, normally this team's strongest point, looked lost and without a plan. Carr and another relative newcomer, Darren Coen were giving the inside line all sorts of bother with the quick ball in.
Only midfielder Peter Cooke was taking the fight to Mayo, tipping over four excellent points from play.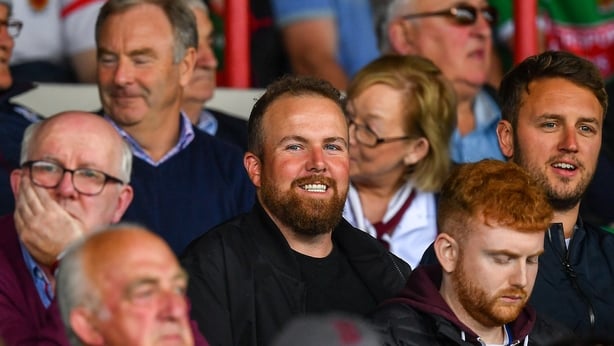 Walsh started to make the changes early on, bringing in Ó Ceallaigh for Kerin 26 minutes in. Galway did up the intensity and start to turn the ball over in the tackle, scoring three unanswered points, but they still went in trailing by six - 2-07 to 0-07.
Damien Comer came out for the second half for his first action of the year in the maroon jersey, drawing a cheer from the Galway crowd, which was dwarfed and generally drowned out by vocal the Mayo fans in the 19,183 attendance.
Galway were thrown a lifeline when Chris Barrett was judged to have blocked an Ian Burke shot in the square with his foot. Corner-back Liam Slike came up to take the penalty after referee Joe McQuillan spread his hands, but his effort was pushed wide for a '45' by keeper David Clarke.
This didn't stop them though and they kept chipping away, Walsh clipping the resulting '45', Eamonn Brannigan getting his second and Kieran Molly bursting over a great point with his first touch as a substitute.
Things were really getting hot and heavy now and it was reducing down to one of those deathless, breathless qualifier nights that Mayo specialise in. Keegan came in as a substitute with the crowd coming to boiling point.
Mayo were 17 minutes without a score and wobbling with the gap down to three when the impressive Coen hoisted one over and Cillian O'Connor added another.
It was enough in a battling, rear-guard action to ensure three more games at least this season. They have seven days to nurse tired bodies and get ready for another massive game next weekend against Kerry.
Galway ended the day with 12 men when Ian Burke picked up his second yellow card following a frustrating evening and John and Michael Daly were black carded, both in stoppage time.
Walsh hammered home a close in free at the death, but it wasn't enough for Galway.
Mayo: David Clarke; Chris Barrett, Brendan Harrison, Keith Higgins; Patrick Duggan, Colm Boyle; Donal Vaughan (0-01); Stephen Coen (0-01), Aidan O'Shea; Fionn McDonagh, Jason Doherty (0-01), Kevin McLoughlin (0-01); Cillian O'Connor (0-06, 4f), Darren Coen (0-03), James Carr (2-00)
Subs: Ciarán Treacy for McLoughlin 50 mins; Evan Regan for Carr 55 mins; Lee Keegan for McDonagh 64 mins; Michael Plunkett for Doherty 69 mins; Eoghan O'Donoghue for Durcan 73 mins; Seamus O'Shea for Vaughan 76 mins
Galway: Bernard Power; Eoghan Kerin, Eamonn Brannigan (0-02), Liam Silke; Gary O'Donnell (0-01), Cillian McDaid (0-01), John Daly; Sean Kelly, Michael Daly (0-01); Peter Cooke (0-04), Shane Walsh (1-03, 2f, 1 '45'), Johnny Heaney, Declan Kyne, Martin Farragher, Ian Burke
Subs: Sean Andy O'Ceallaigh for Kerin 25 mins; Damien Comer for Kelly HT; Damien Comer for Kelly HT; Anthony Ó Laoí for Farragher 42 mins; Tomás Flynn for McDaid 55 mins; Kieran Mollloy (0-01) for Heaney 60 mins; Adrian Varley for Brannigan 65 mins
Referee: Joe McQuillan (Cavan)