Armagh manager Kieran McGeeney has said that it's too early to make a decision of his future after his side were narrowly beaten by Mayo in Round 3 of the All-Ireland football qualifiers.
McGeeney's men fell to a one-point defeat against Mayo in a game that was in the balance right up the final whistle.
At one stage in the second-half Mayo were five points clear of their northern rivals. That lead was whittled down to a single point, but Armagh were unable to draw level with the Green and Red, who held out for a 2-13 to 1-15 win.
Defeat was a tough pill to swallow for McGeeney, who saw his side really turn on the style against Monaghan last week, and after five years in charge of his county he's not rushing into making any rash decisions.
"It's probably a wee bit early yet," he replied when asked about his future.
"I couldn't be any prouder of the players, it's just a pity they didn't get more out of it today, they deserved a wee bit more from that today but that's the way it goes.
"One thing about management is that when you start, very few like you. By the time you finish they all don't like you, so it's a tough station.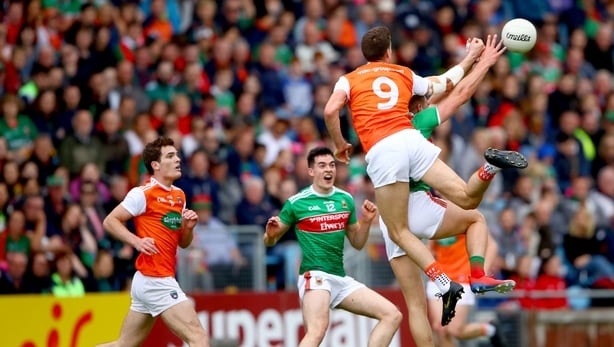 The Armagh manager spoke of the pride he has in his players and he insisted that they don't often get the rewards that their hard work and dedication deserve.
"When you work with fellas like that there, it can make it worthwhile. We've got a really good bunch of fellas and it's enjoyable to be able to go to training with them and see them in action.
"They really go for things and they've no fear. I think they play a really nice brand of football, they get at it and they don't get rewarded for the way they play, but that's just the way the cookie crumbles sometimes."
Meanwhile Mayo manager James Horan has been left sweating on the fitness of Lee Keegan who went off in the second half with what appeared to be an ankle injury.
Jason Doherty also picked up a knock, but despite Mayo's lengthy injury list, Horan is philosophical and believes he has the depth in his squad to cope.
When asked about Keegan's injury, he replied: "I don't know, Lee said he went to run and just got a turnover on his ankle and I don't know exactly what happened to Jason Doc, but we'll be looking after them and will see if we can get them back on the field.
"Just the nature of qualifiers and team sports there's going to be injuries but I think we used more players than any other county in the National League this year, so we developed a lot of players and they're going to get the chance to step up."