There was talk beforehand that Cian O'Neill's time as Kildare manager may be up if they lost to Tyrone in Round 3 of the football qualifiers
Defeat was their lot at St Conleth's Park on Saturday evening, but the Lilies boss was giving too much away about his future when he spoke to RTÉ GAA correspondent Brian Carthy afterwards.
"All I want to do now is to spend a bit of time with them [the players] and the backroom team," he said.
"It's been a long year, difficult at times and challenging. Ultimately we were beaten in the championship by the two teams who contested last year's All-Ireland final. We would have loved another shot at the Super 8s again.
"As I said, I'm going to spend some time with the players tonight. We'll see where that goes at a later day."
In truth, Kildare were second best against their Ulster opponents and their cause was not helped by Mick O'Grady's sending off with 20 minutes to go.
"In an orthodox game you go down to 14, it's difficult, but when you are chasing a game and playing a team who are so defensive, it's an impossible task almost," O'Neill added.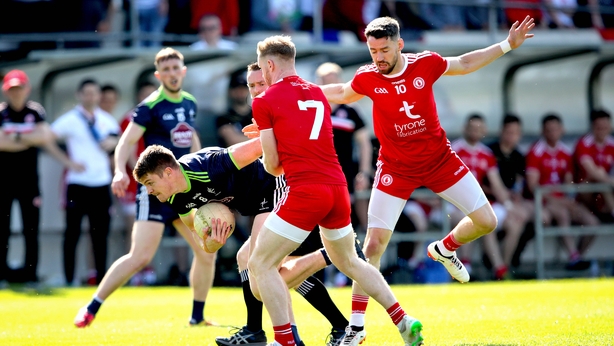 "Tyrone are so ruthless and effective in their counter attack that they will punish you any time you turn over the ball. To be fair to Tyrone they did that.
"I am bitterly disappointed with the result. When you are playing top team like Tyrone, you really need to put in your best performance, you need to have things going your way and hope that they are a bit off it at the same time.
"We were slow to start in the first quarter in our home pitch and gave them a head start. 
"Going up against Tyrone, with 14 men behind the ball, it is they who are dictating the terms of the game. Fair play to our guys, they really fought back in the second half."
O'Neill was sent to the stands in the first half after an exchange with an official over a yellow card given to one of his players.
When asked about the incident, a succinct response followed: "I was told to move away from the dugout area."