Munster SFC Final: Cork v Kerry
It's back to Páirc Uí Chaoimh for what we all hope will not be a repeat of last year's drubbing.
With Cork I have been saying it for a while now; what they are capable of and what they actually produce has been the main problem for Cork football in the last six or seven years. They just have not performed at the level required or expected.
Watching them play against Limerick I think it's clear they have abandoned the defensive approach they were trying to play.
I saw them three times in the league and they just placed forwards back in their defence and it wasn't working for them.
Against Limerick they pushed up on kick-outs, they went long on balls from Ruairi Deane, they were a threat as Ian Maguire and their half-back line ran at the defence.
However I can't see Cork winning this. I think they can give a performance and I think that's what all Cork people want.
There's a lot of talk about the challenge games Cork have played and they have to bring that kind of form to the pitch because I fear if they get hit for a few scores early, the potential is that they'll crumble.
I think Kerry will work hard in that middle third to cut out Cork's running and their long ball and both Jack Barry and David Moran need big games to supply the forward line that are capable for destroying that Cork back line.
Outside of James O'Donohue, it is as strong a Kerry team as they have named and late last night I saw that Cork might have a couple of injuries that would be a serious threat to them.
I don't think Kerry will allow Cork the freedom Limerick did and I think Kerry will win.
Verdict: Kerry
We need your consent to load this SoundCloud contentWe use SoundCloud to manage extra content that can set cookies on your device and collect data about your activity. Please review their details and accept them to load the content.Manage Preferences
Listen to the RTÉ GAA Podcast at iTunes, Spotify, or wherever you get your podcasts.
Leinster SFC final: Dublin v Meath
Meath are given no chance on Sunday and it's hard to argue with any other outcome than a beating for them.
How quickly that beating comes will give a rough gauge on where Meath stand but I think it's important psychologically Meath don't get harmed here going forward because they've had a good season and it's pointless basing your season on what happens to you against Dublin.
No team this decade has bounced back with a win in their subsequent Round 4 Qualifier game.
Meath have potential but they can go to sleep in matches. They've done it already and allowed Laois too much early possession but defended well, I think was key.
Donal Keogan has been outstanding for them at centre-back as have Cillian O'Sullivan and James Conlan.
I've been impressed by Bryan Menton and I'd love to see him and Brian Fenton really going at it, they're two really good athletic midfielders.
The problem is that Dublin are so strong everywhere, there's too many fires to put out for Meath. They'll wear Meath down in the second half and if they smell blood they normally put you to the sword.
Dublin to win, which will be their 27th consecutive win in the province.
Verdict: Dublin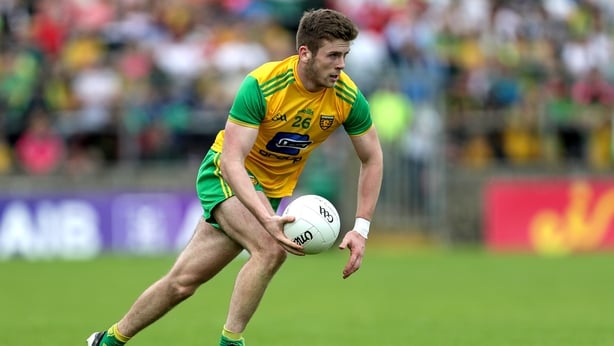 Ulster SFC final: Donegal v Cavan
The Ulster championship has been the cherry on top of the cake for everybody this year and this is widely tipped to be the most eagerly-contested of the three provincial finals and you can understand why.
The way Donegal set-up against Tyrone was like the Donegal of old, they got bodies back, they stopped Tyrone from doing what they wanted to do and then they turned with quick ball up the field.
They were brilliant with turning defence into attack. Eoghan Bán Gallagher was outstanding as were Ryan McHugh and Michael Murphy.
Donegal have a brilliant ability to hurt you on the scoreboard, there were eight scorers from that starting 15 that scored against Tyrone and they have that ability of kicking long scores.
Cavan play with a man-on-man kind of set-up and Conor Moynagh will drop at times. Will they change it for Donegal and do they have to get that little bit more defensive here? That will be interesting to watch.
They defended brilliantly as a unit against Armagh and they attack into space brilliantly. But will that have that space on Sunday? I don't think so.
Raymond Galligan had a great game in goal last time out and I expect him to be targeted – his restarts will be vital. Dara McVeety is central to everything good they do, as are Martin Reilly and Gearoid McKiernan.
Stephen Rochford is famous for man-marking key players and those guys might get a dose of that on Sunday. I think Donegal will take away what Cavan have loved so far this year and that's space.
Donegal had the perfect trap laid for Tyrone and I think they'll do likewise this week and they'll win, but at this stage Cavan people would be worried if I tipped them, so rest easy, I'll go with Donegal.
Verdict: Donegal
All-Ireland SFC qualifiers, Round 2
Westmeath v Limerick
Jack Cooney's Westmeath had an easy victory over Waterford after a narrow loss to Laois.
They've enjoyed a really good season and after a really bad defeat to Cork you wonder where Limerick really are.
In Mullingar I think everything points to a Westmeath win.
Incidentally Pádraig De Brún lines out for Limerick and he plays for Firies and East Kerry. Conor Cox is not the only Kerry man playing inter-county football outside the county on the parent rule.
Verdict: Westmeath
Monaghan v Armagh
Monaghan were very disappointing against Cavan and Fermanagh. I think if Fermanagh had any wits about them, they could have beaten them.
I'm not sure where they're at, is there a kick in them against Armagh?
Armagh are a young team, they've been very exciting this year and I like the brand of football they play. They're coming up against a really experience Monaghan team, I think it's probably the tie of the round.
Can Monaghan defy the odds here or will Armagh power on? Monaghan will try to stifle the Armagh forwards here but I think Armagh will have enough and I think this could be a big win for Armagh.
Verdict: Armagh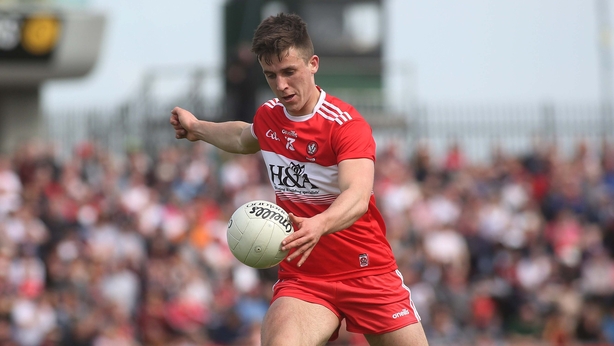 Derry v Laois
I think playing in Derry will be difficult for Laois as Derry have confidence after trouncing Wexford.
Laois did not impress against Meath and I think it was a mistake not starting Donie Kingston. Evan O'Carroll came off for him on 30 minutes which was a strange one.
If Shane McGuigan, Ryan Bell and Enda Lynn can just fire like they did against Wexford, I'd give Derry a great chance, but they have to win enough ball for those guys to cause trouble.
Verdict: Derry
Down v Mayo
Down lost so narrowly to Armagh after a replay, they've beaten Tipperary with a strong finish from the bench. Have they enough to beat Mayo? They've certainly nothing to lose playing at home.
Mayo were rocked losing to Roscommon, they've now lost Matty Ruane, a talented midfielder along with Tom Parsons and Seamie O'Shea and Donie Vaughan.
I do think Mayo will get out of here, but it will be a tough one for them.
Verdict: Mayo
Leitrim v Clare
Clare impressed me against Kerry when they played their normal game and played their key men like Gary Brennan in their normal position.
Leitrim had a good win over Wicklow but I think their very positive season under Terry Hyland will come a cropper this weekend, I think Clare will have too much for them.
Verdict: Clare
Antrim v Kildare
Antrim welcome Kildare to Belfast and I think this is going to be another tough one for Kildare.
It's a tricky one, Antrim rely heavily on Matthew Fitzpatrick for a lot of their scores but they do have pace, they showed that against Tyrone.
I think Kildare are a better football team and can hit really hot patches but can also be very average at times.
I'm going to go for a Kildare win but I'm going to be very wary about it. I think this could be a clanger at the weekend.
Verdict: Kildare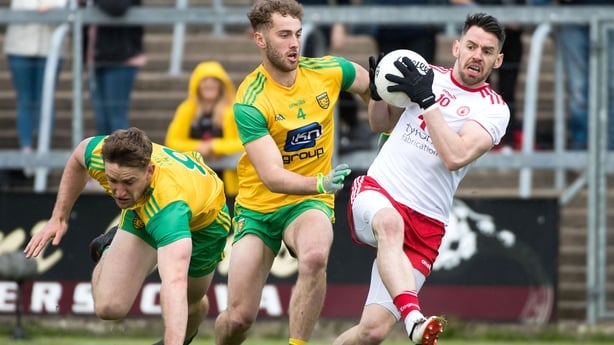 Longford v Tyrone
Pearse Park is always a tough place to go, especially in the qualifiers.
Longford racked up 2-11 against Carlow but I think it was the 18 wides people spoke about more so.
It won't be easy against a Tyrone side who imploded against Donegal. You'd be expecting them to have gathered themselves enough to win this one, just about.
What will be interesting is will Tyrone change their tactics? They were exposed against Donegal with the long ball, people are saying they should get more defensive now, what way will they turn up?
That will be interest but I'll go for a Tyrone win.
Verdict: Tyrone
Offaly v Sligo
Sligo held Galway as long as they could and trailing 0-05 to 0-03 at half-time. Was that more indicative of Galway or Sligo? I'm not too sure, the dam opened in the second half.
There was only a point between these two teams in the league and I think it's going to be very tight.
I like the way Offaly played against Meath, they played a good brand of football and they were hurting Meath.
With a win over London, I'll slightly go for Offaly.
Verdict: Offaly
Tomas Ó Sé was speaking on RTÉ Radio 1's Morning Ireland.
Follow all the football action this weekend via our live blogs on RTÉ.ie/sport and the News Now app, listen to live national commentary on RTÉ Radio 1 and watch live and exclusive TV coverage of all three provincial football finals on RTÉ2 and the RTÉ Player.