Kerry great Colm Cooper believes that Dublin are still the team to beat in this season's All-Ireland Football Championship as they chase an unprecedented five-in-a-row.
The Kingdom twice failed to complete the elusive feat of winning five consecutive Sam Maguire Cups in the 70s and 80s.
The Dubs have dominated for the last four years but questions are arising over their ability to see out a fifth title given their middling league campaign and the target on their back that the drive for five brings.
For Cooper however, the Dubs remain the favourites to lift the big one at the end of the campaign and he views speculation that they may be growing complacent as wishful thinking.
"It's very easy to that there's a huge amount of pressure on them but everyone's looking at them internally in Dublin and externally to see if they can achieve this," Gooch said on RTÉ 2fm's Game On.
"It's never been done before and I suppose looking back from a Kerry point of view we had some amazing teams and players that have gone, probably some of the best players that have ever played in the GAA but they couldn't achieve it.
"That pressure's going to be on Dublin throughout the year but it's going to be the Super 8s before we know how they're going, because I think they're far too strong for anything in Leinster.
"I look at Dublin and I'm looking for chinks in the armour and people say they're coming back in to the pack but I just don't see that at the moment. Maybe they're not stealing a march on anybody but they're certainly the strongest team and panel out there.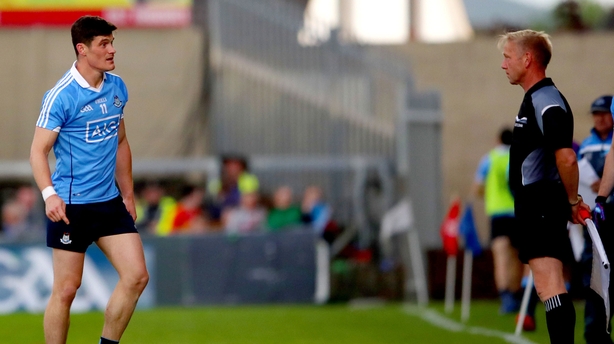 "Word has gone out that Diarmuid Connolly is back in the fold, Rory O'Carroll is back in the fold, so they haven't gone away," Cooper added.
"It's for everyone else to catch them and I'm not sure if anyone else has shown me this year that they can catch them, so the only thing that can catch Dublin in my opinion is complacency which we haven't seen from this Dublin side yet.
"Or maybe if there's a lack of hunger there but again with the strength and depth of their panel, it's hard to see that become a factor for them."
Dublin weren't at their fluent and dominant best in the league campaign, leading to hope that they could be vulnerable, but Cooper believes that they're exactly where manager Jim Gavin wants them to be.
"I think most teams probably had two months training done before Dublin had even got going," he said. "I think they were somewhere in the Caribbean in January on a team holiday so I don't think they got going.
"I think Jim was happy enough not be in a league final, he might not publicly say that but he was happy enough to take a step back, have a close look at Kerry and Mayo and see what they're bringing to the table.
"In a strange way, even though they're going for five-in-row, they've been very quiet of late and there hasn't been much talk about them so it's exactly the way Jim Gavin would want it."