The build-up to Sunday's final has been building nicely and it is nice to enjoy it from a supporter's perspective.
As a player you are a little cocooned, so it is a new experience for me.
Within the county I have the sense people were a little fearful initially at the prospect of taking on Dublin after last year's humbling, but as the countdown continues, the belief has grown steadily.
You can't ignore however the 12-point loss in Croke Park last year, and I think it will provide the tactical blueprint for Sunday. Hopefully it will illustrate the evolution of Mickey Harte's team.
Dublin used the whole space in Croke Park really well in the 2017 semi-final, while Tyrone's defensive set-up was more about flooding the middle of the pitch and forcing Dublin down the wings. Jim Gavin's gameplan exposed that and used the full size of the pitch.
In the semi-final victory over Monaghan, it was very evident that Monaghan also played down the wings and the Tyrone players were spread out accordingly.
They also followed opposition players when they hugged the sidelines and that's something that might take away the element of Dublin spreading the play, but it does leave more space through the middle.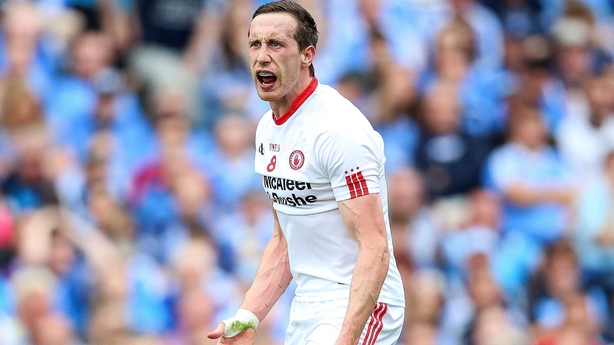 Speaking of the middle of the pitch, Colm Cavanagh's role will be a fascinating one. He has been the team's best player in their last two games, but in the Super 8s defeat in Omagh, Dublin pretty much made him redundant by keeping the ball away from the square.
Possession is king as far as Dublin are concerned.
Cavanagh was ineffective as a sweeper in Omagh and Tyrone need him to have a far greater influence. That will probably involve pushing him further up the field.
Niall Morgan will be focused on getting his kickouts away quickly. That can mean anyone on the pitch receiving the ball as traditional positions mean very little. Dublin are superb at pressing opposition restarts, so if Morgan is not in a position to go short, Cavanagh would be a player to target further out with his aerial prowess. Though Brian Fenton is arguably the best in the business in that regard and is likely to be in close proximity.
I think the Moy man will certainly be within his own 45m line playing as defensive cover, but perhaps his starting position will be 10, 15 metres higher up the pitch. Tyrone will need to apply pressure higher up which will create an element of risk in the full-back line. We haven't seen the Dubs kick much early ball in there all year. It's more about control, dominating territory and playing the game on their terms.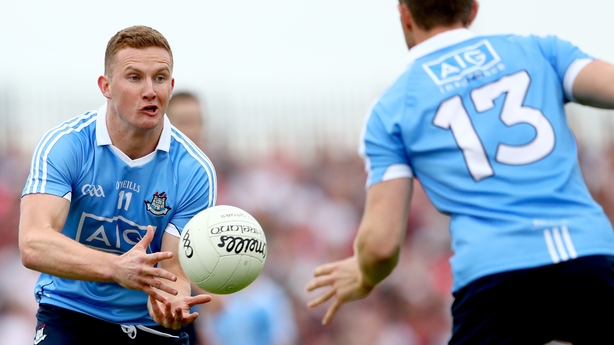 In the blue corner, centre-forward Ciarán Kilkenny is undoubtedly the key figure in a high-performing team and a talisman in attack.
He's so cool on the ball and you rarely see him lose possession. On top of that, he has been more prolific this year and only David Clifford of Kerry has a higher scoring average from play (4.8 versus 4.5 points per game).
Criticism continues in some quarters that he goes backward more often than he should, but his decision making always seems to be on the money.
If Tyrone could turn him over in possession it would be a huge psychological lift for the team. Frank Burns will most likely wear the number six jersey, but I'd expect Padraig Hampsey or Michael McKernan to be given the task of following Kilkenny around GAA headquarters.
"If Tyrone are to upset the odds, they will need to score at least one more goal than Dublin and possibly two"
Hampsey is a clever footballer and has the physical attributes to match Kilkenny, while McKernan would have the fitness levels to push up on him. Additionally, both those players are pretty good on the attack too, because you can't just focus on marking him, you need to keep him occupied.
Things have changed for the better for Tyrone in 12 months.
Last year Tyrone thought they were getting up to the level of Dublin in terms of conditioning, but they were simply blown away.
They now look physically stronger and fitter and have improved the strength of their bench. It's noticeable that they are finishing games strongly.
You can be pretty sure that Dublin will score in and around the 20-point mark. It's obvious to say that goals are important, but if Tyrone are to upset the odds, they will need to score at least one more goal than Dublin and possibly two.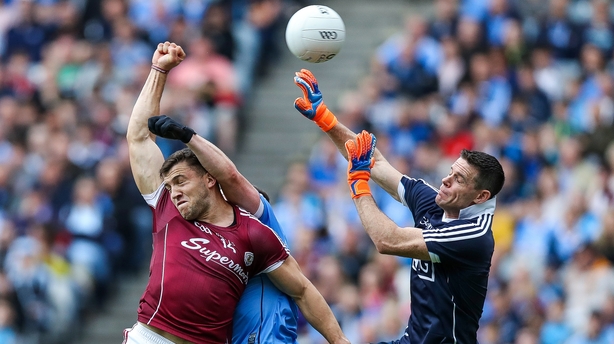 Dublin have conceded four goals in their last two games which would give some encouragement
The defence isn't as secure as it has been previously. Jonny Cooper has probably been their best player in 2018 and has been their lynchpin. Eoin Murchan struggled a little against Galway, Philly McMahon hasn't reached the levels he set in the past while doubts persist over Cian O'Sullivan's fitness levels. He is crucial as Gavin doesn't have any other player quite like him to call upon.
Tyrone normally only play one man inside and I would like to see two in there at times to try and move O'Sullivan around.
Having said that, Tyrone have only failed to find the back of the net in the championship twice and one of those games was against the Dubs in Omagh.
Do Tyrone have a realistic chance of bringing Sam Maguire back to the county for the first time in a decade?
I believe they do, but there are a lot of things that need to go right for Tyrone to win the game. On all evidence, the reigning champions are rightly red-hot favourites.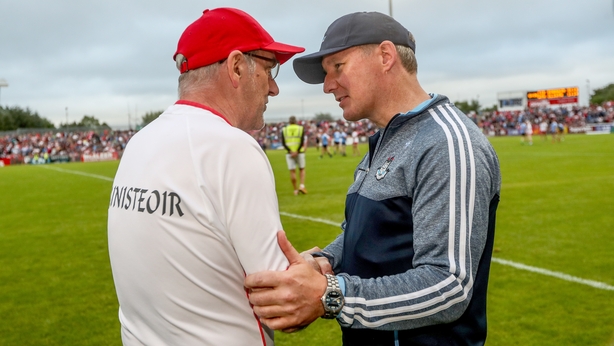 The aforementioned Cavanagh is the only member of the Red Hand team that has played in an All-Ireland final before so they will need to come out of the traps fast and settle. You would hope that there won't be the scenario where Dublin get ahead early and nerves get the better of the Tyrone players.
In my memory, I haven't seen a team go into an All-Ireland final as such strong favourites as this current Dublin side. In two of my three finals, against Armagh in 2003 and Kerry two years later, we were underdogs and used that to our advantage.
We have done it before, but this is a huge ask. Dublin have never produced their best performances in an All-Ireland final and that will be a motivating factor for them.
Regardless, they are up there with the best teams to have ever played the game.
The heart says Tyrone but the head says the seven-point spread is about right.
Follow the All-Ireland senior football final via our live blog on RTÉ.ie and the News Now App, watch television coverage on The Sunday Game Live from 2.30pm on RTÉ 2 and RTÉ Player. Listen to exclusive national radio commentary on Sunday Sport, RTÉ Radio 1. Highlights on The Sunday Game at 9.30pm on RTÉ 2.