Westport's Lee Keegan was overcome with joy and relief as he exorcised some Croke Park demons with All-Ireland Club IFC glory on Sunday evening.
The Footballer of the Year was at the heart of a sweet triumph for the Mayo men as St Colmcille's were put to the sword and Keegan finally got to taste success on a marquee day at HQ.
Three times he has suffered defeat in a All-Ireland SFC final in a Mayo shirt, but he finally had his moment, and is ready to savour every second.
"You have to make your own luck in Croke Park and for a Mayo team to come here, I suppose for myself personally, it puts away some of the demons of the last couple of years," he said after Westport's 2-12 to 3-08 defeat of the Meath men.
"It's been a long road for Westport for a long time. We haven't gone too well in the last six or seven years. It's a fantastic occasion.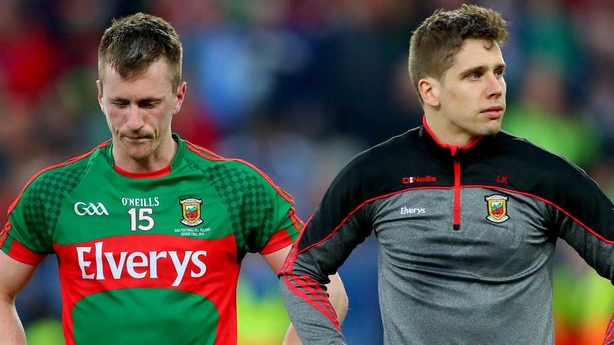 "You saw the support and the atmosphere here, how much it means to people. This is what it's all about.
"It's sad that someone has to lose but I've been on the receiving end enough times and I'm going to enjoy this.
"It's a rare occasion when you come up and win an All-Ireland. It's a hard road, it's a long road and believe you me hi, just to finally get my hands on that trophy and medal, it means so much to me right now."
It did not come easy either. Colmcille's made their opponents scrap to the bitter end, trimming a seven-point deficit to a single score by the closing stages.
Ultimately, Oisin McLoughlin's two goals proved crucial as Westport hung on, and Keegan jokingly took some of the credit for his team-mate's display.
"It's sad that someone has to lose but I've been on the receiving end enough times and I'm going to enjoy this."
"He was my roommate last night," he said. "I'll take some credit on his behalf! I looked after him last night, made sure he was in bed early and fed him well.
"It was a game of inches to be honest. They had a chance a the very end to level it and if that had gone over it could have been goodnight for us because they seemed to have the momentum in the last 10 minutes.
"I think overall we deserved to win but credit to Colmcille's. Thankfully I'm on the right side of a winning team in Croke Park.
"We had five, six Leaving Cert lads there and they'd absolutely no fear coming up to Croke Park and just shooting the lights out. It's huge going forward for this team.
"We've such a young squad. They've got a taste of what it's like to play at the top level."