Former All Star Matty Forde says he would hate to play inter-county football now because the game has become so defensively oriented.
Forde was one of the finest forwards of his generation and he helped inspire Wexford to an All-Ireland semi-final appearance in 2008.
But since he retired sweeper systems and blanket defences have taken over and he says there's no space for flair players in the game.
"There's just no room in the game for a James O'Donoghue or Colm Cooper these days. God, I would hate to be them now," he said.
"It's basically down to how well your defensive system plays and how much you can hold out a team. Whoever sets up the best will win the game.
"That's all you hear now: 'they have a great defensive system, they work well as a unit in defence'."
"Great forwards and teams can now be easily cancelled out," said Forde, speaking on RTÉ's weekly GAA podcast, Jones' Road.

"To be honest, I'm absolutely delighted I'm not playing inter-county football anymore. It would be so frustrating.
"Having to watch the Gooch, James O'Donoghue, these lads, going behind the half back line to get on the ball... If they are lucky enough to win a ball in the full-forward line they then turn around and face two more defenders. I'd be going home depressed.
"My last fear is that club football is turning that way a small bit too," he said.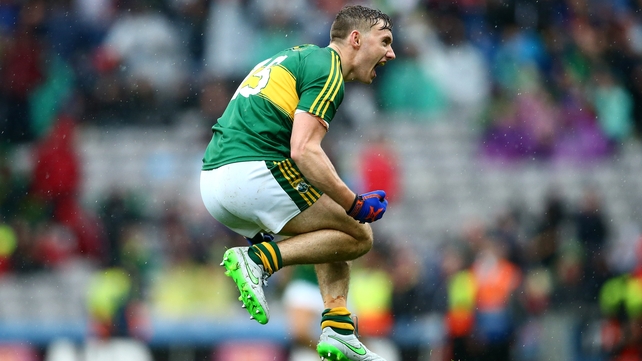 O'Donoghue (above) and Cooper will spearhead Kerry's All-Ireland challenge this year, though the pair will have to fight their way through massed defences on their way to goal.
"Look, I know that teams lower down the divisions who are playing higher teams must keep the goal count down. If you keep the goal count down you have a good chance of winning," continued Forde
"I can understand a side getting their house in order. It's six years since I played; I loved going training but I'm involved with Wexford at the moment and I'm struggling to see how lads from other counties are enjoying it.
"In fairness to David Power, our manger, at one of the first meetings we had with the players he said he was there as a manager who played football.
"We were top scorers across all four divisions this year and we did not do that by playing defensively. But I would say that outside of Wexford the lads of my era possibly enjoyed their football a lot more than the current lads.
Wexford are out again next in the All-Ireland qualifiers against Fermanagh at home on Saturday, June 25.