Conor Mortimer believes Roscommon's decision to play Sunday's Allianz League Division 1 clash at Dr Hyde Park backfired badly on the hosts.
Match referee Maurice Deegan deemed the Roscommon Town venue playable despite puddles of water gathering all over the pitch due to the heavy downpours in the west at the weekend.
Several games have already had to be switched out of Hyde Park this year due to an unplayable pitch.
Mortimer believes the game shouldn't have gone ahead there, but that it ended up suiting Mayo, who won 1-11 to 1-07.
"Roscommon have been playing open, expansive football on decent pitches," the former All Star, who played on Mayo sides that lost in All-Ireland finals in 2004 and 2006, told RTÉ 2fm's Game On.
"On Sunday the pitch was terrible and I don't think the game should have been on there. In relation to the Hyde, I'm surprised it was on there.
"The pitch obviously wasn't playable, but they maybe thought that they'd drag Mayo down because Mayo are a lot more powerful than Roscommon and that showed a lot around the middle third. Roscommon didn't play any football at all."
Mayo won the game to give themselves a fighting chance of staying in Division 1 with a single round of games to be played.
It was also a psychological blow for the five-in-a-row Connacht champions ahead of a potential provincial final showdown with the Rossies later this year.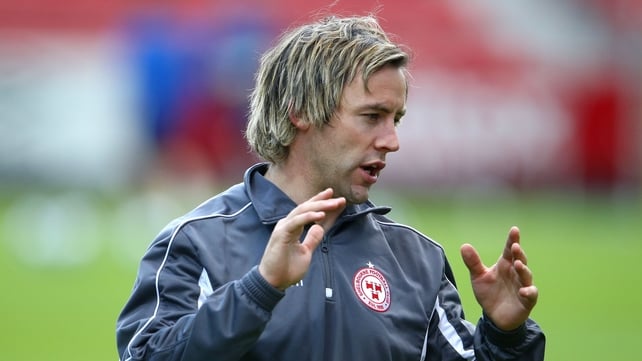 "Roscommon didn't really play any football and they were lucky that Mayo didn't beat them by 10, 11, 12 points because we had a lot of bad wides in the first half," said Mortimer (above).
"We weren't clinical enough and that was the key issue for Mayo.
"Mayo needed to win because if we'd lost we were pretty much staring at relegation. On the plus side Cillian O'Connor came back, Alan Dillon came on for a few minutes and I think the tide is turning for Mayo.
"They're starting to win, they have some big, senior players coming back as well for the run-in so it bodes well for us going forward.
"Two weeks ago you wouldn't have thought we'd be in this situation because it was looking fairly bleak. I'd expect us to beat Down, even though Down will coming playing for pride.
"If Mayo win their last game and Monaghan lose, obviously Monaghan go down."
In fact, if Mayo and Monaghan both lose or both draw, then Mayo stay up. If they both win, it could get more complicated as scoring difference will come in to play with as many as four teams finishing on six points and one of them facing the drop.