Dublin 0-08 Derry 0-04
Four Dublin points in a row in the concluding stages of a tense Croke Park contest were enough to finally shake off stubborn Derry on a 0-08 to 0-04 scoreline.
In the process, back-to-back Allianz league champions Dublin took a significant step towards the semi-finals, while Derry were consigned to Division 2 football.
Dean Rock top scored for Dublin with three points including two late on in that four-point burst which decided the game.
Diarmuid Connolly was named man of the match though it wasn't an evening for purists with Derry adopting a heavily defensive game plan in front of 19,224.
Dublin manager Jim Gavin noted after the tie against Tyrone that his team are coming up against heavily packed defences more regularly now.
It is a reflection of the esteem opponents hold Dublin's talented forwards in though it makes for difficult viewing for neutrals.
There were just five points scored in the first-half with Derry taking a 0-3 to 0-2 lead into the interval.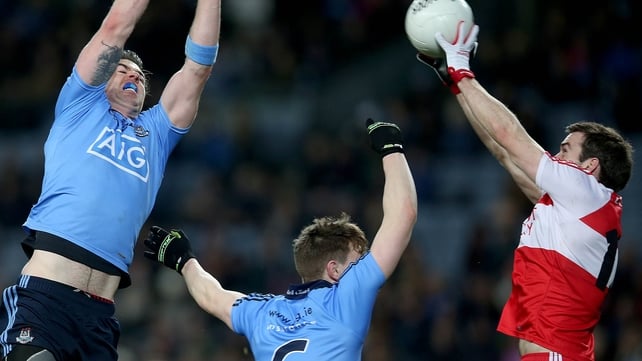 It would have been a two-point advantage for the Oak Leaf men had Connolly not drilled a long-range point on the stroke of half-time for Dublin.
Dublin hit plenty of shots from distance in the first-half in an attempt to overcome the packed defence.
But they were off target too often and hit seven wides in total. The other point they did score in the half came from Michael Darragh Macauley who fisted over early on.
It meant that in the entire half, there were just two kicked points, one from Mark Lynch and the other from Connolly.
The conditions didn't help admittedly with rain sheeting across the pitch, making kicking hugely difficult.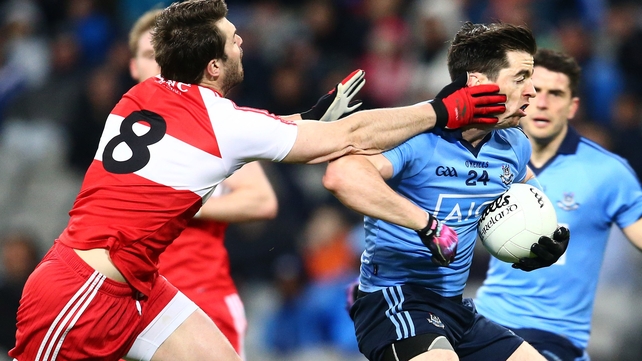 Derry, of course, won't make any apologies as they came to Dublin fighting for their lives in the top flight. They had just a single point to their credit, from a draw with Tyrone, from five games and had to win to hope to stay up.
The sides were twice on level terms in the second-half at 0-3 and 0-4 apiece. Enda Lynn's 59th minute Derry point left them tied at 0-4 to 0-4 entering the concluding stages.
Dublin laid siege to Derry's goal in that period and they finally picked off the scores they required to get the job done.
Rock punted over a free, followed by points from sub Paddy Andrews and Connolly before another Rock score from seal a slightly flattering double scores victory.

Dublin: S Cluxton, P McMahon, R O'Carroll, E Culligan, J Cooper, J Small, J McCaffrey, MD Macauley (0-01), T Brady, P Flynn, D Connolly (0-02), C Kilkenny, K McManamon, D Rock (0-03, 0-02f), B Brogan.
Subs: C Costello (0-01) for McManamon, J McCarthy for Brady, David Byrne for Culligan, P Andrews (0-01) for Kilkenny, B Fenton for Macauley, Davy Byrne for Brogan.
Derry: T Mallon, O Duffy, N Holly, K Johnston, L McGoldrick, C McAtamney, M McIver, M Lynch (0-01), E Bradley, SL McGoldrick, D Heavron, E Lynn (0-01), B Heron (0-01, 0-01 45), E McGuckin, J Kielt (0-01, 0-01f).
Subs: F Doherty for Bradley, T O'Brien for McGuckin, C McFaul for Kielt, D McKinless for McIver, N McNicholl for L McGoldrick.
Referee: C Lane (Cork).