By James McMahon
A glance across the four divisions in the football league leaves more questions than answers with regard to promotion and relegation issues. 
Yes, Derry are struggling in Division 1 and are favourites to make the drop, while Armagh and Fermanagh, if they avoid any 'Annie Power' type catastrophes, should be promoted to Division 2.
Out from that, it's still all to play for this weekend.  
Mayo and Cork lead the way in Division 1 on six points. A group of four teams – Donegal, Tyrone, Monaghan and Kerry are two points further back.
Dublin find themselves in unknown territory – second from bottom on three. Brian McIver's Derry prop up the section with just a point to show for their efforts to date. 
The Dubs, after a somewhat lethargic showing against Tyrone last weekend, travel to Castlebar to take on Mayo on Saturday evening.
The Green and Red are seeking a first win over their Leinster rivals since that absorbing 2012 All-Ireland semi-final.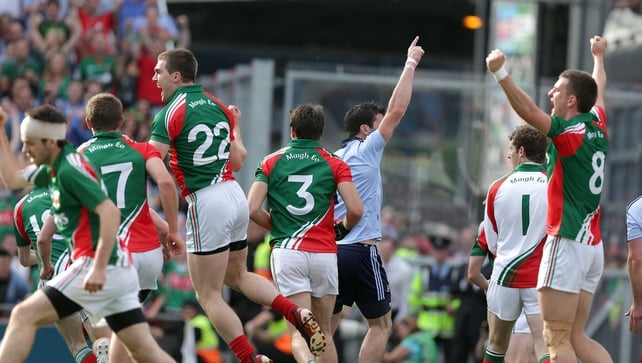 In a repeat of last year's Sam Maguire decider, Kerry and Donegal lock horns again. Austin Stack Park will be the venue as both sides look to improve on their efforts from the last day.
Donegal managed only 1-04 in 70-plus minutes as they went down tamely against Monaghan, while the wheels came off the Kingdom wagon somewhat in their loss to Cork.
The Rebels themselves travel north to take on Tyrone in Omagh. A win for Brian Cuthbert's side could be enough to garner a semi-final berth.
Monaghan got the show back on the road with their victory over Donegal and play host to a Derry side who really need the points, but can take heart from their improved showing against Mayo.
Division 2 looks like it's going to be a fight to the finish to see who goes up or down. Kildare and Laois got their first wins of the campaign the last day but will need to add to that against Roscommon and Meath respectively in order to give them extra distance from the relegation trap door.
Leaders Westmeath welcome Down to Cusack Park and will be confident of keeping ahead of the pack.
Goal-shy Cavan travel to Salthill to take on a Galway side, who will feel they left the game behind them against the Mournemen last Sunday.
In Division 3, Armagh and Fermanagh lead the way and will aim to consolidate that advantage when they take on Clare and Limerick respectively. Sligo and Wexford both picked up their first wins of the spring last Sunday and their clash at Markievicz Park is sure to be competitive.
Half the field in Division 4 are still in with a chance of promotion. Offaly had to dig deep to get a point off Leitrim in the last round and may require something similar against a Carlow side who, like the Faithful County, are are unbeaten this term.
The unbeaten tag also applies to Longford and they travel to Aughrim to take on Wicklow.  
DIVISION 1
SATURDAY 14 MARCH
1900 Mayo v Dublin, Elverys McHale Park (Live on Setanta Sports)
SUNDAY 15 MARCH
1400 Kerry v Donegal, Austin Stack Park
1430 Monaghan v Derry, Clones
1430 Tyrone v Cork, Healy Park
Many were critical of the fare on offer as Dublin and Tyrone played out a draw at Croke Park. For Martin Carney, what was on display in the match and in other games this spring has not been to his liking.
"The dominance of defensive football and the dominance of the safety first football that we've seen in the league is a worry," he said.
"If you look at it from a broader sense after four rounds in this year's Division 1, we are 11 goals down on this time last year; in Division 2 we are eight goals down.
"Okay, In Division 3, we are three goals up, but we are 24 goals down in Division 4.
"The suffocating effect of mass defences and the monotony of viewing these endless orgies of lateral and backward hand-passing is taking from the attractiveness of the game."
"The dominance of defensive football and the dominance of the safety first football" - Martin Carney
As to this weekend's action, Carney goes with Mayo to get past the Dublin challenge.
"It's a big game for both teams for different reasons. If Mayo win, they are safe. On the other hand, if Dublin triumph then they are back in the mix again for reaching the semi-final. A loss for the Dubs would see them in relegation trouble. 
"Mayo have done well so far.They are the highest goalscoring team in the division. Even though injury may rule out Cillian O'Connor, I still think they are good enough to get over Dublin."
Much improvement needed
In terms of quality, Kerry and Donegal offered little in last year's All-Ireland decider. Carney is hoping that Sunday's clash will be more pleasing on the eye and was far from complimentary in the way the county of his birth shaped up in their defeat to Monaghan.
"I know people who were in Letterkenny last Sunday who said it was a travesty to even term it a game of football as Donegal were that dreadful," he bemoaned.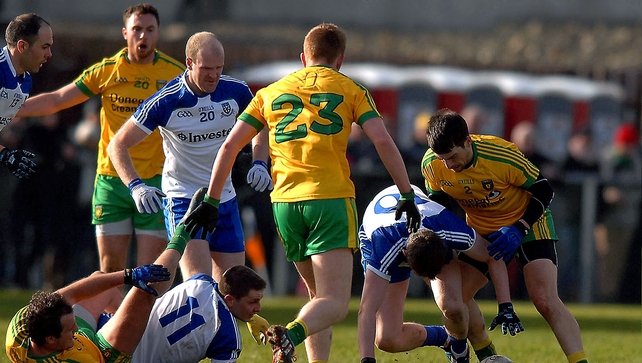 "The trip to Austin Stack Park now takes on a greater significance. The loser of this game could be in a bit of bother in terms of staying in the division. Donegal's last match is away to Mayo, while Kerry have to travel to Tyrone. Not easy games for either side. 
"Donegal shipped a lot of criticism after last weekend due to the fact that they have become far too defensive.
"They are not maximising the talent of Michael Murphy. In saying that, Murphy has been subject to a huge a mount of physicality in the games this year and Donegal people are complaining about that. If the team are to be successful, optimum performances are need from Murphy in every match.
"Kerry will be smarting at the nature of their defeat to Cork and their own back yard they'll be keen to atone for that. A Kerry win is the likely outcome."
Derry can take heart
Despite losing to Mayo by two points at Celtic Park, our analyst saw many good things from Derry ahead of their trip to Monaghan. 
"I watched Derry against Mayo and I thought they were hugely competitive and honest," said Carney
"They got inspired performances from Benny Heron and Mark Lynch and with a little bit of luck they could have won that match. They hit the crossbar on the stroke of half-time and Kenneth O'Malley made two excellent saves early in the second half. Derry certainly improved last weekend."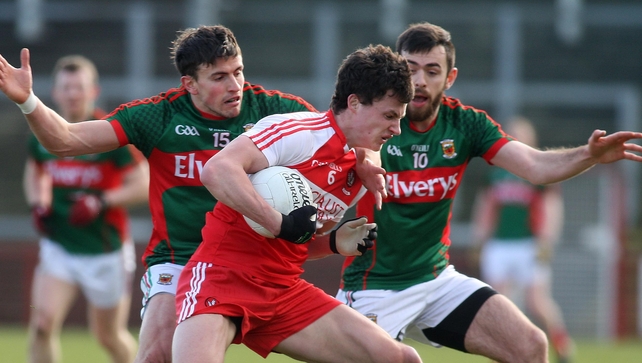 As for the Farneymen, Carney added: "Monaghan got back on track against Donegal. They were stung by the criticism they got after the heavy loss to Mayo. The whole issue of the perceived lack of discipline was addressed by Malachy O'Rourke.
"They were the better team for it last week and I expect them with home advantage to get the win."
Rebels have been warned
Carney has been impressed with Cork so far but feels they may find it difficult to break Tyrone's defensive shield in Omagh. 
"The display of Colm O'Neill, James O'Rourke and Brian Hurley have been very good and with Paul Kerrigan back in the mix, Cork are improving all the time.
"They will, however, find the system of defensive play before them on Sunday and the extent that Tyrone have taken the mass defence at its most extreme, perhaps a puzzle that they may not be able to solve.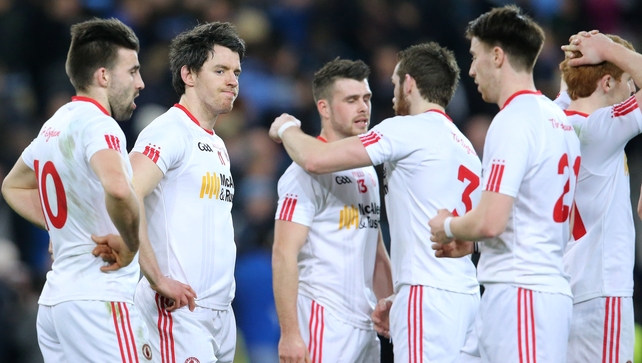 "In the game against Mayo, Tyrone, with 15 men behind the ball, was the norm. Cork will find something similar on Sunday.
"A home victory for Tyrone."
DIVISION 2
SATURDAY 14 MARCH
1900 Meath v Laois, Páirc Tailteann (Live on Setanta Sports 1)
SUNDAY 15 MARCH
1245 Galway v Cavan, Pearse Stadium
1430 Kildare v Roscommon, St Conleth's Park
1430 Westmeath v Down, Cusack Park
Leinster duo to kick on
Moving to Division 2 and the Sunday Game analyst believes Kildare and Laois can successfully follow up on their first wins of the campaign.
Of the Lilywhites, Carney said: "I thought Kildare would be the team to prosper in this league. Maybe, they'll come good in the championship. They've been a big disappointment, a really big disappointment up to now, despite their win the last day. 
"It's a must-win game for them this weekend. The need to get the points will be greater than that of Roscommon and that need should see them through."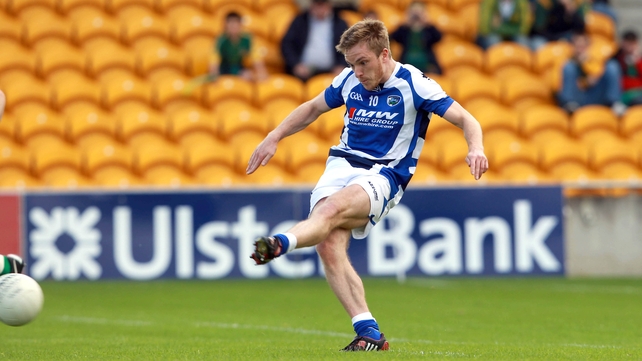 As for Laois, he added: "Laois were hugely impressive against Roscommon last Sunday. Ross Munnelly played very well, while Donal Kingston scored 0-06 from play. History would say Meath, but Laois' desire to get more more points might see them edge this one."
Elsewhere in the division, Carney goes with Galway and Down to continue their push for promotion with wins over Cavan and Westmeath respectively.
"I think if Galway could get a reliable goalkeeper, then they could really push on. They are the team in waiting and I don't see Cavan (the only team not to score a goal in this year's league) troubling them at Pearse Stadium."
The performances of Jim McCorry's Down, it would seem, have caught Carney's eye and he added: "Down lead the section and have scored 6-50 so far. They have been very, very impressive.
"The likes of Donal O'Hare and Conor Laverty are playing very well. Kevin McKernan around the middle of the park has been really influential and I think they'll be too strong for Westmeath."
DIVISION 3
SUNDAY 15 MARCH
1500 Clare v Armagh, Cusack Park
1500 Fermanagh v Limerick, Brewster Park
1500 Louth v Tipperary, Gaelic Grounds
1500 Sligo v Wexford, Markievicz Park
Leaders can maintain advantage
Armagh and Fermanagh have a bit of daylight between themselves and the rest and Carney sees the pair maintaining that charge this weekend.
He said: "Armagh and Fermanagh should be able to stay clear of the other teams and another win could be good enough to get them promoted.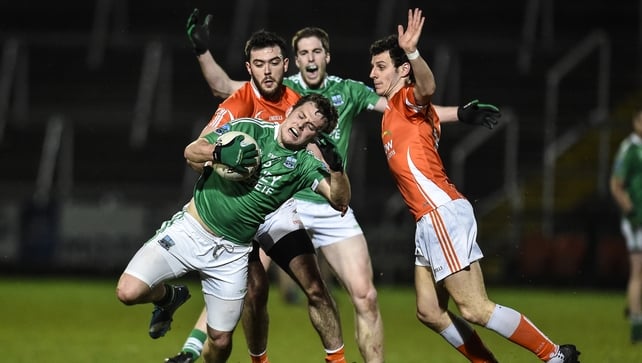 "I fancy Armagh to beat Clare even though the game is in Ennis. Fermanagh will be too strong for Limerick who are struggling this season.
"Tipperary, Clare and all the other teams are really depending on the top falling on their faces over the next three games and I can't see that happening."
DIVISION 4
SUNDAY 15 MARCH
1400 Offaly v Carlow, O'Connor Park
1400 Wicklow v Longford, Aughrim
1430 Waterford v Antrim, Walsh Park
"Any of the top four - Offaly, Longford, Carlow and Antrim - could go up," is Carney's summation ahead of this weekend's fare. 
"Even though the game is in Aughrim, I'd expect Longford to continue on their merry ways with a win against Wicklow. I go with Offaly to beat Carlow."