Roscommon 4-08 Galway 1-12
Roscommon scythed through the Galway defence to plunder four goals in Kiltoom this afternoon and secure their first FBD League title in 16 years on a 4-08 to 1-12 scoreline.
The Rossies' one-point (0-06 to 0-05) lead at half time looked very slender with wind advantage to come for Galway, however, a goal each for Diarmuid and Ciarán Murtagh was quickly followed by another thunderbolt for Ciarán Cafferkey to put John Evans' men into a strong position after the restart.
Galway pulled the gap back to three points with a string of fine scores through the middle of the second half but a fourth major for Enda Smith ensured that the result was fully assured before Enda Tierney's injury-time consolation strike.
The early stages of the contest suggested that a real thriller was in store between these two old rivals as five excellent points from play were shared in the first ten minutes, with Enda Smith picking off two glorious strikes from range to give the home side a narrow advantage.
A tricky diagonal wind threatened to make shooting difficult for both sides, however, Galway's opening score was just as impressive as Smith's efforts and made light of the natural impediments.
Micheál Martin levelled matters for Galway, spliting the uprights with his left foot, while on the run down the left flank, one of five instances where the sides were tied in the first half.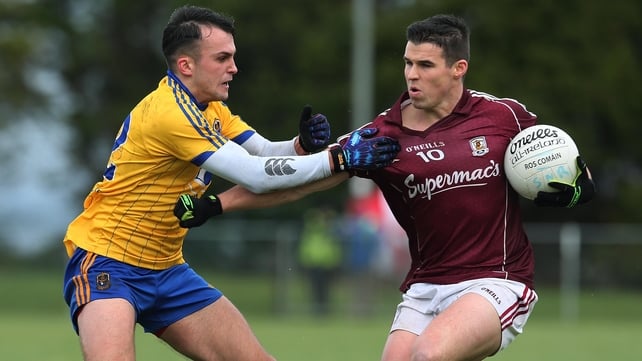 However, once the game settled down, the scoring rate dropped dramatically as both sides made sure to drop their sweepers back and cover long deliveries, while the windy, damp conditions made the short, hand-passing game far more difficult.
Scores of real quality from Shane Walsh and Johnny Heaney put Galway back in front but Roscommon found a brief burst of form before the interval to regain the ascendancy at 0-06 to 0-05 in front.
Neither goal was threatened in any meaningful way in the first half, as only a couple of shots that dropped short gave either keeper any work to do.
That all changed after the restart though as Roscommon burst out of the blocks with a stunning goal, set up by some fantastic interplay between Donie Smith and Senan Kilbride.
The latter picked out Ciarán Murtagh with a perfectly timed hand pass and Murtagh delivered a finish worthy of the move, slipping the ball along the ground, underneath Manus Breathnach and inches inside the near post.
Galway responded with three points to cancel out their goal but the game turned completely in Roscommon's favour when Diarmuid Murtagh and Ciarán Cafferkey added two goals in the space of 30 seconds to put real daylight between the sides.
In both instances there was little or nothing Manus Breathnach could do in the Galway goal as acres of room opened up in his defence to set up the two scores, yet it was the custodian who paid the price as Kevin Walsh sent TJ Forde on in his place immediately afterwards.
To their credit, Galway responded in the best possible fashion and picked off the next four scores of the game, although they failed to get the goal that they badly needed to really get back in contention.
Danny Cummins did well to beat two men and set up a one-on-one opportunity, however, Darren O'Malley stood tall in the Roscommon goal and deflected his effort out for a 45.
Twenty minutes of the half had expired before Roscommon struck their first point into the breeze, a punched effort from Senan Kilbride, but that did not prevent them from quickly undoing all Galway's good work with five minutes to go, as Enda Smith blasted the ball to the roof of the net for goal number four.
A late Enda Tierney strike finally gave Galway a goal of their own to take the harsh look off the scoreboard but by that stage they were only playing for pride as Roscommon's four-goal salvo had put the first silverware of the season safely out of their reach.  
Roscommon: D O'Malley; N Carty, N Collins, S McDermott; R Stack, N Daly, C Cafferkey (1-00); I Kilbride, C Shine (0-01); M Nally, D Smith, E Smith (1-02); D Murtagh (1-03, 0-02 frees), S Kilbride (0-01), C Murtagh (1-01).
Subs: C Cregg for Nally (46), U Harney for D Smith (47), C Daly for I Kilbride (54), B Murtagh for S Kilbride (58), O Milton for C Murtagh (60+1).
Galway: M Breathnach; T Fahy, D Walsh, C Sweeney; J Heaney (0-01), G Bradshaw (0-01), G O'Donnell; F Ó'Curraoín (0-01), E Tierney (1-00); S Denvir, M Martin (0-03, 0-02 frees), S Walsh (0-02); D Cummins (0-02), E Hoare (0-02, frees), M Coady.
Subs: TJ Forde for Breathnach (43), K Kelly for Fahy (47), T Flynn for Denvir (54), P Sweeney for Martin (57).
Referee: John Gilmartin (Sligo)