Former Down star Benny Coulter, who announced his inter-county retirement last Monday, has spoken about his regrets about not having won any title with the county.
Long acknowledged as a talismanic figure for Down, Coulter nevertheless finished up without an Ulster or All-Ireland title, his time as a player coinciding with a lean spell for the Mourne men.
Coulter spoke openly to RTÉ Sport about the regrets of missing out on a medal.
"That's the worst thing about this retirement," Coulter said.
"I can't look back and say that I won anything with Down. Beaten in a few Ulster finals, beaten in an All-Ireland final. It's been a long 20 years since Down won the All-Ireland in 1994, and we haven't been successful since that.
"Down footballers and Down supporters have been through a barren spell, and it's just unfortunate that I was part of that time.
"It's probably devastating that we lost that All-Ireland final 2010, against Cork."
He stressed that he had "a great 15 years with Down football" but returned to the 2010 final, saying "We missed out big-time that year."
"It's probably devastating that we lost that All-Ireland final 2010, against Cork"
The Mayobridge clubman said there was "no doubt" that Martin Clarke was the best player he had played with for Down, hailing his influence on the Mourne men's 2010 campaign.
He said that although he did not know Clarke's plans for the season ahead, "Down need Marty Clarke back this year playing for them."
Looking back on 2010, Coulter was ready to take the positives from it and suggested it would serve as inspiration for younger footballers Down.
"We didn't win it, but there are players, the likes of [Kildare's] Johnny Doyle, who didn't get the experience to play in an All-Ireland final, whereas we got the whole experience.
"I ended up captaining the team that day because Ambrose [Rodgers] was injured. And the three weeks before it was amazing; the buzz around Down was just unheard of.
"I was only a young fella in 1994, so that was the first time I experienced it. A lot of other young fellas, young children about Down, that was their first experience of Down being in an All-Ireland final.
"Those memories will live with me forever. It's just very, very unfortunate that we didn't win the title."
Asked whether he felt Down let the title slip away from that year, Coulter said: "Honestly, I do. We had Cork for longs periods of that game, and probably the big factor was that they could bring on Nicholas Murphy and Graham Canty, whereas we were struggling to bring players on of that calibre.
"We had Big Dan [Gordon] in the full-back line, and maybe in hindsight, if had pulled Big Dan out to the middle of the field we could have made a change. And obviously big Ambrose got injured in a club game, and he missed the semi-final and final."
He said that Down had fielded their best 15, but hadn't been able to bring further big players in to influence the game. As a county, he suggested, Down had long struggled to produce bigger players.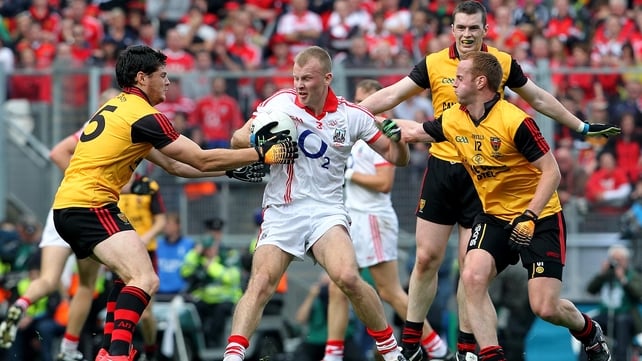 "When you're looking against the likes of them Cork boys, even the Kerry lads, the Donegal boys, that's another thing that we struggled with for a while. Even, I think, we struggled last year with a bit of height in the forward line. We've very small forwards with the same sort of builds: Mark Poland, and Conor Lavery, boys like that.
"Down footballers: we need to get a wee bit bigger. I'm not sure how."
Coulter also opened up about how provincial glory also eluded him.
Reflecting on his lack of Ulster medals, he spoke about the 2003 final that Down lost to Tyrone, and contrasted his subsequent years with those of the Tyrone team.
"We were nine points up; we were a man down; but we still should have closed the game out," he said.
"Tyrone actually went on that year and won the All-Ireland and since then they've won three. They've '03, and 2005 and '08, and we haven't won anything since.
"It's a hard pill to swallow, but that's life, and that's football"
"From then, the likes of Sean Cavanagh, Owen Mulligan, them boys have gone on to win three All-Ireland titles since that game, whereas [I haven't] won anything. It's a hard pill to swallow, but that's life, and that's football."
Coulter said that "Down just didn't seem to be able to put three or four performances back to back" despite often recording noteable wins. 
He said he had been "overwhelmed with the tributes" since he announced his retirement, from "ex-players or the players and a lot of people from within Down football."
However, he sounded a note of caution about the demands on modern inter-county players, and said a career as long as his would no longer be possible.
"I don't think it is [sustainable]," he said, when asked about the level of commitment involved in being an inter-county.
"If I was starting out my career now, I don't think I would last seven or eight years, because there's that much [commitment]. They're asking a lot of inter-county players."