By Rory O'Neill
Series Editor, The Sunday Game
Gaelic football has problems and whether people like to admit that or not is incidental.
On the August bank holiday weekend of 2013 Tyrone met Ulster Champions Monaghan in the quarter-final of the All-Ireland series. In the second-half Sean Cavanagh pulled down Conor McManus when he looked clean through on goal and it sparked a memorable scene in 'The Sunday Game' studio.
One very significant point that Joe Brolly made that day seemed to get lost in the ensuing histrionics that followed.
"The black card is only the start of an urgent, an absolutely urgent process that's required," opined a mild-mannered Joe.
Once again the Bespectacled One has been proven correct. The black card needed to be the beginning of a process but instead has been seen as some sort of endgame.
Various statistics were published at the end of this season to support the view that the new rules have been a success and, despite their obvious teething problems it was, to be fair, year one.
By year three you'd certainly hope that the bedding-in process will be complete and referees will have a better handle on them, at least at inter-county level.
These rules were designed to deal with foul and cynical play and to that end maybe they have been a success.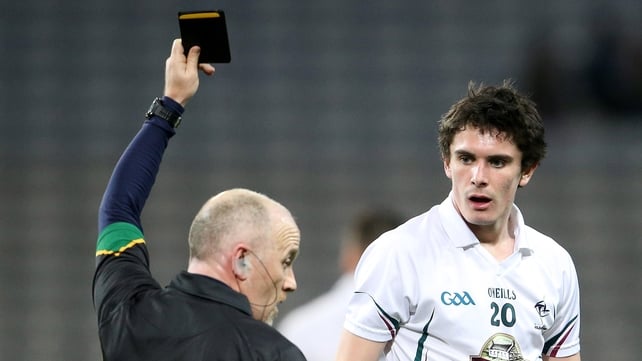 Judgment is reserved for the time being, but certain elements that were blights on the sport have been reduced dramatically.
The deliberate pull-down and the body check uglified Gaelic football and while they still get spotted from time to time they're more of an endangered species these days. That has to be welcomed surely?
A much bigger problem is the style and direction the game is taking.
People can talk about the intriguing sideline battle, tactical match-ups and kick-out strategies all day long. It doesn't mask over the plain and simple truth: that this year's All-Ireland football final was an appalling game of football and a dreadful advertisement for the sport.
When All-Ireland Gold on TG4 revisits the 2014 football championship, the final certainly won't be the first tape they go for.
Kerry won't care about that, in the same way that they didn't care when people lauded the semi-final they lost 12 months before. To the victors the spoils and all that malarkey. But they should.
"This year's All-Ireland football final was an appalling game of football and a dreadful advertisement for the sport"
Three years ago Dublin and Donegal played out an infamous low-scoring semi-final characterised by ultra-defensive tactics with huge numbers behind the ball. Both teams were as bad as each other even though Donegal seemed to cop most of the flak in the aftermath.
It precipitated the Football Review Committee that came in on the back of Liam O'Neill's Presidency and his subsequent description of football as being "boring".
He rowed back on those comments later saying he had been misinterpreted and his remarks misrepresented. A pity, because he should've stuck to his guns.
Nowadays, if we get one half-decent championship match the season is deemed a success but is that what football is reduced to?
One question never put to Jim McGuinness during his four-year tenure in charge of Donegal (to my knowledge anyway) was: why he implemented the style and strategy that became their hallmark?
Probably because the answer is obvious. Managers will play to their strengths with the hand they are dealt.
Defensive football is a pragmatic and understandable response by coaches and managers whose bottom line are results.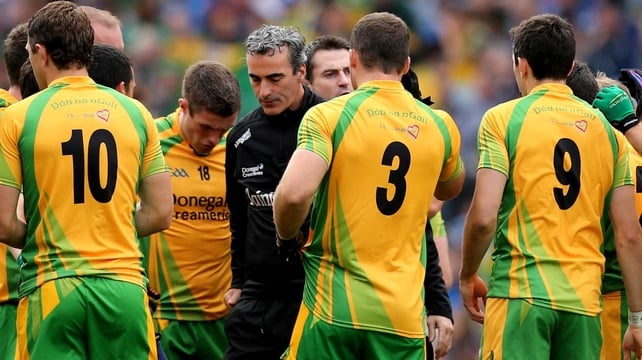 If Cavan go out to play Kerry in an orthodox fashion, man-to-man football, the odds on victory lengthen considerably. If they go out and park the double decker those odds shorten but invariably we still seem to be arriving at the same destination.
The problem becomes exacerbated when Cavan go out and employ those tactics against Roscommon in a qualifier and still get beaten out the gate on their own patch, which makes you wonder: what's the point?
Is it better to lose by 4-5pts than get beaten by a cricket score?
Championship football dictates that a defeat is a defeat whether it's by one point or ten.
In McGuinness Donegal found a coach who took it to the next level and achieved the ultimate success. The consequence being that template now permeates its way down the food chain.
Teams all across the country that employ these tactics both at club and county level will make no apologies for it. And why should they?
That's where governance and leadership, vision and wisdom need a voice and a place at the table.
Take off your green jersey for a second and cast your mind back to the nadir of association football, the 1990 World Cup in Italy.
In the wake of what is now accepted as being the worst World Cup in history, legislators were forced to act.
The back-pass rule was introduced almost immediately. Over time the tackle from behind was outlawed and the offside rule was tweaked to give the advantage to the attacking team, all designed to reward adventurous attacking skilful play and players.
Our game is now approaching a similar junction yet the FRC have packed up the tent and gone home in a case of "job done".
The black card was their single triumph and, as significant as it was, it was no silver bullet.
Tactically the game has moved into a very new and much larger space yet the rulebook that governs the fundamentals hasn't changed all that much.
Multiple tacklers of the man in possession is an ugly derivative of the modern game and needs to be addressed, primarily because of the position it puts the referee in: "Do I blow for over-carrying or is the man in possession being fouled?"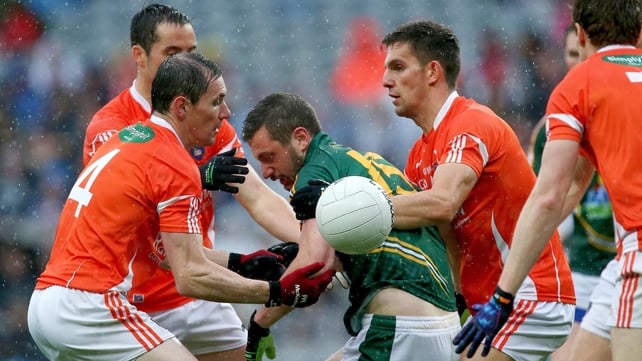 The crowd hasn't a clue what he's going to do and whoever gets the decision reacts like a small victory but again it's an entirely unsatisfactory situation where games can be decided at the discretion and whimsical call of a referee. Not to mind the invidious position the referees themselves are put in.
The mark was something worthy of further exploration, and not just as a means of de-cluttering the midfield area from kick-outs. We keep hearing that there isn't enough kicking in the game. Adapting the mark to different parts of the field is one way of encouraging more use of the foot and less use of the hand.
Is it time to look at some form of an offside rule? At the moment the only mechanism a manager/coach can fall back on when implementing his defensive strategy is a basic numbers game. Get bodies back and crowd it out: primitive, arcane and outdated.
Last August Donal Óg Cusack wrote an insightfully brave piece about the problems, in his view, facing Gaelic football. One of the more radical approaches suggested by the Cloyne man was reducing numbers to free up space. Maybe reducing to 12 a side might be pushing it but again it's an idea that merits consideration.
An interesting study on football a couple of years ago showed that on average the ball was in play for less than half of the allotted time, roughly around 46%. So in a game that lasts on average between 74-75 minutes (allowing for the customary 2 that every ref seems to add on at the end of each half) the ball is in play for just under 35 minutes.
Finding ways to get that statistic up to at least 60% would surely militate against teams set up with the safety-first approach and reward teams for their adventure. If that means looking at the possibility of 80-minute games again then why not?
A process of introspection is healthy for any sport. What isn't healthy is to ignore the obvious problems in the hope that they go away?
It's an exciting time for the sport in many ways. The evolving role of goalkeepers, incredible levels of fitness, the fluency of movement and positional sense, single sweepers, double sweepers, counter attacking gameplans, over the last ten years the game has transformed itself. The rules need to keep pace.