Former Donegal manager Jim McGuinness has said he would never rule out a return to the county but that he would not be commenting on a potential successor or or interfere in any way.
In his first radio interview since standing down as Donegal boss earlier this month, McGuinness told RTÉ Sport that he had no regrets about his time as manager or his decision to step down.
"Absolutely none," was McGuinness's answer to whether he had any regrets. "I think regrets come from situations where you feel as if you've undersold yourself, or there was more there; 'Why did I not do this?'
"I'm not saying everything was perfect, because nothing is ever perfect, but if your intentions are perfect, and your attitude to go and do the best that you can do is as good as it can be, and you give it everything you've got [you should have no regrets].
"There are so many managers up and down the country working with division three teams and division four teams, and maybe winning an All-Ireland is not a realistic objective at the beginning of the year for them, but they're giving it absolutely everything. For me, there is an unbelievable purity in that."
He said he had not been tempted to stay on any longer, and that for him, the role had been about giving something back to Donegal.
"I suppose I wanted to give something back to the county. That was the most important thing. I'm fierce proud of where I come from, and I enjoyed every minute playing for Donegal, and it was an exceptional honour to manage them as well.
"I just wanted to give everything that I had in my body for my county for that number of years, and not to look back in anger. And that's the one thing, at this moment in time, I'm very content about: I'm very content that I didn't cut corners, that I gave it everything.
"We came up short in the final this year, but if you look at the five years, with the 21s and the four with the seniors, when you look at all of them together it was a very good period and a very enjoyable period."
"I'm fierce proud of where I come from, and I enjoyed every minute playing for Donegal, and it was an exceptional honour to manage them"
McGuinness refused to speculate on his possible successors, and promised that he would not interfere or hang about – "once you're out the door you're out the door".
However, he did suggest that he might go back to the Donegal job at some point in the future.
"I love my county and I love the people of Donegal. I love everything about the last five years and what the boys have done and what they've given to the county, and I would never rule that out."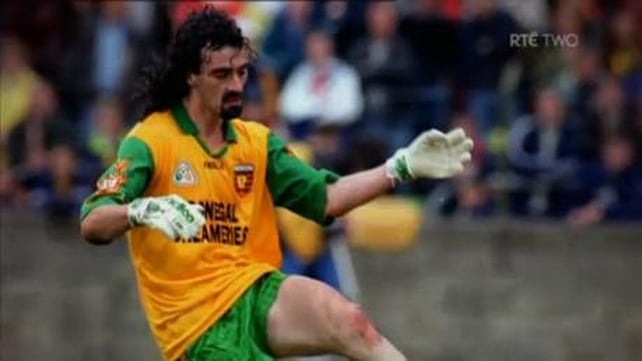 McGuinness dismissed the notion that the Donegal job would be a poisoned chalice for the next person to get it, despite the pressure that will come from following McGuinness, and Donegal's tough draw for next year's championship.
"We're in a very good position. We're in division one, we're Ulster champions, we've just been beaten in the All-Ireland final. So there [are] three positives right away.
"Our minors were in the All-Ireland final, our under-21s were in the Ulster final. We've a brilliant minor team next year again - maybe better than this year's. So I think it's a really good job for anybody."
In a wide-ranging interview, McGuinness expanded upon his motivation in taking the Donegal job, and his mindset as he approached the role.
"I asked for four years because I felt it might take four years to win an All-Ireland, and that was the reason I went for that number. It's four years for an Olympic cycle and it's an Olympic cycle for a reason."
"There is nothing more important than the group: not the manager, not the captain, not the best player"
McGuiness said he had "absolutely nothing" to say to critics of Donegal's style, and that he had only responded when "the group" was threatened.
"Every other decision that was made, [that was] 'controversial', was always made because of the group, and to protect the group. Because there is nothing more important than the group: not the manager, not the captain, not the best player."
He said criticism had never got under his skin, because "nobody has a clue what goes on at our training. And nobody has a clue about the bond, the genuine bond [that exists]. It's something that we'll always have and no one can take away from us.
"People can knock you and they can say things and they can poke fun at you, but that was going on before I took the job. And nothing really has changed.
"The only thing that has changed is Neil Gallagher and Christy Toye and these guys would have given you their right arms to have an Ulster championship, and now they have three and an All-Ireland."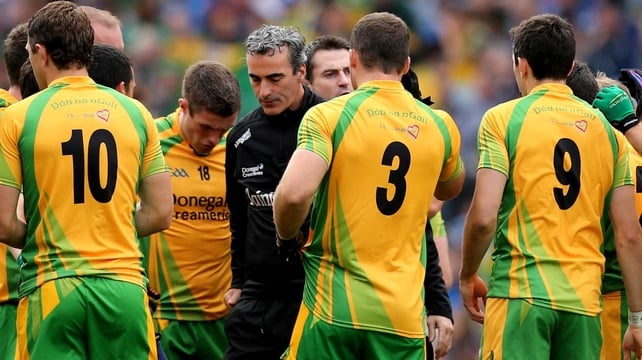 He spoke about the ever tightening margins in the ultra-competitive Ulster championship and the lengths to which counties go to get an edge of any kind.
"They're looking for anything that's going to get them over the line in the Ulster championship.
"If everybody in Ulster thought everybody was going to play a flamboyant, expansive brand of football, and everybody was going to buy into that in April and we were going to run through the Ulster championship, that would be great, but the reality is completely the opposite to that.
"And that can't be said about the other provinces, and that's no disrespect to the other provinces. That's why the Ulster championship is so revered, and that's why the medal means so much.
"There are other teams that can time a run for an All-Ireland quarter-final, whereas this year [2015] Donegal will have to beat Tyrone, they'll have to beat Armagh away, they'll to beat Down or Derry and then they'll probably meet Monaghan in an Ulster final.
"Now there are other teams in the country, and if they went through that process they probably would be All-Ireland champions.
"That creates a different dynamic ... You can't just be so cold and say, 'They do this and they do that' or 'It's too physical'. The margins are so tight. There are nine counties, everybody can beat anybody on a given day, and it just creates a different dynamic.
"And that's not in the other provinces. It makes it unique but it also puts you in a position where you can be criticised heavily.
"We had to make big changes because we were the flamboyant team of Ulster; and we were flamboyant for 19 years and got nothing."
"Even at your lowest point, you're really living, because you're hurting together as a unit, and you're going through this life experience"
Asked for his highlights of his time in charge, rather than pick out one moment, McGuinness spoke about the overall "journey".
"It's five years out of my life," he said. "It's a significant chunk out of your life. And I've shared that five years with people, like-minded, very committed, very focussed, great fun, so enjoyable.
"There are memories and moments when we got beat that will stay with me for a lifetime. But not necessarily negative ones: it's part of life, and getting beat is part of life, and winning is part of life. How you celebrate is part of life.
"The ability to raise expectations and pride in your own county is a great thing to be able to facilitate, and our players have managed to do that with that they have achieved on the pitch.
"And we have tried to support them as best we can, and I always use the word "facilitate" as best we can. Because I think that's what management is about; I haven't won one medal in the last five years. Not one. And that's the reality.
"The players have won the medals and management and coaches, their job is to try and facilitate the players to be successful.
"The journey has been genuine and the journey has been pure. We have cut no corners and we've faced things down. And we've come out on the right side of results and the wrong side of results, but we've stuck together and we've been really true to ourselves, and for me that has been the most enjoyable thing.
"So, in terms of highs, even at your lowest point, you're really living, because you're hurting together as a unit, and you're going through this life experience."