By Martin Carney
It's novel alright. Donegal v Kerry in an All-Ireland football final.
Stuff of dreams for those of a certain vintage. By 1963, when Donegal reached their first ever Ulster final, Kerry were already aristocrats of the code. 
Brian McEniff, in his era, changed the perception and reality of Donegal football and Jim McGuinness has moved expectation to an even higher level, where now an opportunity awaits to make it three wins from three appearances for the county in an All–Ireland decider.
Heady days indeed in the north-west!
Let's be honest. Few imagined that this pairing would contest the decider at the start of the championship. Popular opinion informed us that Kerry was in rebuilding mode, shorn of the talents of the 'Gooch', Tomas Ó Sé and Paul Galvin.
The season would promise more struggle than success. 
That Eamonn Fitzmaurice had inherited a team in transition seemed confirmed as the Kingdom limped past Clare in their season's opener. The absence of James O'Donoghue may have been a contributory factor but he made up for lost time with a virtuoso performance in the Munster final.
By semi-final stage seeds of experimentation had started to flower, and the spirit that one associates with the Kerry brand was manifest in the nature of their comeback against Mayo.  
Still marginally less fancied than their opponents in the semi-final replay, it was the circumstances surrounding the win that brought the Kingdom to new levels. Kieran Donaghy's introduction and subsequent influence reached levels that many thought were behind him.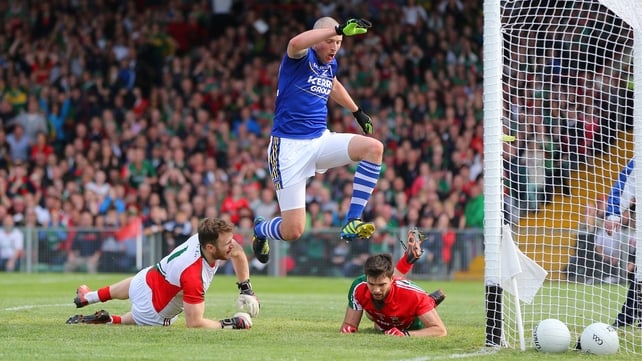 David Moran, as fitfully used this season as in the past, gave a thunderous display of midfield football that would have earned plaudits in any era.
For a side where only five players have started each and every one of their games, this win was a remarkable statement of progress made throughout the season.
Donegal's path to the final has, to a degree, been more assured.
Their success once again has the fingerprints of Jim McGuinness smeared all over it. 
The extent to which he has been able to reinvigorate a group that were massacred in the 2013 All Ireland quarter-final is remarkable by any standards. It helped the team's cause that he was able to draw exceptional performances from newcomers like Odhrán MacNiallais and Ryan McHugh after both had served short apprenticeships at this level.
Yet it is the old guard who have thrived and drawn inspiration from the belief their manager has shown them. The energy generated from within the squad has been of equal importance. This sense of mutual trust and belief was and remains the corner stone of their relationship.
In contrast to Kerry, Donegal in their five championship encounters have had a particular group of 12 players starting in every match.
Ultimately nothing became the team like the manner by which they disposed of Dublin in the semi-final.
The odds-on favourites were ensnared in a Tir Chonaill ambush that early in the game didn't seem possible, but when sprung, wiped the Dubs off the pitch.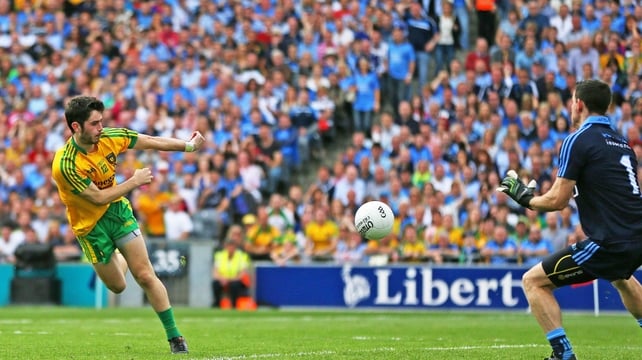 The decisive scoring burst on either side of half time settled matters. 
It will be fascinating to see how both teams set about their task today; the managers will have learned a lot from the semi-final displays of their opponents. 
Eamonn Fitzmaurice will insist that his defence retains its shape and avoids the trap of leaving gaps at the back similar to those which afflicted Dublin in the semi–final.
The forward trusts of Frank McGlynn, the underrated Anthony Thompson and the mercurial Ryan McHugh thrive on open space. 
The onus on Donnacha Walsh, Declan O'Sullivan and Johnny Buckley, presuming they are selected, to stop Donegal runs, tackle like dervishes and create opportunities for their inside line will be immense.
How will the midfield battle resolve itself? Will Neil Gallagher in his own inimitable way have the legs to neutralise the influence of David Moran and will young McNiallais stretch Anthony Maher beyond his comfort zone with his penetrating runs?
My own opinion is that there are few teams better capable than Donegal of rendering an opposition midfield redundant with the intensity and relentlessness of their tackling and I expect them to gain a marginal edge in this vital area.
To break the defensive Donegal shield, Kerry may attempt to get the ball wide and run with it at pace or else use the long kicked delivery to their full forward line.
There are few better exponents of the punted ball than Kerry and Donaghy's role as a target man will be high on Kerry's agenda. 
The task facing the McGee brothers in curbing this threat will have been well rehearsed and Kerry may get less return from this strategy than they got in the semi final.
And this brings us to the likely match winners on either side – the men who remain calm in a storm and who possess an assuredness and confidence to get winning scores when opportunities arise. 
James O'Donoghue has been my player of the year so far. His movement, bravery, accuracy and awareness of his wider team responsibilities is impressive. Donegal may ask Paddy McGrath to man mark him but therein lies potential danger.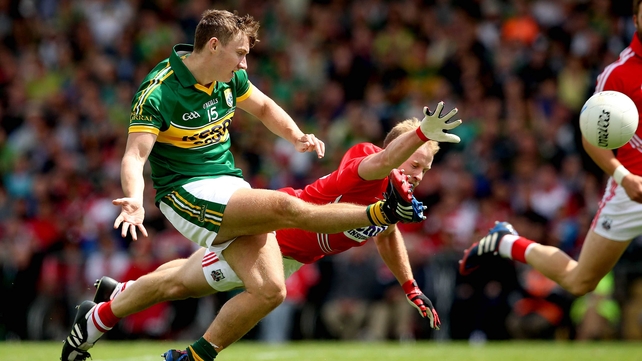 At times McGrath can be impetuous and with a referee like Eddie Kinsella, who is not averse to issuing cards (he flashed three black cards in the Monaghan v Tyrone game) Jim McGuinness may favour reverting to his zonal sweeping system. 
Equally Paul Geaney carries a scoring threat and works well in tandem with O'Donoghue and ignoring his scoring potential could be fatal to Donegal.
At the other end Michael Murphy shoulders an enormous responsibility. Played close to goals he carries a huge threat. One can only second guess what role he will be given. Irrespective of position, I expect him to wield a big influence.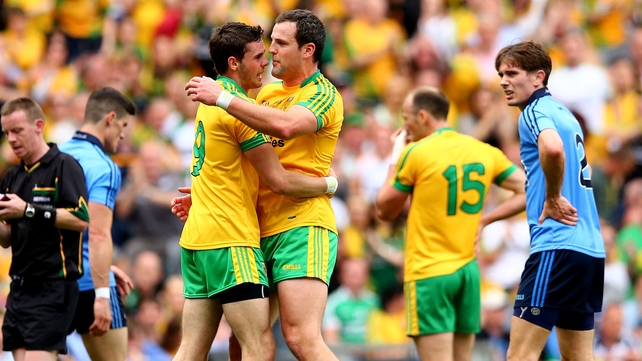 The task of containing him may fall to Aidan O'Mahony and the eventual result may hinge on the winner of this tussle. What is certain is that Donegal's support cast needs to be at its best and Colm McFadden will hope to reprise the performance of 2012 against the same opposition, when he notched 1-06.
Nothing will be easy. Although many defensive stalwarts of recent times have departed this Kerry backline remains mean and tight.
The substitute corps on each team, has to date, improved both tempo and performance but I think the Donegal bench with its knowledge of the system and that bit of extra experience will tilt the balance in their favour. 
The old cliché 'Kerry in a final are different' has a convincing ring to it. That they will embrace the occasion and compete to the bitter end is a given. Many of the squad already know what it takes to win. To ignore their pedigree would be wrong. But yet much of the same argument can be made for Donegal. This group are remarkable.They play like men possessed.
Though I have a fear that the Dublin victory may have emptied their locker somewhat I still think if they can build an early lead and execute whatever plan Jim has hatched they will be crowned champions. 

Live coverage of Kerry v Donegal in the All-Ireland football final from 12.30pm on RTÉ2 (throw-in 3.30pm). Watch live on RTÉ Player (Ireland only) and worldwide via GAAGO. Live radio coverage from 2pm on RTÉ Radio 1.