Ger Collins' brace of penalty goals, allied to a late effort from substitute Darragh Treacy, gave Limerick a 3-11 to 0-15 SFC qualifier win over Antrim at the Gaelic Grounds.

Paddy Cunningham kicked four points as Antrim led 0-08 to 0-06 at the break, with the benefit of a very strong breeze to come.

But the visitors, who lost centre-back Justin Crozier to a suspected dislocated elbow, struggled in the second period as midfield talisman John Galvin drove Limerick to victory.
Neutrals would not have given the Shannonsiders much of a chance when they trailed at half-time having played with the aid of the stiff wind.

But Antrim had three wides inside as many minutes on the resumption and this seemed to have an effect on their confidence.
The first score of the second half was the first of the penalties slotted home by Collins. It came after 41 minutes and followed a quickly taken short free by Ian Ryan and as he tried to force his way through Galvin was hauled down.

The sides were level after 50 minutes and it seemed Antrim would push on but points by Killian Phair and Gearoid Hegarty had Limerick motoring again.

Antrim brought in Ronan McGrady after 44 minutes and with his first touch he put over a splendid point.
They were level with Limerick - 0-10 to 1-07 - with free-taker Cunningham keeping Antrim in contention.
He finished with seven points (six from frees), but ultimately Antrim paid the price of over-elaboration in front of goal.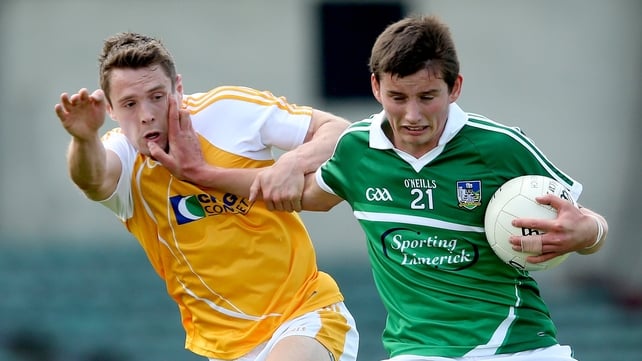 In the opening 35 minutes, Liam Bradley's men played a close short passing type of game knowing they would have the aid of the breeze in the second half. But their tactic backfired once Collins nailed his opening penalty.

Limerick started well with points by Killian Phair and a Ryan free. Two frees by Cunningham had Antrim level but a second Ryan free and another from play opened a two-point gap after 15 minutes.

A third Cunningham free and a great score by midfielder Michael McCann left only one between them but Paul McCann tied it up after 26 minutes.

Cunningham and Mark Sweeney nudged Antrim in front and they went on to lead by two at the interval and it seemed they would go on from there.

Limerick's last score of the half was a fine effort by corner back Mark O'Riordan who clearly felt it was time to show the forwards the way.

Michael McCann and Limerick's Galvin had a great battle in centre-field all afternoon but when Galvin moved more towards goal he became a great threat. Nonetheless, McCann had a splendid outing as did Tony Scullion and Declan Lynch in defence.

The game was held up for ten minutes in the first half when Crozier badly injured his elbow. He was stretchered off in the 27th minute and taken to a nearby hospital.

Limerick: B Scanlon; S O'Dea, P Browne, M O'Riordan (0-01); I Corbett, J McCarthy, P Ranahan; T Lee (0-01), J Galvin (0-02); D Neville, S Buckley, G Hegarty (0-01); G Collins (2-00, 2-00 pen), K Phair (0-02), I Ryan (0-04, 0-03f).

Subs used: D Tracey (1-00) for Lee (43 mins), S Lucey for Corbett (45), E Hanrahan for Phair (63), M Brosnan for Neville (65), J Mullane for Hegarty (68), G Noonan for Ryan (70+3).

Antrim: P Flood; N Delargy, S McVeigh, K O'Boyle; T Scullion, D Lynch, J Crozier; M McCann (0-01), N McKeever (0-01); P McCann (0-02), K Niblock, M Sweeney (0-01); P Cunningham (0-07, 0-06f), B Hasson, T McCann (0-01).

Subs used: M Johnson for Crozier (28 mins), R McGrady (0-01) for Hasson (46), P McBride (0-01) for P McCann (53), R Johnson for T McCann (65).

Referee: Martin Higgins (Fermanagh).