Mayo manager James Horan has denied rumours that there is a rift between himself and selector Donie Buckley.
The Connaught Telegraph suggested that Buckley and Horan had fallen out as the former was absent from a training session prior to the Connacht SFC clash with New York, according to Horan.
However, the Mayo number one has strongly denied any such rift exists, telling the Western People: "It's mind-boggling really.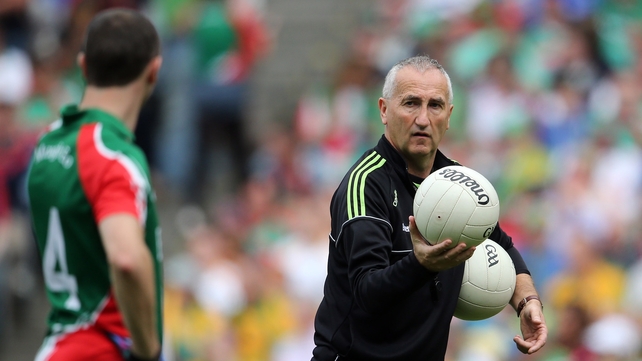 "If this reporter bothered to go to any of our sessions, he'd know that because of our geography, it doesn't make sense to bring eight or nine Dublin-based players down every Tuesday. So we split the sessions and we alternate who takes the sessions.
"On that particular night, Donie was taking the Dublin session and I was taking the session in Claremorris.
"The information published in his article was disgraceful and I just cannot understand how something that's completely untrue can get published.
"It was complete lies on a full page of a local paper" - James Horan
"That article was published the week before we played our first championship match. It was complete lies on a full page of a local paper. It didn't impact our preparation at all, but it did create a fuss around the team from some of the public, which is far from ideal."
In the same article, Horan also denied that he is a totalitarian figure, saying such a managerial style simply does not work with modern athletes.
Horan said: "I don't know how any modern-day manager could be stubborn or dictatorial because of the big support team that needs to work so closely in tandem to run an inter-county team. That day of one-man ruling with an iron fist is gone.
"Managing highly-educated, motivated young athletes that are all keen to learn requires a team of people working together and that's why those articles were so wide of the mark."