The wait for that elusive All-Ireland success goes on for Mayo and for manager James Horan, a painful assessment of what might have been lies ahead.
Dublin edged out the westerners on a 2-12 to 1-14 scoreline in today's final, despite the vanquished showing enough in the first half to suggest they could end their 62-year drought.
Afterwards, Horan clearly felt the winning of the game was within their reach.
He told RTÉ Sport: "We had enough ball to win the game but we made too many basic mistakes. Our handpassing let us down. Quite simply the ball has to stick. Coughing up needless possession is killing in an All-Ireland final.
"We created the chances, but we didn't get the return that was required."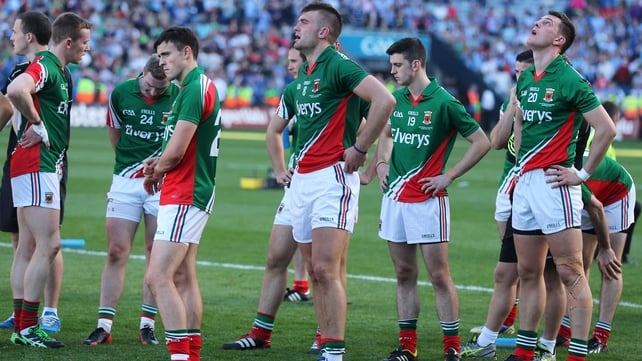 Dublin's better use of the ball was key to their success, according to RTÉ's The Sunday's Game panel, but Horan was still keen to highlight what was considered was Mayo's lack of composure on the day.
"Look, Dublin scored more than us and they deserved their victory. But we had enough possession out there and we didn't make sufficient use of it.
"In saying all that, we have good players and the effort of some individuals was exceptional. Beforehand there was much talk about whether Andy Moran and Cillian O'Connor would do the business. But I thought they showed real leadership and were really solid.
"Keith Higgins was also outstanding. However, as a unit we didn't do enough."
As to the future, the manager was non-commital.
"Look, we'll go away and have a look at things; have look at what went wrong. In saying that I think it's pretty obvious what went wrong."