Dublin were crowned All-Ireland football champions for the second time in three years following a 2-12 to 1-14 win over Mayo.
Mayo dominated the opening half hour with Cillian O'Connor and Andy Moran shooting them into a three-point lead, but Dublin kept in touch with Bernard Brogan's 16th-minute goal.
Mayo lead by 0-8 to 1-4 after the break but needed captain Moran's 50th-minute goal to go level before Brogan grabbed his second goal for the Dubs and despite a string of O'Connor frees, Mayo fell short yet again.
In front of a crowd of 82,274, there was Hawk-Eye drama inside the opening minute when a Keith Higgins effort was ruled out, and all Mayo had to show for an early spell of intense pressure was an Andy Moran point, which was cancelled out by Diarmuid Connolly.
But the O'Shea brothers established a foothold in midfield, and Mayo's support play had the Dubs defence back-pedalling.
Wing back Lee Keegan and converted defender Higgins swept over points, and when Cillian O'Connor knocked over a 13 metre free, they led by 0-4 to 0-1 with 12 minutes on the clock.
Dublin were struggling to contain the dash and drive of their opponents, but found a way into ta game they had been desperately chasing when Bernard Brogan grabbed a 16th minute goal, rising high to flick Paul Flynn's route one delivery past Rob Hennelly.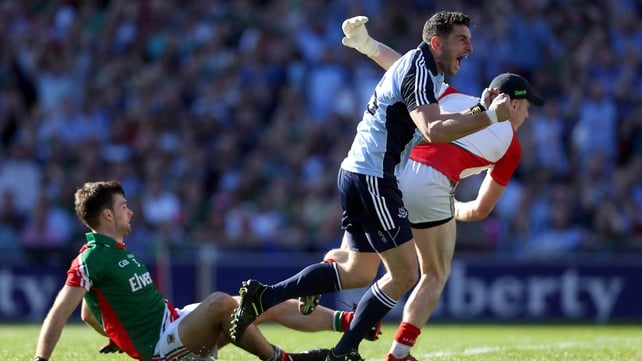 Rather than provide a platform for the Dubs to establish their own spell of dominance, they were pushed straight back onto the back foot again.
Higgins foraged deep for possession and Keegan was a constant threat going forward, kicking his second point to make it 0-7 to 1-01 on 23 minutes.
But they were unable to maintain a phenomenal level of intensity, and for the first time in the game, Dublin were able to retain possession and move the ball constructively.
Their shot selection still left much to be desired, with three shots landed in the arms of goalkeeper Hennelly, but they began to chip away at Mayos' lead, with Brogan, Cluxton, from a'45, and substitute Eoghan O'Gara, who skipped around Tom Cunniffe much too easily, all on target in the final seven minutes of the half.
But the interval, Mayo's advantage had been trimmed back to a single point, 0-8 to 1-4, and the Dubs took the lead for the first time three minute into the second half when O'Gara broke through, only to be denied by a superb Hennelly save, with the ball deflected over the bar.
They appeared to have finally found their rythmn when Paul Flynn and Brogan both floated over delightful long range scores for a three points lead, but in the 50th minute, Mayo conjured a goal.
Substitute Michael Conroy latched onto a loose ball that should have been cleared by the Dublin defence, and quickly transferred to Moran, who made the instinctive run to collect at pace and slide a low shot past Cluxton, all square at 1-9 each.
But there was soon to be another twist in an All-Ireland final that had finally caught fire. Denis Bastick had been on the field less than a minute when he picked out Brogan at the far post, and the former Football of the Year punched home his second goal in the 54th minute.
Mayo fought back again, but the demons were hovering, and Dublin kept them at arms length, restricting their scoring chances to a handful of frees, which O'Connor duly convderted onm his way to an eight points tally.
The Ballintubber man narrowed the gap back to a single point, but it was not enough, and the westerners were left to reflect ruefully on a seventh All-Ireland final loss since their last triumph 62 years ago.
Dublin: S Cluxton (0-02, 1 '45, 1f), P McMahon, R O'Carroll, J Cooper, J McCarthy, G Brennan (0-01), J McCaffrey, MD Macauley, C O'Sullivan (0-01), P Flynn (0-01), C Kilkenny, D Connolly (0-01), P Mannion, P Andrews (0-01), B Brogan (2-03, 0-1f).
Subs: E O'Gara (0-02) for Mannion, Darren Daly for McCaffrey, Dean Rock for Kilkenny, K McManamon for Andrews, D Bastick for Cooper
Mayo: R Hennelly, T Cunniffe, G Cafferkey, C Barrett, L Keegan (0-02), D Vaughan, C Boyle, A O'Shea, S O'Shea (0-01), K McLoughlin, K Higgins (0-01), A Dillon, C O'Connor (0-08, 8f) A Freeman, A Moran (1-2).
Subs: M Conroy for Freeman, E Varley for Dillon, B Moran for S O'Shea, J Doherty for Moran
Referee: J McQuillan (Cavan).