By Micil Glennon
The football championship is reaching boiling point with places in the All-Ireland quarter-finals up for grabs this weekend.
London v Cavan, Croke Park, 3pm
London's journey provides one of the stories of the summer so far. They beat Sligo in Ruislip before accounting for Leitrim after a replay.
The Exiles were no match for Mayo in the Connacht final, but get a deserved run-out in HQ.
The Breffni County were impressive in their province, beating Armagh and Fermanagh before losing in the semi-final to Monaghan.
They came out on top in the re-match with Fermanagh before seeing off Derry after extra-time in Celtic Park.
Cavan are just one game away from an All-Ireland quarter-final and should be too advanced for whatever London throw at them.
Verdict: Cavan
London: TBC
Cavan: TBC
Cork v Galway, Croke Park, 5pm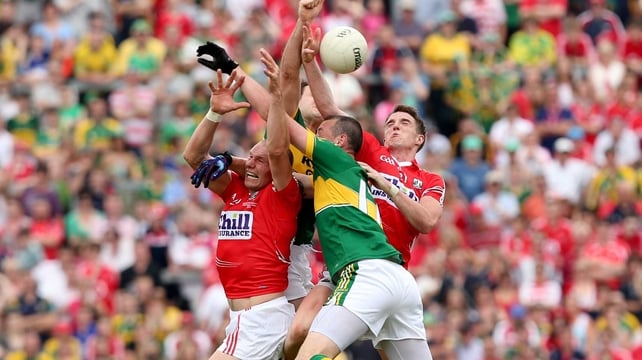 The Rebels arrive at this juncture after a Munster final defeat to Kerry, on a 1-16 to 0-17 scoreline.
Before that they recorded easy wins over Limerick and Clare.
Galway were able to get the agony and shock of a 17-point Connacht defeat to Mayo out of their system with a four-point win over Tipperary in round one.
They made hard work out of visitors Waterford in round two, requiring a late goal to win.
They caused, arguably, the shock of the last round with a solid win over Armagh.
The Tribesmen probably never envisaged that they would be involved at this stage after their defeat to Mayo, while Cork have bigger targets in their sights.
Verdict: Cork
Galway: Manus Breathnach, Donal O'Neill, Finian Hanley, Johnny Duane, Sean Denvir, Gary O'Donnell, Gary Sice, Paul Conroy, Tom Flynn; John O'Brien, Sean Armstrong, Conor Doherty, Michael Martin, Michael Meehan, Danny Cummins.
Cork: Alan Quirke, Eoin Cadogan, Michael Shields, Thomas Clancy, Damien Cahalane, Graham Canty, James Loughrey, Alan O'Connor, Pearse O'Neill, Mark Collins, Aidan Walsh, John O'Rourke, Daniel Goulding, Ciaran Sheehan, Brian Hurley.
Donegal v Laois, Carrick-on-Shannon, 5pm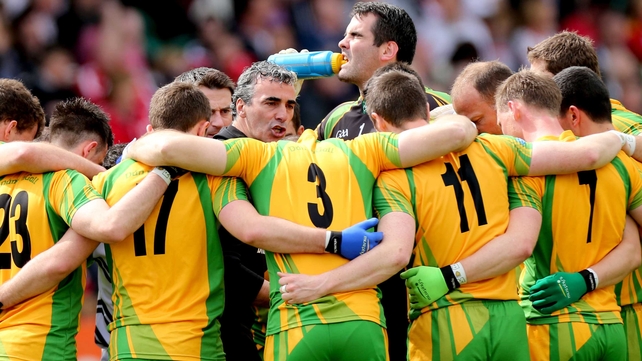 Monaghan's shock win in the Ulster final sent the All-Ireland champions down the qualifier route, a vision not many had forecast.
Before that Jim McGuinness's men had impressed against Tyrone and to a lesser extent against Down in the semi-final.
Laois were shocked in the opening round of Leinster at home to Louth before overpowering Carlow.
They easily saw off the challenge on Mick O'Dwyer's Clare, but relied on some wayward shooting from Wexford, who hit 16 wides in a two-point defeat, to get to this stage.
Three qualifier wins is a decent return for the Midlanders after their loss to Louth.
Despite the quick turnaround and loss of Mark McHugh and fitness concerns over Karl Lacey for this game, Donegal should get over the line.
Verdict: Donegal
Donegal: TBC
Laois: Eoin Culliton, Paul Begley, Mark Timmons, Peter O'Leary, Darren Strong, Kieran Lillis, Padraig McMahon, Padraig Clancy, John O'Loughlin, Ross Munnelly, Billy Sheehan, Colm Begley, Conor Meredith, Donal Kingston, Evan O'Carroll.
Meath v Tyrone, Croke Park 7pm
The Royal County impressed in the Leinster final, eventually going down to a more clinical Dublin by 2-15 to 0-14.
Previous to that they saw off a fancied Wexford in the semi-final and Wicklow, away, in the quarters.
Tyrone were overpowered by Donegal in the Ulster quarter-final (2-10 to 0-10) before trouncing a depleted Offaly side in Tullmore in round one.
They got a stiffer challenge off Roscommon and stood firm against a second-half Kildare surge in the last round.
Mickey Harte's side are exactly where they thought they would be and their big-day experience in Croker should be enough to edge a tight battle.
Verdict: Tyrone
Meath: Paddy O'Rourke, Donal Keogan, Kevin Reilly, Bryan Menton, Padraic Harnan, Mickey Burke, Seamus Kenny, Brian Meade, Conor Gillespie, Eamonn Wallace, Damien Carroll, Graham Reilly, Stephen Bray, Joe Sheridan, Michael Newman.
Tyrone: Pascal McConnell, Ryan McKenna, Conor Clarke, Cathal McCarron, Ciaran McGinley, Peter Harte, Conor Gormley, Colm Cavanagh, Sean Cavanagh, Matthew Donnelly, Mark Donnelly, Joe McMahon, Darren McCurry, Stephen O'Neill, Martin Penrose.
Live television coverage of Meath v Tyrone from 18:40 on Saturday 27 July on RTÉ Two and RTÉ.ie (Ireland only). Live radio coverage of all the day's action from 14:00 on RTÉ Radio 1, RTÉ RnaG and RTÉ.ie (Worldwide).
Highlights and analysis of all the weekend's action on The Sunday Game from 21:30 on Sunday 28 July on RTÉ Two and RTÉ.ie (Ireland only). Expert and fan reaction on Take Your Point from 18:00 on RTÉ Radio 1 and RTÉ.ie (Worldwide).