London made history in Dr Hyde Park today when they just about held on to win a heart stopping Connacht semi-final against Leitrim on a score of 2-11 to 1-13 in Dr Hyde Park.
The Exiles looked to be in complete control at half time with a 2-10 to 0-02 lead, but Leitrim came roaring back in the second half on the back of a James Glancy goal with eight minutes to go.
They could easily have won or drawn the tie if they hadn't kicked a handful of critical wides in the closing minutes, but instead London advance to their first ever Connacht Final to be played against Mayo on the 21 July.
The entertaining minor semi-final between Galway and Mayo that preceded this encounter gave some indication of the deceptively strong breeze that blew down towards the cemetery end of Dr Hyde Park this afternoon, but London's decision to take the wind in the first half only goes a small way towards explaining their dominance in the first half of this tie, or Leitrim's comeback in the second.
From the start the Exiles took control of the game with Eoin O'Neill and Lorcan Mulvey running riot in the full forward line.
Defensively, they completely overpowered the Leitrim attackers in each of the one-on-one battles that were taking place.
Emlyn Mulligan opened the scoring for Leitrim from a free, but that was to be their only score for the first 34 minutes of this tie as London began to take control.
Mulvey kicked three frees and O'Neill kicked a neat score from play to put the Exiles three up, before Leitrim were dealt the first of two massive injury blows with the forced withdrawal of midfielder Darren Sweeney, who played such a huge part in the drawn encounter between the sides.
The second body blow was all too predictable to anyone who watched Emlyn Mulligan in the early stages, with Leitrim's captain and talisman hobbling off minutes later, to be replaced by Brian McDonald.
With Leitrim hugely understrength, London began to flex their muscles.
Leitrim wing forward Paul Brennan was playing as a sweeper but this backfired on the Leitrim management team of Barry Breen and George Dugdale, as Tony Gaughan followed his marker up the field and kicked fine two points from play from his advanced location to stretch London's lead.
With Leitrim now on the ropes, London dealt them a further body blow when they struck for the game's first goal after 23 minutes.
A good move through the middle involving Mulvey and Cathal Magee created an overlap for Greg Crowley and the Parnells wing forward produced a fine finish, hitting the bottom left corner.
Three more London points followed and some poor shooting denied them several more scores, but a second goal just before the break seemed to crush Leitrim's hopes.
Some lateral handpassing across the London half-forward line appeared to be going nowhere, but suddenly the Leitrim defence lost their shape and left a gap in behind their full back line, allowing Damien Dunleavy to find Séamus Hannon with just the keeper to beat.
Hannon drew McCrann out of his goal before slipping the ball into Ciarán McCallion, who had an easy finish.
Leitrim's Robbie Lowe rattled the crossbar with a fine drive just before half time in an attempt to pull his team back into the game, but the ball deflected over, sending the teams into the dressing rooms at London 2-10, Leitrim 0-02.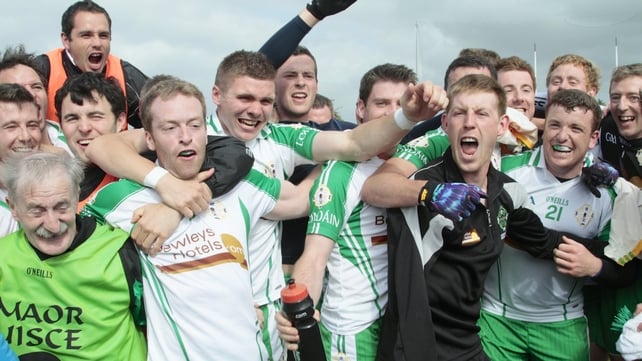 Leitrim did come out of the blocks fast in the second half and Kevin Conlon put some respectability back on the scoreboard with four placed balls, three frees and one '45.
However, they needed to keep that momentum going and after Lorcan Mulvey replied with a close range free and Leitrim failed to push on in the middle third of the half, it looked as if London would coast to an easy victory.
Instead Leitrim delivered a huge surge in the closing ten minutes, kickstarted by James Glancy's goal in the 61st minute that reduced the deficit to five, 2-11 to 1-09.
The big Glencar/Manor full forward had been very quiet up to this point but he produced a crucial intervention when he got a clean punch on Kevin Conlon's long delivery, finding the corner of Declan Traynor's net.
With London visibly tiring and plenty of nervousness creeping into their play, Leitrim started to rack up points and four frees reduced the deficit to the minimum with two minutes of normal time to go.
Conlon kicked three fine placed balls and Paul Brennan delivered another long range monster from 55 metres out, leading most of the 5,217 supporters to believe that extra time or even a Leitrim victory in normal time was on the cards.
Leitrim had their chances to secure a result, but they failed to take advantage of a 40m free which Kevin Conlon kicked wide, while their final possession ended in a James Glancy kicked that skewed left of the posts, the full-forward shooting only after several of his team mates failed to take on a shot from seemingly better positions.
London were out on their feet but they still found the energy to great Cormac Reilly's whistle with a huge roar, celebrating a famous achievement that will live long in their history.
London: D Traynor; P Butler, S Curran, D McGreevy; S Hannon, S Mulligan, T Gaughan (0-02); C Doyle, P Geraghty; G Crowley (1-00), D Dunleavy, C McCallion (1-01); E O'Neill (0-02), L Mulvey (0-05, 0-04 frees), C Magee (0-01).
Subs: E McConville for Hannon (HT), S Kelly for McCallion (45), C Daly for Geraghty (Blood, 48), B Mitchell for Dunleavy (54), C Daly for Doyle (61), B Collins for Magee (62)
Leitrim: C McCrann; G Reynolds, C Egan, F McMorrow; D Beck, E Williams, B Prior; D Sweeney, B Brennan (0-01, free); P McGowan, R Lowe (0-03), P Brennan; K Conlon (0-08, 0-06 frees, 0-01 '45), J Glancy (1-00), E Mulligan (0-01, free).
Subs: C Clarke for Sweeney (13 mins), B McDonald for Mulligan (16), S McWeeney for Egan (HT), R Cox for McDonald (52)
Referee: Cormac Reilly (Meath)