Legendary Dublin footballer and manager Kevin Heffernan has died aged 83.
The St Vincent's clubman had a distinguished club and inter-county career - winning All-Ireland titles as both player and manager.
Born in August 1929, the highlight of Heffernan's playing career came in 1958, when he captained Dublin to an All-Ireland football title.
Dublin defeated Derry in the final, with Heffernan playing at left half forward.
His medal haul as a player included 21 county championships (15 in football), seven Railway Cups, four Leinsters and one All-Ireland in 1958.
He went on to be named in the left-half-foward position on the GAA Football Team of the Century in 1984 and the team of the Millennium in 2000.
After retiring in the early 1960s, it was as a manager for Dublin that he will be most fondly remembered.
Heffernan took over as Dublin manager in late 1973 and led the Dubs to Leinster and All Ireland titles in 1974, his first full season in charge.
It would prove to be a golden era for the team from the capital - one defined by their rivalry with Mick O'Dwyer's Kerry side.
Dublin would go on to win the All-Ireland again in 1976. However, afterwards Heffernan unexpectedly stepped down, leaving the vacant manager's position to fall to captain Tony Hanahoe, who duly led Dublin to another All Ireland in 1977.
Kevin Heffernan later returned and set about rebuilding his Dublin side. By 1983 he had taken his team to the All-Ireland title again, with the famous '12 Apostles' defeating 14-man Galway in the final.
Following his retirement from Dublin, Heffernan continued to have a keen interest and involvement in Gaelic football and later managed Ireland to victory in the 1986 International Rules series against Australia. He was given the Freedom of Dublin in 2005.
Revered by those in his own county and respected by all outside it, 'Heffo' as he was known was a central character in some of the most iconic moments in GAA history.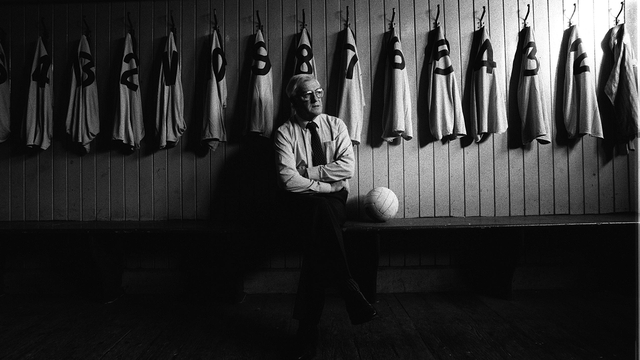 GAA President Liam O'Neill has led the tributes to the Dublin legend, saying he had an "incalculable impact" on Gaelic Games in this country.
"The 'Dubs' as we know them came into being during his era as he restored success to his native county and a pride in the team that was built on the back of the selection of Dublin born players," said O'Neill.
"He was one of the most charismatic and popular figures the Association has ever produced and was at the same time an immensely modest man.
"I would count myself – like countless others – extremely fortunate to have met him on occasions down through the years.
"On behalf of the Association I extend my deepest sympathies to his wife Mary, daughter Orla, wider family and large circle of friends and admirers."
Taoiseach Enda Kenny described Kevin Heffernan as one of the real legends of the GAA.
"He was a truly great player - both in hurling and football and tasted All Ireland football success in 1958 playing for his beloved Dubs.
"Under his management, Dublin revolutionised the way teams trained and the way the game was played. His All Ireland successes brought him into the hearts and homes of Dublin and GAA fans all over the country.
"Kevin was a giant in every way and to his wife Mary and daughter Orla, I extend my deepest sympathy."
You can leave your condolences and memories of Kevin Heffernan and his great Dublin team in the comments section below (mobile users visit desktop site)