Kerry manager Eamonn Fitzmaurice has said he is already enjoying putting his own stamp on the Kingdom after two games in charge of the side.
The Finuge clubman has some big matches coming up in the next month and is delighted to finally watch his Kerry charges in action following a winter of planning and preparation.
"We have started the year now and we are delighted to be back out playing games", he told Pádraig Ó Sé on RTÉ Raidió na Gaeltachta.
"We had done a lot of preparatory work over the winter to make sure everything was right in terms of the management side of things, but you are always looking forward to the start of training and it was great to get out on the pitch. We are very happy that the season is underway now.
"I have been involved with Kerry for the last few years, but since I got the manager's job I have been looking forward to the challenge.
"It's great now to actually be out working with the lads on the field rather than waiting and planning.
"We have had a few games now and another coming up on Sunday (v Limerick in the McGrath Cup) and that is great.
"I have been heavily involved for the past few years, especially with the younger players, and I was involved with Jack O'Connor so I have a fair bit of experience at this stage.
"If you want to be involved in management this is the best job to have.
"It's the job that most people want and I am delighted to be in this position."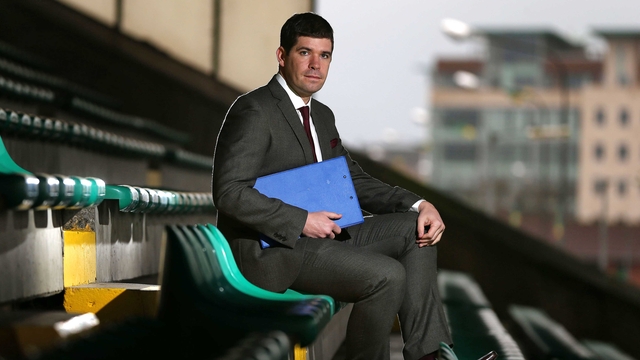 The new Kerry boss has admitted that he needed to place some distance between himself and the players when he was appointed a selector with the county, and now that he has landed the top position, it means another variant on his relationship with them.
He said: "I suppose I have played with a lot of the lads. I was gone then for a few years before coming back in as a selector with Jack O'Connor. When I took the selector's job I had to distance myself from the lads I played with.
"When you come in as manager there has to be a gap between you and the players, but co-operation between management and players is very important.
"I have my own style of management and hopefully that will work."
Fitzmaurice's long-standing association with the county means the expectations surrounding the team's results will come as little surprise.
He said it should be something to motivate the management and players rather than a hindrance.
"Kerry fans expect a lot from their team. That is one of the reasons that Kerry are so good.
"The interest in football in Kerry is huge, and the drive young lads have to progress and play with Kerry is huge, so that pressure comes with the job.
"I know that pressure is there but it's a good form of pressure.
"Kerry fans are always expecting good things from the team, but we are looking for good things from the team as well."
Fitzmaurice, who took over from Jack O'Connor following Kerry's defeat at the hands of Donegal last season, is adamant that he will blood young players, especially as there are a number of senior stars unavailable due to injury and club commitments.
The Kingdom manager stated: "We are giving a lot of the young lads a chance now, and if they perform in the League they will get their chance later in the year. That can only add to what we are trying to achieve and to the strength of the panel.
"We as management are really looking forward to seeing these young lads and seeing if they are capable of playing against the top teams during the league. If they get on well it will be a great experience for them.
"We know we have older players with a lot of experience but they won't be around forever so the younger players have to step up. Hopefully this will happen in 2013.
"We have a few players with injuries and they could be out until the latter stages of the League. Players with a lot of experience like Bryan Sheehan, David Moran and Donnacha Walsh are missing right now but that gives us a chance to try the younger lads.
"When the injured lads return that will only add to the panel, and we would hope to have a reasonably strong panel by the time the Championship rolls around in May.
"We have had a lot of injuries around the middle of the field but once everyone is fit we will have a lot of options there.
"Depending on fitness we have Anthony Maher, Bryan Sheehan, David Moran and Johnny Buckley, and you always have the option of bringing Kieran Donaghy out there too. We are trying out a few things at the moment as you do at this time of year."
Fitzmaurice spent 2012 as manager of the Kerry Under-21 team and has stressed that his relationship with his successor Darragh Ó Sé is going to be a key factor in his management plan.
"That co-operation with Darragh is very important. I speak to Darragh regularly about players stepping up to senior level and who are the players that are showing well for them in training and challenge matches.
"That co-operation was there last year between myself and Jack. Myself and Darragh have a great relationship so there will be no problems there. We have already brought four of the Under-21 panel into our set-up so far, and perhaps there will be room for more when the Under-21 championship is over."
Fitzmaurice is also pleased with the manner in which his new management team and backroom staff have gelled, and said the focus is now on the League opener with Mayo in Castlebar on Sunday 3 February.
"Cian O'Neill has fitted in well and is working well with the team. Mikey Sheehy and Diarmuid Murphy have great experience and have been a great help to me.
"As well as that there are a lot of people in the background that give great support. I'm very happy with the management team and the support we have been given so far.
"The first game of the League against Mayo will be interesting.
"Cian is with us now and (former Kerry trainer) Donie Buckley is with Mayo so the chemistry on the sideline will be interesting.
"We know it will be difficult to get the better of Mayo up there.
"After reaching the All-Ireland final last year they will be looking to get a good start to 2013, but these are the type of games you want when you are trying to learn about players."
Fitzmaurice has not been shy in criticism of the new restrictions on the number of management and officials that are permitted on the sideline during matches, and is hoping that the rules will be reviewed before the start of the Allianz League.
"I don't think the new rules will work at all. You are allowed to have only two people on the sideline, the manager and one other, and everyone else has to sit in the stand.
"It's difficult for anyone in the stand to discuss things when they are sitting amongst the subs. I don't think it's appropriate for subs to be able to hear what selectors are saying about players and the rationale behind decisions taken during games.
"It's important for me that the selectors are with me for advice and support. That's not possible when the selectors are up in the stand. I don't think the rule will work and I hope there will be a change before the start of the league."
The early part of the year is an exciting time for the new Kerry manager as he is also involved with his school, Pobalscoil Chorca Dhuibhne, in the latter stages of the Munster Colleges Championship, and is still playing for his club Finuge, who have reached the semi-final of the AIB All-Ireland Intermediate Club Championship.
Fitzmaurice is happy with the complaint.
"It's great to be involved with so many big games at this time of the year. The school are playing Rochestown in the Corn Uí Mhuirí shortly, Finuge have an All-Ireland Intermediate Club semi-final coming up, and, of course, every game with Kerry is a big game."
"I will be very busy in January and February but that is a great problem to have.
"I'm really enjoying it."