Louth manager Aidan O'Rourke wants to create a new spirit within the Wee County as he prepares to take charge of his first game this weekend.
O'Rourke was appointed in October, taking over from Peter Fitzpatrick, in his first role as an inter-county manager having worked with Down and Kildare previously.
Dundalk native Fitzpatrick spent three years with Louth, guiding them to Division 2 of the Allianz League and a place in the 2010 Leinster final, where they controversially lost to Meath in a match that still wrangles with the county according to the incoming manager.
O'Rourke's new side face UCD on Sunday in the O'Byrne Cup, with a large panel at his disposal to begin the competition with a view to assessing all options at this early stage of the season.
The former Armagh player wants to banish the ghost of that painful loss to the Royals and revitalise the squad.
He told RTÉ: "That Leinster final probably still looms large on the horizon. They do cite it every so often in terms of their potential and I would tend to agree with that. They very, very easily could have won Leinster that year.
"There is no doubting that the playing ability within that group in 2010. Peter Fitzpatrick had them in a fantastic place and playing fantastic football. The challenge for me is mirror some of that, rediscover some of that and add my own mark to it."
O'Rourke had been linked with Monaghan and Antrim prior to confirmation of his new role with Louth.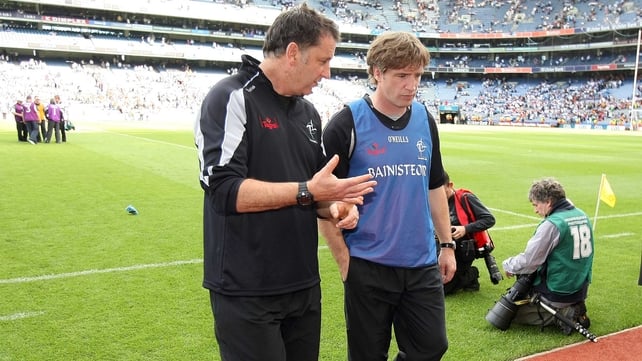 Having served time under James McCartan and Kieran McGeeney, as well a post of GAA Development Officer at Queen's and coaching at university level, the path to senior inter-county management seemed inevitable.
The 2002 All-Ireland winner feels he has found a correct fit with the Leinster side.
"I've always been very, very interested in coaching, even while I was playing club and county I coached elsewhere. I was coaching at university when I was still playing for Armagh and I just want to coach and manage.
"The next natural progression for me was county management. Louth, from the outside and not knowing the county forensically, and being a near neighbour, always seemed to me to have slightly underachieved. I always admired, particularly the attacking flair that they would have possessed and the mindset, the devil may care attitude they possess.
"That always appealed to me with the Louth psyche. The opportunity arose and I felt it was a good fit for me. It is an opportunity to see if I can do anything."
With a panel of over 30 players training ahead of the beginning of the O'Byrne Cup, illness is slightly hampering preparations for a busy period ahead.
After the encounter with UCD, Louth travel to Navan on Wednesday to face Meath, before entertaining Longford three days later.
O'Rourke said: "The fellas have work very, very hard in the period where we have got back together pre-Christmas. We were hit a wee bit with this seasonal bug that is going around this week.
"There are some fellas sick at the minute and with the help of God they will be okay at the weekend. There are some fellas showing a few symptoms and I hope they don't develop any further but we'll see how it goes."