Neil Lennon revealed that Celtic's majority shareholder Dermot Desmond was behind the intriguing recruitment of Donegal manager Jim McGuinness as performance consultant.
The 39-year-old will remain at Donegal, whom he led to the All-Ireland title this year, but will be at Lennoxtown on a part-time basis to help in the development of the club's young players.
Hoops boss Lennon, speaking ahead of Sunday's Clydesdale Bank Premier League clash with St Johnstone at Parkhead, said: "Dermot made me aware of Jim's position and made the introduction.
"We had a long conversation about both sports and sport in general and there is stuff I can learn from him (Jim) and there is stuff he can learn from us so it is a win-win situation.
"Jim has a skill set that we don't have here, in terms of the psychological side of the game. It is a huge part of sport.
"He will player profile the younger players, look at their strengths and weaknesses, study their background and their state of mind.
"He will not be able to coach, he is not a qualified football coach but he does know sport and has excelled in his own sport.
"So the cross to football will not be a problem.
"He will predominantly work with younger players but if I feel there is a first-team player that would benefit from Jim's skill I would have no hesitation in using him.
"It will have no effect on what he is doing at Donegal.
"He will probably initially come in two days per week and we will take it from there."
"The opportunity to work in professional sport in any capacity is a wonderful chance for me" - Jim McGuinness
Earlier this morning, Celtic released a statement this morning stating that McGuinness had joined the club.
He will be based at Lennoxtown and will help in the development of the club's young players, commencing his role at the end of November.
It has been confirmed to RTÉ Sport that he will work with Celtic two days a week.
McGuinness said: "It's a fantastic opportunity for me on an individual level and I'm very thankful to Neil Lennon for giving me this chance and bringing me into the club.
"Obviously I work in amateur sport and the opportunity to work in professional sport in any capacity is a wonderful chance for me and one I'm very [much] looking forward to."
McGuinness' role will focus on youth players at the Celtic academy.
The 2012 All-Ireland winning coach will work with Celtic two days a week with his assistant Rory Gallagher coaching Donegal when McGuinness is in Scotland.
McGuinness' Celtic salary is rumoured to be in the region of €150,000.
McGuinness continued: "You are really looking to create a finished product that is good enough to be pushing for the first team and creating a stronger squad at the club.
"We will hopefully look at every single player as an individual project and move them forward as best we can.
"We will revaluate every couple of months and try and move them forward and give them the best opportunity to develop and grow within the club so they can put their best foot forward in making the ultimate step up to first-team football."
Speculation regarding McGuinness linking up with Celtic intensified this week when he was spotted at the Glasgow club's UEFA Champions League clash with Barcelona at Celtic Park.
Lennon had previously invited McGuinness to Parkhead to see Celtic play against Helsingborg last August and is a known admirer of the Donegal man's coaching style.
Highly-rated Donegal GAA Football manager Jim McGuinness is joining Celtic as a performance consultant. (PC)celticfc.net/newsstory?item…

— Celtic Football Club (@celticfc) November 9, 2012
McGuinness has also spoken about his working relationship with Lennon: "I suppose the bottom line is that it has been through my work with Donegal.
"We started off at Donegal at a very low base, a low level, but we have worked very hard in moving the thing forward and getting people to up a level and ultimately getting success on the pitch.
"So I suppose Neil [Lennon] was looking in at that and watching that unfold. I was invited over then saw around the facilities and met all the coaching staff and the support people.
"It was great for myself to see that as you are very interested from your own point of view from bringing things back into your own group. That's how it really developed.
Lennon said: "We are absolutely delighted that Jim has agreed to join us. He is a first-class coach and manager and a high-quality individual who has achieved so much already in sport.
"We feel he will add real value to the club in terms of moving our young players forward and in making sure they develop in the right way for the benefit of the club."
Accomplished player and tactician
The Glenties man was an accomplished football player before his career in management, and was part of the Donegal side that won the All-Ireland SFC in 1992.
Having retired from the game as a player, McGuinness went on to work as a fitness coach and a sports psychologist in the North West Regional College, Limavady.
McGuinness' success with the Donegal team is largely credited to his creation and development of a defensive, smothering style of football - entitled The System by GAA media. The System landed Donegal the Ulster Senior Football Championship in 2011 and 2012, as well as the All-Ireland title in 2012.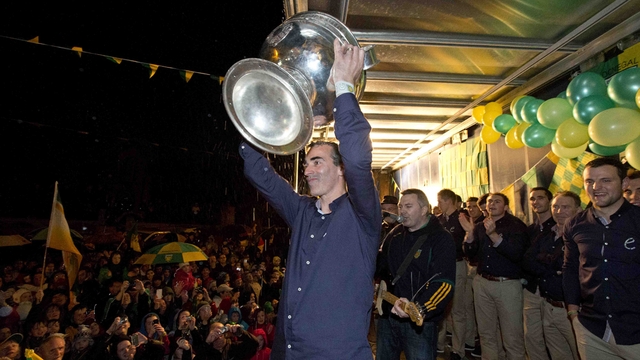 The Donegal boss is only two years into a four-year contract with his county, and it is believed that he spoke to the Donegal County Board on Tuesday regarding the possibility of maintaining his role with Donegal and working concurrently with Celtic.
Aodh Mairtin Ó Fearraigh, the Donegal County Board secretary, said on Thursday: "As far as we're concerned, Jim McGuinness is still the manager of the Donegal senior team."
Sports science background
McGuinness has an MSc in sport psychology from John Moore's University, Liverpool, as well as an honours degree in sport, exercise and leisure from UUJ. In addition to those qualifications he holds a higher cert in health and leisure studies from Tralee IT.
McGuinness also recently stated his desire to work in other sports, and with other teams, having previously worked with soccer clubs Finns Harps, Derry City and Limavady United.
Last month, he said: "My background is in sports science and in psychology, which are transferable across all sports.
"If a professional football team, or any professional sporting organisation came in and said they were interested in talking about work, it is obviously something that I'd have to consider.
"I'm a young man with a young family and three kids so it's something that I'd have to consider.
"It wouldn't scare me. If something came up, I would have to discuss it with my wife, but Donegal is where I'm from and Donegal is my love and passion.
"It would have to be something that I would have to look at very seriously if there was going to be anything."