Donegal won their second All-Ireland Football Championship title in a wave of emotion at Croke Park, beating Mayo 2-11 to 0-13.
Forwards Michael Murphy and Colm McFadden hit 1-04 each as the Ulster champions piled more final agony on Mayo.
Early goals from Murphy and McFadden had Donegal seven points clear, but three Cillian O'Connor points narrowed the gap to three (2-04 to 0-07), at the break. O'Connor and Enda Varley kept Mayo in touch, but they held on to claim the Sam Maguire.
A crowd of 82,269 watched Jim McGuinness's side silence the critics who had lambasted their defensive strategy last season, and lift Gaelic football's richest prize, 20 years after the county won a maiden title.
Just two and a half minutes had elapsed when Murphy rose above marker Kevin Keane to fetch Karl Lacey's delivery, turn and blast a rocket to the roof of the net.
History weighed heavily on Mayo shoulders when they conceded a second goal after 10 minutes.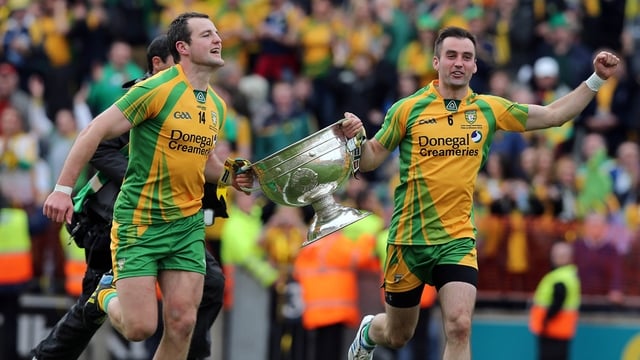 McFadden displayed alertness and deadly finishing power to collect after Paddy McBrearty's effort had come off the post, and drilled a low shot past David Clarke.
Moments later it could have been three, when Murphy slipped the ball inside to McFadden, but Clarke was quickly off his line to make a smart save.
Fears that the Connacht champions would crumble were well off the mark, for they displayed courage an character to play their way into the game.
Donegal's early midfield dominance was challenged by the emergence of Aidan O'Shea and Barry Moran.
Kevin McLoughlin finally got them off the mark in the 16th minute, and while McFadden and Ryan Bradley fired over further Donegal scores, it was Mayo who carried the greater attacking threat throughout the second quarter.
Cillian O'Connor converted his third free, and two delightful Kevin McLoughlin points, along with a gem from Michael Conroy, narrowed the gap back to three.
Unusually, Donegal's defensive system was creaking, and basic mistakes were creeping in, and they had gone 16 minutes without scoring when McFadden thumped over a 45 metre free.
Enda Varley responded instantly to leave the westerners just three points adrift at the break, 2-04 to 0-07.
But the Ulster champions pushed on in the third quarter, with corner back Frank McGlynn running forward for a trademark point.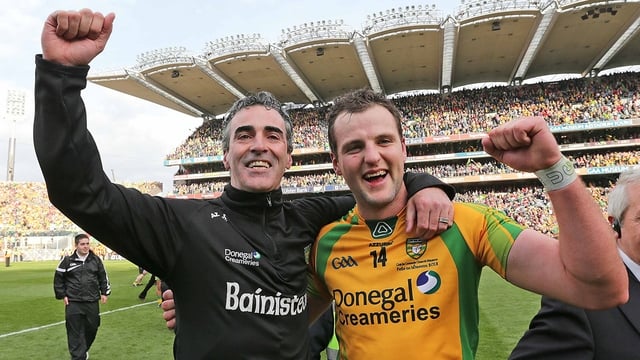 Barry Moran performed heroics at midfield in an effort to keep his side's challenge going, and scores from Enda Varley and O'Connor kept their hopes very much alive.
But a couple of mighty fetches from Neil Gallagher helped Donegal get back on top in the central area.
Murphy, named man of the match, powered over a couple of long range frees, and punched over Rory Kavanagh's cross to make it a six-point game going into the final eight minutes.
Mayo gave it their best shot, scores from substitutes Richie Feeney and Jason Gibbons and defender Lee Keegan, narrowing the gap, but there was to be no denying Donegal as they completed their mission to bring Sam back to the Hills.
Donegal scorers: M Murphy (0-03f), C McFadden (0-03f) 1-04 each, R Bradley, N Gallagher, F McGlynn 0-1 each.
Mayo scorers: C O'Connor 0-05 (5f), E Varley (1f), K McLoughlin 0-02 each, L Keegan, M Conroy, R Feeney, J Gibbons 0-01 each.
Donegal: P Durcan, P McGrath, N McGee, F McGlynn, E McGee, K Lacey, A Thompson, N Gallagher, R Kavanagh, R Bradley, L McLoone, M McHugh, P McBrearty, M Murphy, C McFadden
Subs: D Walsh for Bradley, M McElhinney for McBrearty, C Toye for McLoone
Mayo: D Clarke, K Keane, G Cafferkey, K Higgins, L Keegan, D Vaughan, C Boyle, B Moran, A O'Shea, K McLoughlin, J Doherty, A Dillon, E Varley, C O'Connor, M Conroy.
Subs: A Freeman for Doherty, J Gibbons for Conroy, R Feeney for Varley, S O'Shea for Moran
Referee: M Deegan (Laois)