British Prime Minister Boris Johnson's hopes of bringing the World Cup to the UK and Ireland in nine years took a serious blow last night, long before Gianluigi Donnarumma got a huge hand to Bukayo Saka's penalty.
Hours before Gareth Southgate was consoling his devastated players on the Wembley turf, England's suitability for hosting another major tournament was being seriously questioned by hordes of ticketless fans, who broke through multiple lines of security to flood into the stadium's concourses.
Long before kick-off, media present in Wembley were reporting large numbers of fans standing in the aisles, refusing to vacate the seats belonging to fans who, in some cases, had paid thousands of pounds to attend the Euro 2020 final between Italy and England.
They were even describing how the disabled viewing area in front of the press box was thronged with supporters who should not have been there, or anywhere inside the stadium.
As we watched the tense first half unfold on our televisions, we were seeing shocking videos on social media, showing violence breaking out between fans as streams of people forced their way past stewards.
Italy fan Roberta Cuppari told the BBC how she and her friend were "crushed in a corner" as ticketless fans took their seats and refused to move.
"It was the worst thing I have ever seen," said 38-year-old Cuppari. "There were people urinating, people doing drugs."
The FA chief executive Mark Bullingham has apologised to fans for the behaviour of what he calls "drunken yobs", saying there would be a full review of how the security breaches occurred.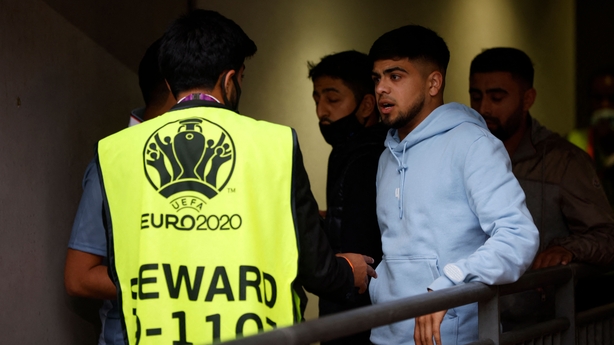 "There were a large number of drunken yobs trying to force their way in, we run a stadium not a fortress," he said.
"I have to apologise to any fans whose experience was affected and any of the team who had to cope with this."
At the World Cup final in 2014 in Rio de Janeiro, there were disturbances between Argentinian fans and Brazilian police on Copacabana Beach, but there was never the slightest suggestion the Maracana Stadium would be breached by ticketless fans.
It was a most unusual and unfortunate ending to a fantastic tournament, hosted across Europe, which saw its three most high-profile games played at Wembley.
From early morning it was obvious that the day was not going to pass without incident.
Social media again was littered with videos from Leicester Square and closer to Wembley, showing all manner of public disorder - the kind of behaviour often seen from a minority of England fans when at major tournaments, but not ones normally held on home soil, and not in such large numbers.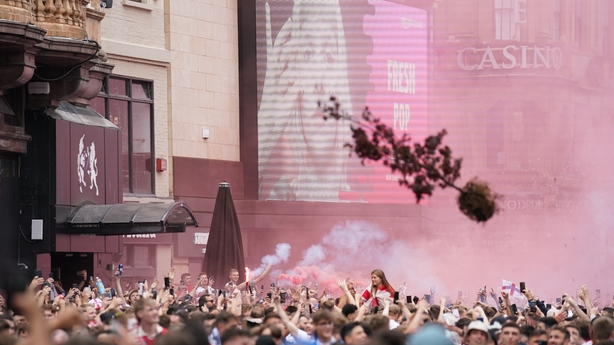 It all made for a grim evening off the pitch, and once things took a turn for the worse on the pitch as England lost out in the most heartbreaking fashion imaginable, things took a turn for the worse on social media.
The racial abuse of footballers is now a depressingly predictable feature of big games and, it is not a problem unique to England, but the bombarding of the accounts of Saka, Marcus Rashford and Jadon Sancho with insulting emojis and words of a racial nature has provoked a response from Prime Minister Johnson, Prince William and others from outside the footballing realm.
Back in March, the Irish government confirmed their support for a prospective bid for 2030, saying it would provide major benefits for all the nations involved.
That doesn't seem such a certainty now.
Irish football journalist @MiguelDelaney tells @RTEnews that the #Euro2020 final was "the worst policed football match I've been to" and that public drunkenness, open drug use and aggression outside Wembley Stadium made for an intimidating atmosphere. pic.twitter.com/YQvtrbgQVR

— RTÉ Soccer (@RTEsoccer) July 12, 2021
Listen to the RTÉ Soccer podcast on Apple Podcasts, SoundCloud, Spotify or wherever you get your podcasts.