Did Hamann is backing England to overcome Denmark, possibly after extra-time, but the RTÉ analyst believes the Danes will be a difficult opponent, who may have an advantage in the centre of midfield.
The former Germany and Liverpool midfielder is also interested to see England's approach should they go behind and concede for the first time at the tournament, but he believes Gareth Southgate's team will not be impacted by the excitement building across the nation ahead of tonight's semi-final at Wembley (Live on RTÉ2 and RTÉ Player).
Denmark's response to Christian Erkisen's cardiac arrest in their opening round defeat to Finland has been the story of the tournament. Hamann credits their solid defence and midfield duo of Thomas Delaney and Pierre-Emile Hojbjerg, along with Eriksen's replacement Mikkel Damsgaard, for this and is curious to see how England's inexperienced international duo of Declan Rice and Kalvin Phillips match up in this area.
"I think the Danish will be a tough nut to crack. They've defended very well so far and their three centre backs have been outstanding in the tournament and in (Thomas) Delaney and (Pierre-Emile) Hojbjerg they have two holding midfielders who play at good clubs in Dortmund and Spurs.
"Going forward they have missed Eriksen, who has been their star player, but Damsgaard, the young playmaker, has come in and done ever so well. So expectations are high," Hamann told RTÉ's Morning Ireland.
"Expectations can be a burden. I think apart from the Germany game, England went into all their games as favourites, so far they have done well, they are yet to concede.
"They are experienced players when it comes to club level. When it comes to international level, particularly in the middle of the park, they have two pretty inexperienced players when it comes to international games, in Rice and Phillips."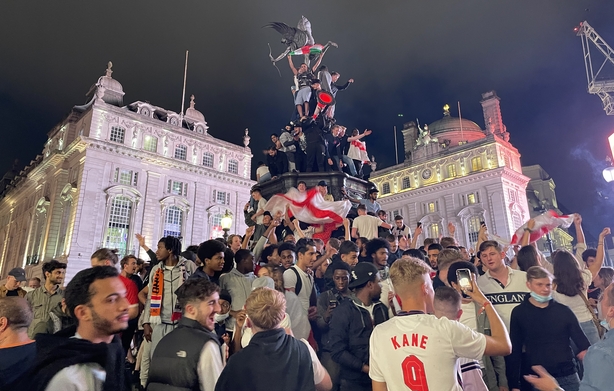 The hype in England is predictably fervent, with the tournament dominating the news and entertainment media, as well as the sporting pages, with politicians and celebrities weighing in. Expectation has got on top of England teams in the past, but Hamann thinks this time might be different.
"In fairness to Southgate, he seems to have his team pretty relaxed. They say all the right things and I think the only quetion mark I have about England is what do they do if they go behind, they are yet to concede and they may win the tournament without ever going behind but if they do go behind do they have the answers?
"Because so far they have played a pretty cautious game - against Germany for example they had seven defenders on the pitch - and obviously the creativity and fluidity going forward lacks when you have so many defenders on the pitch," added Hamann.
"Everyone expects England to win and I think in the end they will probably have too much for the Danes, but I wouldn't be surprised if it went to extra-time again."
Follow England v Denmark (8pm, Wednesday) via our live blog on RTE.ie and the RTÉ News app or watch live on RTÉ2 or RTÉ Player.