Former goalkeeper Peter Schmeichel claims Denmark's players did not want to restart their Euro 2020 game against Finland after Christian Eriksen's cardiac arrest.
Schmeichel, father of Leicester and Denmark goalkeeper Kasper Schmeichel, told ITV's Good Morning Britain that he did not think the players had a choice.
When asked if it was the players' decision for the game to be restarted after Eriksen had been taken to hospital, Schmeichel said: "Well that's an interesting debate.
"I actually saw an official quote from UEFA yesterday saying that they were following the advice of the player, the players insisted on playing – I know that not to be the truth."
---
Eriksen: 'Thank you, I won't give up'
---
Eriksen collapsed on Saturday during the first half of Denmark's opening match and was treated on the pitch before being taken to hospital.
Denmark's team doctor Morten Boesen later confirmed Eriksen was stable having suffered a cardiac arrest and that "he was gone" prior to being resuscitated.
Eriksen's team-mates formed a shield round him while he was being treated on the pitch and Peter Schmeichel is concerned how the incident will impact Denmark's players .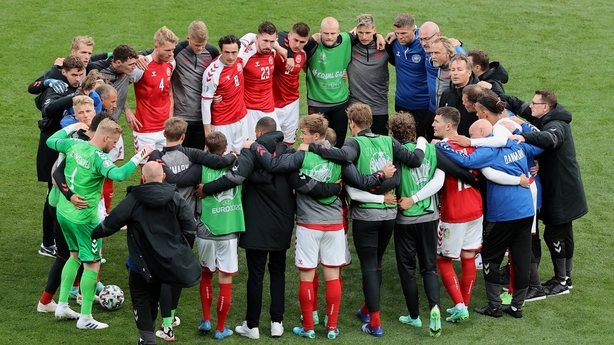 He added: "It's very difficult to say exactly what the longer-term impact will be (for the players) from that experience, which I know having spoken to Kasper was very traumatic for everyone.
"It's a very dramatic scene when someone has to be defibrillated and shocked back to life."
The former Manchester United goalkeeper added: "Or, it's how you see the truth. They were left with three options, one was to play immediately and get the last 50 minutes played.
"The next one was to come in yesterday at 12 noon and finish the 50 minutes and the third option was to forfeit the game, 3-0.
---
EURO 2020 FIXTURES AND RESULTS
---
"So work it out for yourself. Is it the players' wish to play? Did they have any choice really? I don't think they had.
"As you can hear from yesterday's press conference, the coach, he seriously regrets putting the players back on to the pitch."
Denmark forward Martin Braithwaite agreed with Schmeichel that the players did not want to resume the game but felt they had to choose one of the two times proposed.
"It was not a wish. We had two options, and in that situation we were told we had to make a decision," he told TV2.
"In that situation, one would of course have wished that there was a third possibility. You do not want to go out and play at that moment.
"We all knew very well that there would be no sleep at night. The next day was not at all an opportunity for us to go out to play.
Eriksen's condition is still stable and "good" today, according to the Danish Football Association.
"We are in touch with him. We were in touch with him yesterday and today. (His) condition is the same as yesterday, stable, good," Jakob Hoeyer, communications director, told reporters.
---
Watch every game of Euro 2020 live and watch nightly highlights on RTÉ2 or RTÉ Player | 11 June to 11 July
---