Ireland's Shane Breen won the 60th anniversary Al Shira'aa Hickstead Derby after a masterful display of jumping.
Breen, who is based at the West Sussex venue, delivered the only clear round over a huge course that featured fierce tests like the Derby Bank and Devil's Dyke.
Drawn early among 21 starters, Breen and 16-year-old stallion Can Ya Makan set a standard that no other combination could match.
And it gave Breen, whose brother Trevor won the event in 2014 and 2015, a first Derby triumph, collecting a top prize of €40,000).
In doing so, he added his name to a Derby roll of honour that includes showjumping giants like Eddie Macken, Harvey Smith, David Broome, John Whitaker, Nick Skelton and Ben Maher.
Breen, on his second ride Golden Hawk, also finished in a four-way tie for the runners-up spot alongside Somerset-based Harriet Biddick, riding A Touch Imperious, Ireland's Dermott Lennon and Gelvins Touch and Brazilian Carlos Mota Ribas, aboard Jella Van'T Kathof.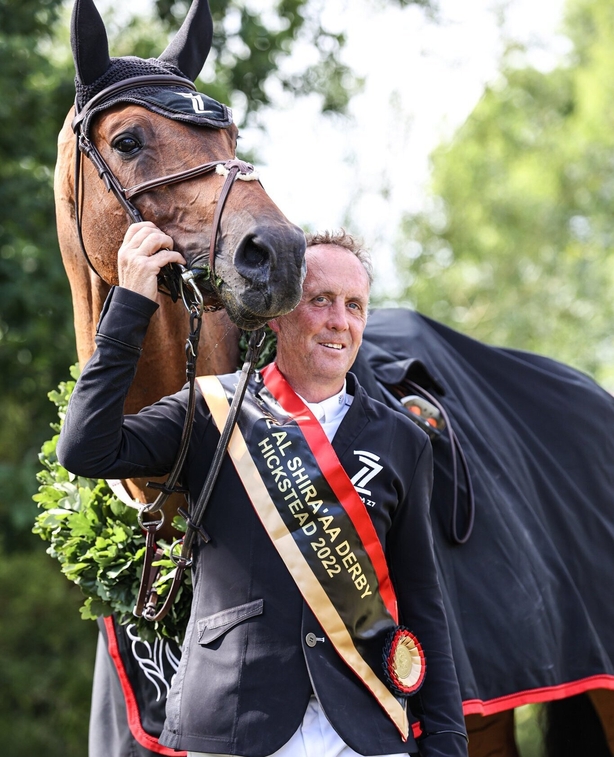 Breen first came close to winning the Hickstead showcase back in 2005, when tying for third place with his future wife Chloe Bunn, the daughter of the All England Jumping Course founder Douglas Bunn.
Seventeen years later, having finished second and third in the class on a number of occasions, Breen finally lifted the Boomerang Trophy after delivering the sole clear round of the competition with the 16-year-old stallion Can Ya Makan.
"I never normally feel pressure but I was actually getting a bit anxious, because everyone kept saying, 'It's your year!' and I'd say, 'It's been my year for the last 15 years'," said Breen.
"I've been saying to people that when I'm 80 I'll come down with a zimmer frame and just have one old horse to jump around the Derby with, but I won't have to do that now, thank God!"
Meanwhile Derry's Daniel Coyle has become the first Irish rider to win the five-star Grand Prix of Rotterdam since 1964, after a brilliant performance saw him claim victory aboard Oak Grove's Carlyle.
While 14 of the 45 starters made it into the jump-off and six of those had gone clear in the second roun, Coyle entered the arena as last to go and with the pressure on.
He was at his brilliant best as he crossed the line clear in 36.69 to take victory. Kevin Jochems of Netherlands with Cornetboy took second place in 37.20, while Frenchman Julien Epaillard took third place with Caracole de la Roque (37.49).