Bertram Allen made history at the 2022 Winter Equestrian Festival in Florida as the Wexford native scored back-to-back Grand Prix victories on the same two weeks he had also won in 2021.
A two-time winner of WEF three-star Grand Prix in 2021 and 2022, the Irish Olympian again rose to the top in the five-star $406,000 [€360,000] Lugano Diamonds Grand Prix with Pacino Amiro (ISH), the same mount he rode to victory in 2021.
It was an excellent day for the Irish with Limerick's Paul O'Shea guiding Chancelloress to a runner-up finish to make it an Irish one-two.
Just five of the 40 starters jumped clear in the first round to advance to the jump-off. First to return for the jump-off was Olympian Daniel Bluman (ISR) and Ladriano Z and they finished with four faults in a time of 45.59 seconds to take fourth place overall.
Allen was next in, and he opened up Pacino Amiro's giant stride to gallop across the course clear in what would prove a winning time of 44.14.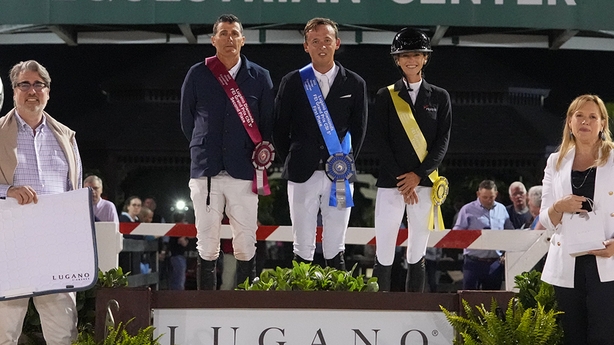 "It was a little hard to know how fast to go with only five in the jump-off," said Allen.
"It was a question of getting the line right between going mad and too fast and having a rail, so I tried to have as good of a round as I could without going mad.
"He's got a great length of stride, and any time there was an option, I was able to take one less, and I suppose that's what helped me today."
Another Olympic rider, Nicola Philippaerts of Belgium, came close to the winning time of 45.68 seconds, but a rail at the final oxer relegated him to fifth place with Katanga V/H Dingeshof.
As the lone American in the jump-off field, Bliss Heers jumped to a podium finish after she and Antidote de Mars were clear in 45.17 seconds to take third spot.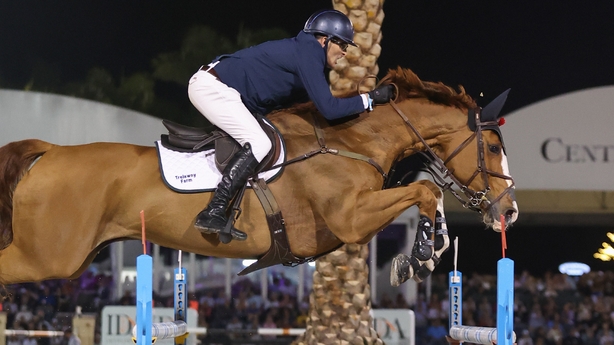 Last to go in the jump-off was Paul O'Shea riding Trelawny Farm LLC's Chancelloress. O'Shea made a bid in the long run to the final oxer as the crowd roared, but they crossed the timers just off the pace in 44.49 seconds for second place.
Of the Grand Prix course, O'Shea commented, "When I walked the course, I thought it was tough, but the standard is so high here because there are so many top riders and horses.
"They did a great job; everything I walked made me think it was difficult, and it had a lot of options, so you had to make a plan.
"It was an advantage for me to go later because I could see a lot go and make a good plan."