Greg Broderick admits he feels for Bertram Allen after he clinched Ireland's sole Olympic individual showjumping spot ahead of the higher-ranked Wexford man but insists he and mount MHS Going Global can justify the faith shown in them.
World No.10-ranked Allen's performances had secured the place in Rio for Ireland but the choice was at the discretion of team manager Robert Splaine, who has instead opted for the in-form combination of Broderick (252 in the world) and his mount MHS Going Global.
"I do feel sorry for Bertram Allen," Broderick told RTÉ Sport. "He won the spot fair and square. He's a fantastic rider and he's a gentleman.
"I have an awful lot of respect for Bertram and I was hoping things would go his way in St Gallen. He deserved a spot but my horse came out with all guns blazing and we jumped clear rounds.
"I did think he was favourite to take it. There were obviously two other very strong names in the hat as well, with Denis Lynch and Cian O'Connor, but I was just thrilled to get the phone call and delighted to be able to represent Ireland at the OIympics.
"We've got the spot and I just have to get stuck in now."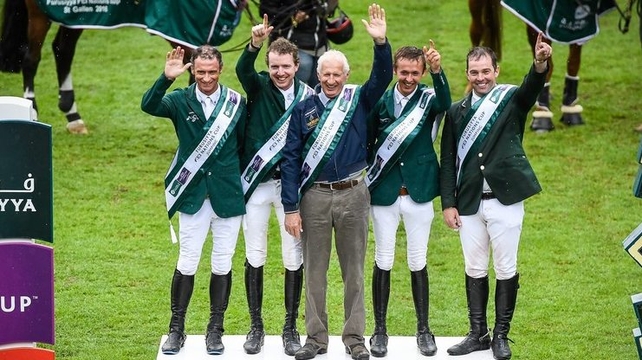 But Broderick insisted that his horse, who jumped a double-clear round to lead Ireland to Nations Cup success in Switzerland last week, was best placed to deliver for Ireland in Rio.
"I have all the faith in the world in MHS Going Global, who's an Irish-bred horse," he said. "The results of the horse in 2015 were second to none.
"If you look at his results, he jumped a clear round for Ireland in the Nations Cups in Lummen and La Baule, went to St Gallen last year and jumped a double-clear and then three clear rounds in the global tour in Estoril.
"Then he came back to Dublin and jumped a double-clear again to help Ireland win the Aga Khan, the only double-clear for Ireland in the Nations Cup.
"I had a quiet winter. I had an operation on my leg, which held me up for three months, so it was a bit of a slow start.
"He is the best horse we could have put forward for Rio" - Greg Broderick
"But when he came back out he proved to everyone he was as good, if not better, than last year and showed he is the best horse we could have put forward for Rio.
"He's still only a ten-year-old so I do think he learned a lot from last year and all the exposure he got. He's coming into his prime and he deals with big occasions very well.
"As they say about championships like Olympics, you need a big scopey horse that gets better as the week goes on. He has a lot of energy and a lot of power so the big jumps won't faze him.
"He always rises to the occasion and I'm very confident in the horse that we can go and do a good job in Rio.
"How he jumped in the Nations Cup and St Gallen Grand Prix he proved he's one of the best horses in the world and thankfully that was enough to sway it in our direction."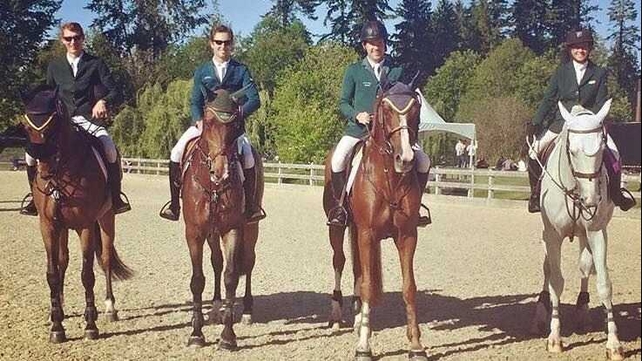 Damien McDonald, CEO of Horse Ireland, said it was unfortunate that Allen, O'Connor and Lynch had to miss out but that Ireland had four top riders and with only one place on offer there was always going to be disappointment.
"At the start it was made clear that Robert Splaine was going to select the combination that he felt would give Ireland the best chance of winning a medal at the Olympic Games," he told RTÉ Sport.
"He has come to the conclusion that based on form that MHS Going Global and Greg Broderick will give us that chance. We look forward to seeing how they get on and wish Greg the best of luck.
"Bertram is a brilliant rider, and it's a pity for him, because he's jumped brilliantly for Ireland previously.
"Obviously, Cian O'Connor has won an Olympic medal before and Denis Lynch has top-class international form as well. With four top-class combinations it was always going to be a very difficult decision.
"Maybe people outside the sport are surprised but I think people inside the sport realise that there were four excellent combinations to choose from" - Damien McDonald
"The pity is that we don't have a team going, as all four of them would have represented us brilliantly but unfortunately, there's only one place."
McDonald backed Splaine's choice of Broderick, saying the Tipperary rider and MHS Going Global are at "the top of their form".
"Maybe people outside the sport are surprised but I think people inside the sport realise that there were four excellent combinations to choose from," he said.
"We won the Nations Cup in St Gallen last week, which is further evidence of just how strong a team we have.
"All four combinations did very well but Greg Broderick and Going Global were particularly impressive.
"They jumped a double-clear in the Nations Cup and again at the Grand Prix. They were the only combination at the show to jump four clears. They're a combination at the top of their form and they had very good results last year as well."