Having watched his good friend David Mullins score an incredible Grand National win at Aintree a few weeks ago, Bertram Allen is more determined than ever to win gold for Ireland.
Mullins and Allen grew up riding ponies and show jumping alongside each other and as youngsters formed a firm friendship before their blossoming careers took them in different directions.
The 19-year-old jump jockey scored a stunning victory to win one of horse racing's biggest prizes on Mouse Morris-trained Rule the World.
World ranked number nine, Allen is one of Ireland's brightest medal hopes at the forthcoming Rio Olympics and he wants to reach the pinnacle of his own sport just as Mullins did.
"If everything goes to plan and we have the right luck, I know me and Molly Malone (his horse) definitely could do it," he said, speaking to RTÉ Sport.
"It's hard because there are a lot of very, very good ones, it's very competitive and you need everything to fall right, but if everything fell right there's no reason why we couldn't do it.
"I watched the Grand National there recently - my friend David Mullins won it, so that was brilliant. He used to show jump.
"I have been away so I haven't seen him so much the last few years, I saw him in Dublin last year, but I'd say we've known each other since we were ten-years-old. It was brilliant to watch it, fair play to him - I just sent him a well-done."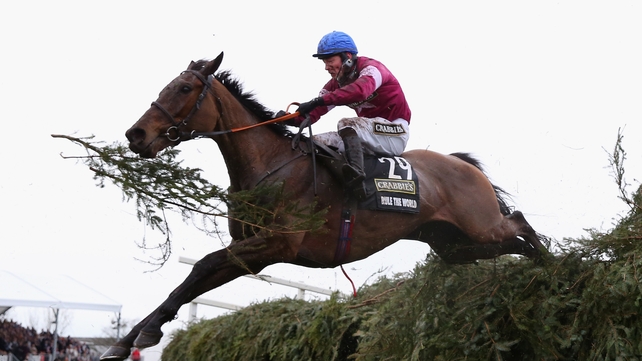 Mullins, pictured above on Rule the World, became one of the youngest-ever National winners and Allen is also making waves in his sport despite his tender years.
Allen, who has been based in Germany since he was 16, has a healthy interest in racing, which he gets from his father, Bert, but as a child he started showjumping as he was too young to get involved with racing.
By the time he was old enough, he was already showing huge potential in the jumping arena so there was no turning back.
"Dad had a few point-to-pointers and that's how I got into it. It's was one step after another from there as it got more and more serious," explained the 20-year-old from Enniscorthy, County Wexford.
"I've won the spot so it's obviously the most important thing to be peaking for Rio." - Bertram Allen
"I was too young when I started to go racing and then I got into the showjumping. That was going well so I went to Germany for a few months when I was 16 and sure that took off - it was gone too far at that stage for the racing. I keep an eye on it still, I like to follow it."
The next few months for Allen will be filled with uncertainty, as he waits to find out will he be selected as Ireland's sole showjumping representative for the Rio Olympics.
He qualified the place for Ireland last year, though it is up to Horse Sport Ireland to chose who is sent, with 2012 bronze medalist Cian O'Connor, Denis Lynch and Greg Broderick also in contention.
"I've won the spot so it's obviously the most important thing to be peaking for Rio," he said.
"I'll work back and do a few bigger classes and shows before then, that'll all be in my plan, and if that's good enough hopefully we can go. I'm not going to go and jump a whole lot to get the spot and then not be peaking for Rio.
"It is a bit difficult because I know most other countries, whoever qualifies the spot goes and that's it unless something goes wrong. But I just have to trust myself and trust my horse and my plan."
Ireland team chief Robert Splaine will make the decision and it will be announced on 5 June.
Speaking to RTÉ about Allen, Spline said: "He's a brilliant young man, there's no question about that. He won the place for Ireland, he's a wonderful talent and he has a great backup team behind him. He's one of the main contenders.
"Between here and 5 June all top level competitions will be taken into account. Present form is going to be huge - who is in peak form and going to have the best chance of delivering the best possible result for Ireland at the Olympic Games.
"I didn't make the rules, I have been given the brief to chose the best combination and that's what I intend to do."