Ireland's Billy Twomey was edged out by Italian Piergiorgio Bucci in a thrilling finish at the Equestrian.com Liverpool International Horse Show on Saturday.
Cork's Twomey eventually finished third, behind Bucci and second placed Laura Renwick of Great Britain.
The Italian, riding his Nations Cup campaigner Casallo Z, won a thrilling 1.45-metre against the clock class to take the win.
And in doing so, he thwarted the likes of Essex-based Renwick and Twomey in the race for a €8,200 top prize.
A capacity 6,000 Liverpool Echo Arena crowd saw Bucci cut more than a second off Renwick's time after she led for much of the action aboard Heliodor Hybris, while Twomey also went close with Tin Tin.
But Renwick and Twomey ultimately had to settle for second and third places, respectively, as Bucci clocked 46.44 seconds.
Three other combinations - Nicole Pavitt (Victor Blue), John Whitaker (Lord of Arabia) and Johnny Pals (Urjul van Generhese) - each posted a quicker time than Bucci, but not without knocking a fence down.
And the class, which was as much a test of jumping strength as speed across the ground, saw highly-fancied British hope Guy Williams part company with Golddigger.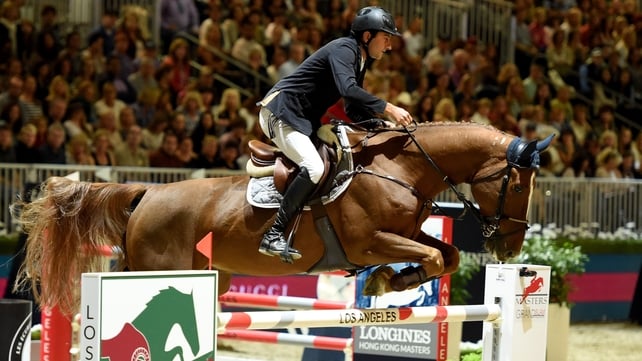 Italy's recent London Olympia World Cup winner Emanuele Gaudiano also fell from Cocoshynsky.
"It was a tough class," Bucci, above, said.
"Normally, he is my grand prix horse. He has jumped many clear rounds, but it was good for my horse to have the turns to do today. I am very pleased.
"He has been a bit stiff to turn sometimes, which is why I am wanted to try him a little bit in this class, and once again he showed how careful he is."