Cork rider Billy Twomey has claimed Ireland's first international win at the British Horse of the Year Show in Birmingham, England, with victory in the Five Fence Challenge.
Meath-based Cian O'Connor finished in second, while Wexford's 19-year-old Bertram Allen completed the competition in equal fourth.
Twomey was piloting Katrina Moore's stallion Royale du Rouet, and cleared a huge 1m70 high vertical and 1m90 wide triple bar to secure the €4,000 first prize on the third jump-off.
Close behind in second was Irish Olympic bronze-medallist O'Connor on Abdullah Humaid Al Muhairi's mare Ulme De Feugeres, the combination also making it to the third jump-off and picking up €2,500 in prize money.
In equal fourth following the second jump-off, Bertram Allen and the bay gelding Belmonde won €855.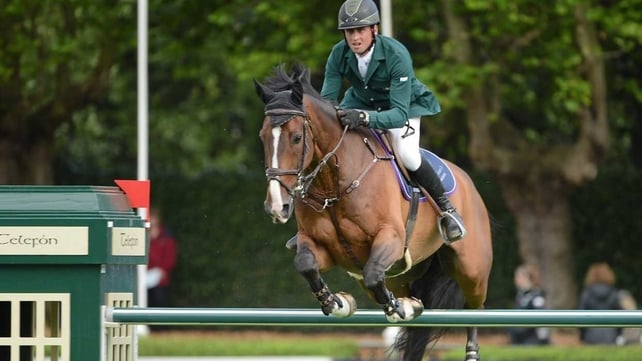 Tipperary's Trevor Breen made it an Irish double with Karen Swann's one-eyed Adventure de Kannan.
Competing in the big two-round feature class, Breen was one of 11 combinations to go clear in the first round from a starting field of 31, but second time out put his foot to the floor to streak home almost two and a half seconds ahead of the nearest British challenger, England's legendary showjumper John Whitaker on board the bay stallion Argento.
Breen, who picked up almost €9,000 for his win, also saw Allen finish in tenth place. The 19-year-old was the fastest of the first round clears with Twomey's Romanov, but faltered on his second attempt to pick up four faults.
On Thursday, Twomey took fourth place at Birmingham in the 1m45 Two Phase competition with the Joe Flynn's Irish Sport Horse Ardcollum Duke, with Trevor Breen and another Irish Sport Horse, Oldtown KC, in eighth.
In Chevenez in Switzerland, meanwhile, Ireland's pony team of Nicholas Connors, Hannah O'Shea, Anne Marie Dunne and Mikey Pender today finished fourth in the Swiss Nations' Cup on a total of 12 faults, with Germany taking the trophy on four faults.