Following Ireland's historic Aga Khan team victory on Friday, local riders continued to dominate at the Discover Ireland Dublin Horse Show in its fourth day of show jumping action.
Co Down-based rider and former world champion Dermott Lennon chalked up his second victory of the week when narrowly beating Switzerland's Olympic gold medallist Steve Guerdat to the €7,500 first prize in this afternoon's big jump-off class.
The 43-year-old Ulsterman was one of 14 through to the final round, and pushed the Irish sport horse mare Loughview Lou Lou across the line with zero faults and just an eighth of a second in hand against Guerdat's attempt on the chestnut stallion Ferrari VI.
Irish riders failed to catch France's Roger Yves Bost in today's accumulator competition, but nevertheless accounted for five of the top-ten places.
Bost, riding Castleforbes Vivaldo Vh Costersveld, finished a comfortable two seconds ahead of runner-up Tholm Keane and the Irish Sport Horse Warrenstown You 2, while Aga Khan rider Clem McMahon took third place on the grey gelding Valentino.
Another Aga Khan team member, Cian O'Connor, placed fourth with the Irish sport horse KEC Alligator Alley, while Northern Ireland's Peter Smyth finished in sixth on Hermoine IV. Ninth place was taken by Derry's Trevor Coyle and Clever Lady.
In the final major competition of the day, two Irish riders, Michael Hutchinson, riding Acorad 3, and Liam O'Meara with Cisero, shared first place in the Land Rover Puissance with Italy's Juan Carlos Garcia and Oliander, all three deciding to call it a day after going clear in the fourth jump-off and dividing the €25,350 prize money between them.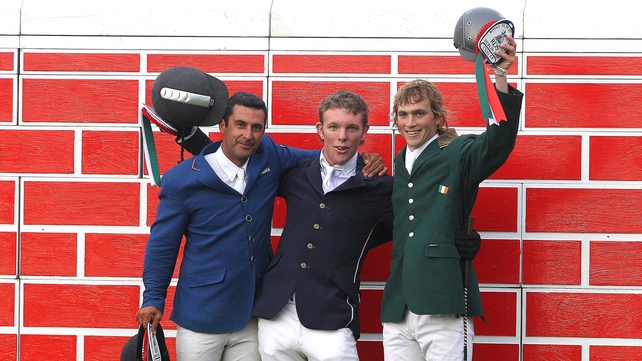 Cian O'Connor and Countdown took fourth place in the Puissance while fifth place was shared between Peter Smyth and Hermoine IV and Francis Connors with the Irish sport horse Heracross.
The Dublin Longines Grand Prix takes place on Sunday at 3pm.