Let's be honest, darts, more so than most other sports, lends itself to isolation.
The hard graft, the hours and hours of practice, the routines can all be done solo.
So the lockdown might be easier for darts players, than rugby or football or hurling in practical terms, but that doesn't make it easy.
And if you are a teenager forced to stay inside then it's harder again.
But Katie Sheldon hasn't been driven up the walls just yet. She's got her family around her and three arrows for company.
And as if anyone needed a reminder of the state of play, the coronavirus has paid a visit to the 16-year-old's home in Dublin, forcing her dad to isolate for almost three weeks and sending her grandmother to the hospital, both now fully recovered.
Sheldon, inspired by her grandad, found her passion seven years ago, her parents eventually relenting after numerous requests to get a board.
The pleas of a nine-year-old can only be ignored for so long.
Then it began: Thud, thud, thud; thud, thud, thud; thud, thud, thud. The attic with a heartbeat of its own.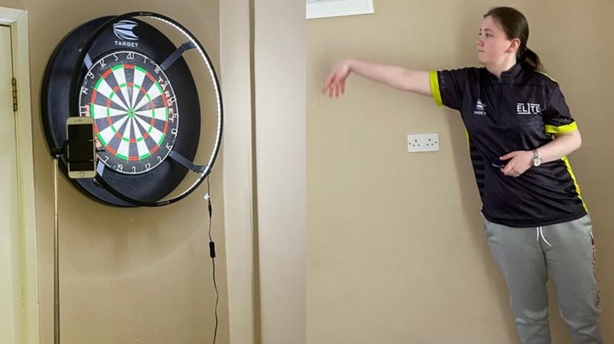 "Four, five, six hours a day," says her dad, Stephen, of the time spent pacing the oche in the first few years.
"I started at nine, throwing in the attic, I played every day," Sheldon tells RTÉ Sport, "but didn't go to my first competition until I was about 12,.
"At that stage there weren't many girls playing and I was up against the boys in the Irish ranking event and I got to the quarter-final in my first ever event.
"I was delighted. From there I kept going through the rankings."
In one sign that darts has changed massively recently, putting the old stock image of overweight men in smokey bars in the shade, the sport has brought the youngster all around the world.
She's a regular at competitions in England and had her eye on a Development Tour date in Wigan for this weekend before Covid-19 bust that particular plan.
But already the jet-setter has represented Ireland in Sweden, Germany, Netherlands, Romania, Turkey, Gibraltar and Japan. She's well-travelled for a Transition Year student.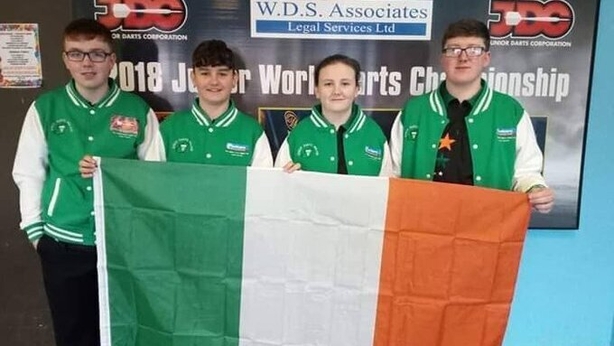 But, like the rest of us, it's all happening within 2kms of home now.
The Professional Darts Corporation have their Home Tour, which gives the tour card holders a chance to compete against each other online and there are a number of other 'virtual' events taking place.
The Irish National Darts Organisation runs its own competition; Martin Heneghan (108 average in the final) and Dean Forde have impressed among others so far.
Sheldon, twice a finalist in the World Darts Federation Girls U18 World Cup, is part of darts manufacturer Target's elite programme and plays in their tournament, which also includes Irish players Keane Barry and Killian Heffernan, from the comfort of her own home.
"It's just a bit weird. Usually I'm out every night at darts but there are online leagues so I can still get my practice in," she says.
"It's an eight-week tournament. It's great to be playing with lads who are at the top of the youths game. Even to win a few legs against these guys is great practice for me."
It's that hard practice that has Sheldon on the right track.
Before the coronavirus took hold she claimed the Irish National Ladies singles title and the All-Ireland Youths championship, where both genders compete.
The women's final went late into the early hours, particularly satisfying follow a "long day, all go-go-go" on the oche that started with the team events.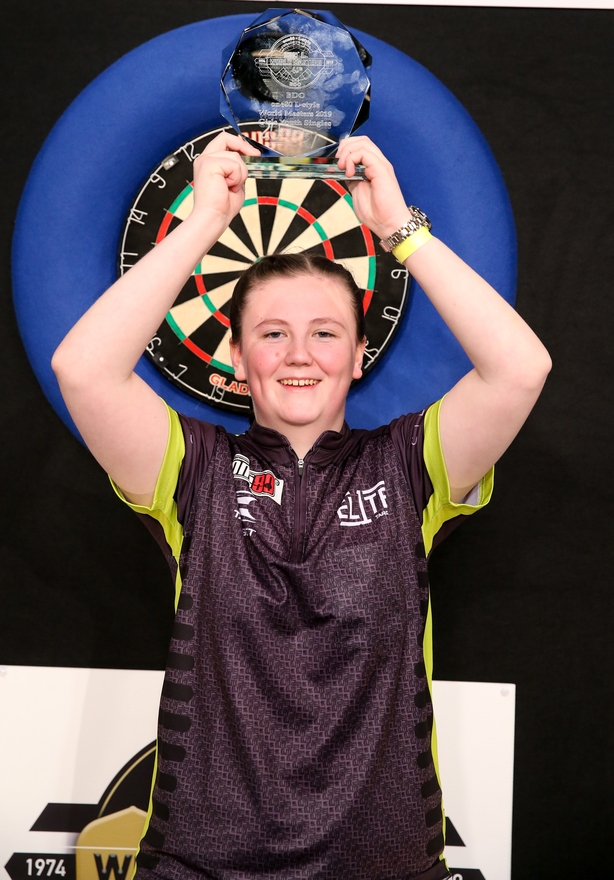 Back in October, when Cork's John O'Shea claimed the BDO World Masters crown, and Barry got his hands on the Boys Youths trophy, Sheldon was there to claim the Girls Youth title.
The sport itself, thanks largely to PDC chairman Barry Hearn, was already going from strength to strength over the last few years. The Sky Sports viewing figures are second only, they say, to football.
And then came Fallon Sherrock.
The Queen of the Palace not only struck a massive blow for women's sport when she became the first woman to win a match at the World Championships, but it also boosted the profile of darts.
Sheldon was at home watching on TV when Sherrock landed double 18 to break through the glass ceiling.
"It was me and my dad watching," she remembers. "I was delighted for her, it's nice to see the recognition.
"It gave a kick to darts in general. Even teachers in my school, Old Bawn Community, came up to me and said they saw Fallon, on the news or in the papers.
"It shows anything is possible."
SHERROCK MAKES HISTORY.

Fallon Sherrock has become the first woman to win a match at the PDC World Championship.

Just look at these scenes, a history making moment for darts. pic.twitter.com/zqoOeyQLmt

— PDC Darts (@OfficialPDC) December 17, 2019
Sheldon's titles are too numerous to list and there's not enough room on the mantelpiece.
But it's not all plain sailing. Setbacks are part of sport and like her pairs and Ireland team-mate Barry, Sheldon brings a relaxed attitude to the game.
Her run in a tournament in Turkey a couple of years back came to a halt when her home-town opponent failed to observe the 7 feet 9 1/4 inches social distancing rule between toe and board.
"She shook the girl's hand and wished her the best of luck. She was disappointed and angry about it but she didn't show it," says her dad, also her travelling companion.
Nobody knows when sport will be back on track but Sheldon, who says golfer Shane Lowry is her Irish sporting idol, has set herself a goal of sorts.
Ireland's number one ranked ladies player says: "If and when things get back to normal I'll try to play in the ladies qualifier for the World Championships but I wouldn't put too much pressure on myself.
"If I qualify I qualify, it's just one of them things. It's not easy.
"I don't think people realise the talent and standards of the women players. Some of the players are amazing."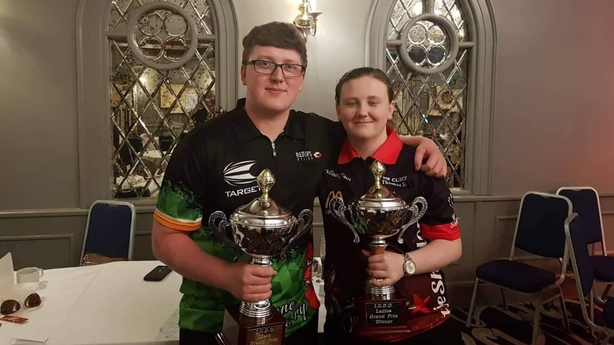 Barry, the current Irish Matchplay and dual world youth champion, has known Sheldon for years, playing in national and international events together. "She's confident, funny and determined," he says.
Keith O'Neill, who is the director of operations for the Junior Darts Corporation in Ireland, first met Sheldon when she arrived at the academy in Tallaght in a couple of years back.
He has seen her progress first hand.
"When Katie first came to the academy I knew there was something special about her," he says.
"She had a self-belief and confidence about her that shone through in her game, and being the only girl there didn't faze her one bit, she finished high up in all competitions she entered."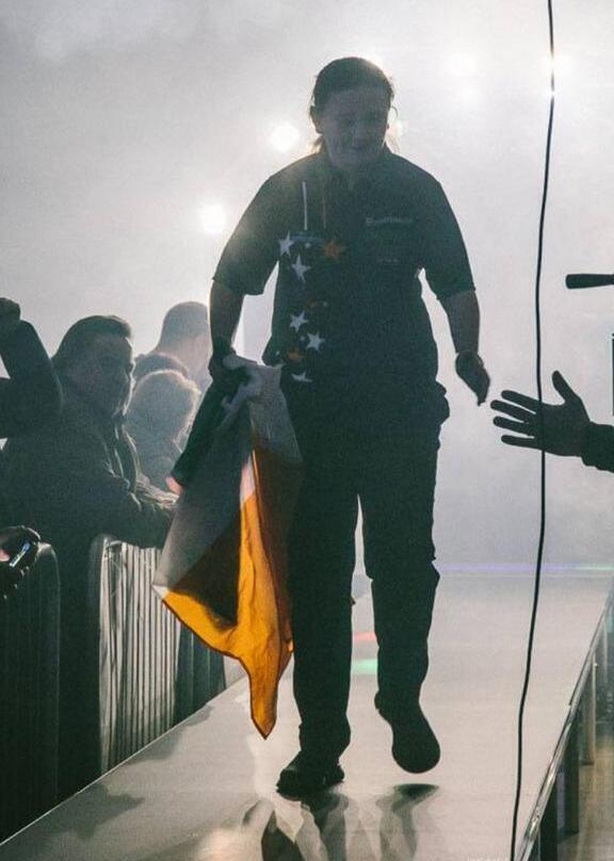 When young people excel at sport then it almost always involves sacrifice. It's no different for Sheldon, who has had to miss out on what most teenagers take for granted, not that she's complaining.
"I get the texts, 'are you coming out this weekend?' and I've to say I'm playing darts but that's my choice," she says.
"I'd rather go to a darts tournament than just hang out. That said, I do miss my friends but in normal times I get to see them at school.
"Playing darts is my choice, no one tells me what to do or how long to play for. In that sense I don't think I miss out on much because it's my call."