Fallon Sherrock called her draw against Glen Durrant at the Unibet Premier League in Nottingham an experience she will "never forget".
Sherrock, who became the first woman to win a match at the PDC World Championship in December, narrowly failed to create more history as she drew 6-6 with Durrant.
The 25-year-old was bidding to become the first challenger to win at the tournament.
She stayed in the match throughout and had the crowd on their feet in leg seven with three triple-figure visits before a superb 92 checkout with bull, six and double 18.
Sherrock threw for the match in the final leg but was broken by the three-time BDO world champion and had to settle for a draw.
"It feels amazing because my aim when I went up there was just to not lose," said Sherrock. "I got a draw and I'm so happy. The first woman to play in it and I got a draw, I'm so chuffed.
"I'm going to take time to reflect on everything and just enjoy it. I'll look back at all this and just think it was an amazing experience. These are experiences I will never forget.
"I'm not disappointed (after being 6-4 up). If he missed doubles I was just so confident I would take mine out.
"I felt so comfortable up there and I am so looking forward to the UK Open. It's so amazing that women can compete against the men and show what we can do. I'm so excited."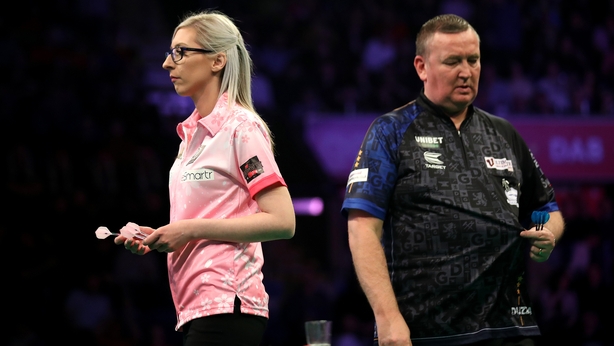 Durrant missed a string of doubles throughout the match but finally found his range in the last leg to break Sherrock's throw and earn himself a point.
The 49-year-old paid tribute to his opponent, who had the vociferous backing of the Nottingham crowd.
"All credit goes to Fallon," he told Sky Sports. "She's just had the most amazing couple of months. That just cemented that.
"To play in the Premier League... that was the toughest game I've ever had. Playing Fallon Sherrock on that stage is a lot harder than maybe I anticipated. I'm very lucky to get the draw."