Tonight it's the glamour.
Four world champions, ten world titles, and last year's Grand Prix and UK Open winners will walk on stage to the cheers of a sold-out arena.
Eight men have survived to the second phase of the Premier League and one of those will pick up a cheque for £250,000 at London's O2 next month.
Van Gerwen, Barney, Gary Anderson, Snakebite, Rob Cross and Daryl Gurney from Derry are among the contenders.
These are the elite players of world darts, displaying their skills to a worldwide audience.
But last weekend it was the graft.
One hundred and 28 men lined up in Barnsley to battle it out for two £10,000 cheques for the winners of Players Championships Seven and Eight, the Pro Tour floor tournaments played away from the TV cameras and the boisterous crowds.
And one of those men got caught up in a different kind of battle on Saturday.
Darren Webster, a 2018 World Championship quarter-finalist, ended up with a busted nose after being head-butted by a thug in the street after the Barnsley versus Sheffield United Championship derby.
Darren Webster suffers suspected broken nose yesterday in Barnsley https://t.co/knpTtZVf8B pic.twitter.com/b4i1g6yQg1

— Dart swap (@dartswap) April 8, 2018
On the oche, 44-year-old journeyman Mickey Mansell from Tyrone lost in the first round, 6-5 to Darren Johnson.
It's a long way from the Premier League.
But just over 24 hours later the Clonoe man's arms were raised in triumph as he celebrated his first ever Professional Darts Corporation tour title win, beating two-time world champion Adrian Lewis in the final.
"The floor events are so hard," Mansell tells RTÉ Sport.
"You hear a lot about players playing well on the floor and not doing it on TV. On the floor it's even harder sometimes because on the floor everybody can produce a game that can beat anybody else."
In his 53-leg campaign on Sunday, Mickey Mansell hit 52 140s and 52 100s - very nearly one of each for every leg he played.

— Christopher Kempf (@ochepedia) April 11, 2018
It's an issue that has been bugging Mansell for a while: consistency.
He knows he can beat the best, but bringing your 'A' game to the floor every weekend is a different matter.
That's why this win was special, a "massive achievement". He's been on the circuit for almost 10 years, he has a full-time job as a joiner.
He competes against guys who can afford to practise for five hours a day. He's lucky if he can get an hour away from his family and work commitments to loosen the arm.
He'll meet players who have come up through the development tour and then more experienced guys who have honed their trade over a lifetime of dedication.
And it's a sport he only began to take seriously after hanging up his football boots.
"I was playing club football for Clonoe and I loved it," says Mansell, now ranked 66th in the order of merit.
"I played football until I was 33. When I quit that, instead of training two or three nights a week, I had a bit more time."
Mansell was a member of the Clonoe O'Rahilly's panel that won the Tyrone SFC in 1991. Coming through the ranks he could count Kevin McCabe, Tyrone's first All Star, as a team-mate.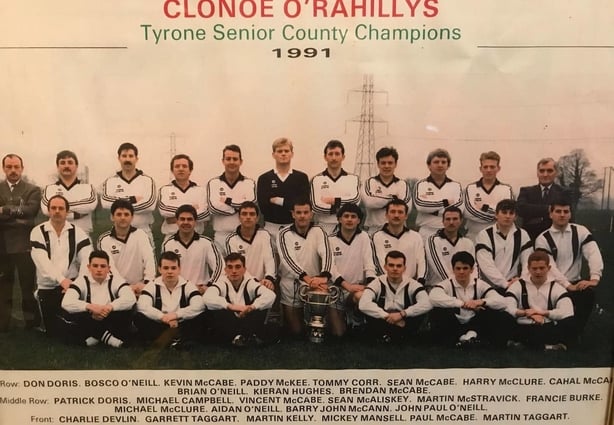 The McClures, Mickey and Harry, All-Ireland finalists in 1986, were also there.
He played alongside the amateur boxer Tommy Corr, Ireland's bronze medallist from the 1982 World Championships and 1984 Olympian, "as tough a hoor as there was".
"I wasn't an outstanding footballer but I loved it. You can only play it to a certain age, when the legs won't do what the head says, it's time to go.
"I was centre-half forward, knocking around that area of the field. I had the brain to play but I hadn't the feet to score. I knew who to give it to. I knew my limits."
"When I was playing football, darts was a winter thing. I'd play three or four months over the winter but the two lifestyles don't mix. I'd play on a Friday night or the odd tournament on a Saturday.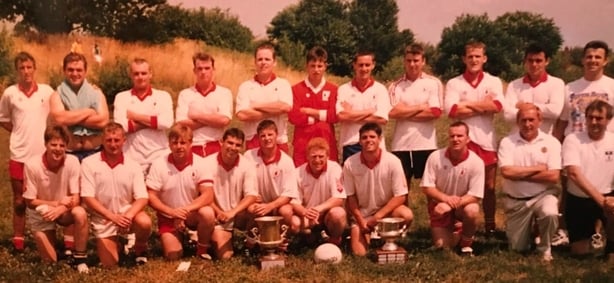 "I wasn't chasing it, because of the football. That's not to say that I don't like the [darts] lifestyle but I knew as I was getting older I needed to stay in shape that bit more. I had to stay away from the lifestyle.
"I'd quit the darts around April and that was it, I'd play football the whole rest of the year.
"When I quit football I'd more time to practise and I went to a few tournaments around Ireland.
"I won the Tom Kirby [Memorial] in 2010, which got me on to the World Championship.
"That was the big breakthrough, it opened the door and gave me a bit of belief to go and see what I could achieve."
Fantastic result for @C10noeCyclone to win his first PDC title !!!! Congratulations !! Also credits to @jackpot180 for having a near perfect weekend !! Good to see you back on track to where you belong mate.

— Raymond v Barneveld (@Raybar180) April 8, 2018
The answer to what he could achieve, for the next few years, was not much. He made three appearances at the World Championships but couldn't progress past the first round.
His previous best in the Players championship was a 2010 semi-final.
There was a quarter-final appearance in the Grand Prix in 2014 in Dublin. He earned and then lost his place on the Northern Ireland team when Gurney emerged on the scene.
The Clonoe Cyclone, who reached world number 39 at one point, lost his tour card in 2016 but won it back last year in Q School.
"The week before last I was thinking 'where is the whole thing going?' says the left-hander, revealing the reality of life on the circuit for the majority of players.
"I've been here knocking about the tour, not making much headway, knowing I'm good enough to win games but not getting that breakthrough.
"To be honest the last eight years I've been on the PDC, up to the middle of last year the stress is serious because of the financial output and up until last year there was entry fees, which are now done away with.
"There was a serious amount of outlay every time I was going away.
WINNER | Mickey Mansell has won his first PDC title after a 6-4 win over Adrian Lewis!#PC8 pic.twitter.com/ZP3lSZzoRx

— PDC Darts (@OfficialPDC) April 8, 2018
"So it wasn't just about going away for a game of darts. There was pressure every weekend to win, to subsidise the money I was taking out to go to play darts and it became about winning.
"Every weekend I get on a plane I knew I had to win games.
"I really wasn't operating on a level playing field.
"A lot of lads are sponsored. So if they've a bad weekend there wasn't much thought of it, whereas I knew if I'd two bad weekends, or three, it would have drawn the line for me. I couldn't afford that.
"It was always my mindset to have to win money to keep the whole thing going.
"I might have had a bad weekend but I could never afford three bad weekends because there was too much outlay. I was missing days at work and I've three children at home. There was an awful lot on the line and there still is.
Mansell dropped just 11 legs on route to victory in Barnsley

🌪 6-0 K Huybretchs
🌪 6-0 Eastwood
🌪 6-1 Norris
🌪 6-0 Thornton
🌪 6-3 Price
🌪 6-3 Payne
🌪 6-4 A Lewis

👏 Incredible @C10noeCyclone!

— The Maximum 🎯 (@TheMaximum180) April 8, 2018
"I've always seen other fellows doing it and knew the opportunities were there and one day can change everything for you.
"It just takes one day for something to happen, to play the way you know you can, for it to take off and thankfully for me that day happened on Sunday."
So what did happen on Sunday? How did Mansell overcome seven opponents, all higher in the rankings to claim his maiden title?
He's not sure. There was some messing around with stems and flights, he had been given a new set of tailor-made darts by Cosmo, moving up from 23g to 25g, but hadn't had a chance to try them out.
On Sunday morning he decided to give them a go.
He had been happy with his game over the last couple of weeks but there was no real indication of what was to come - a 96.9 three-dart average and an amazing 86 per cent on his doubles in the final.
Mansell 6-0 Thornton. He's 24-1 in legs now. What sort of sorcery is this man up to? https://t.co/cYWWWW6UKj

— Christopher Kempf (@ochepedia) April 8, 2018
Mansell raced through to the final, dropping just seven legs over six games – including wins over Kim Huybrechts, Robbie Thornton and Gerwyn Price – before the final against Lewis.
"I was flying," says Mansell, who started the event ranked 77th.
"I'd played them all recently and beaten them, except Robert Thornton.
"I'd beaten Adrian for the first time in four attempts a few weeks previous, 6-1 and he was lucky to win that one.
"I wasn't thinking about Adrian, that I needed to do anything differently. But I knew I needed to finish. You can't give anyone chances but you definitely give a two-time world champion chances."
98 average and 85.71% doubles in the final of #PC8 against the two-time World Champion Adrian Lewis. Well deserved victory @C10noeCyclone 🏆#LoveTheDarts #Darts#PC8 #Barnsley pic.twitter.com/Gw7lSrVnhF

— TheRedBit 🔴 (@TheRedBit180) April 8, 2018
Next up for Mansell is another Players Championship weekend at the end of April, this time at the Robin Park Tennis Centre in Wigan. Talk about glamour.
"I have to be realistic; as much as I'd love to move on and do this my lifestyle is not creating that opportunity," he adds honestly.
"I'm in a professional field but I'm not a professional player so it's very hard to compete with a boy that's doing four or five hours a day whereas I'm struggling to get a couple of hours after I come back from work with children and stuff.
"But I'm not complaining, that's the way it is. I have to be realistic and I can't turn around and say I'm going to win the world championships. I'm doing well for what my lifestyle permits me to do.
"You are judged on results but not everyone is coming from the same background. But we are all judged the exact same, and you just have to put up with it."