Do not go gentle into that good night,
Old age should burn and rage at close of day.
Phil Taylor is raging against the dying of the light.
The final flicker of the greatest darts player of all time will come tonight against debutant Rob Cross, conqueror of reigning champion Michael van Gerwen last time out.
His departure from the Alexandra Palace stage, crowned world champion for a 17th time or a beaten finalist for a fifth time, will bring the curtain down on one of the most remarkable sporting careers of the last 30 years.
For three decades no star burned more brightly and the man who single-handedly, literally, changed the sport beyond recognition will have to live without it. 
The adrenaline rush, the glory, the Power. All gone.
The nickname came from a late decision by a Sky Sports floor manager at an event in 1995, the walk-on music was 'I've Got the Power', the dance hit by the group Snap. The name stuck.
Taylor, born in Stoke-on-Trent in 1960, would have preferred something else, but soon the legend grew and his performances lived up to the moniker.
When he turned it on, no-one could live with him on the oche.
The accuracy from 7 foot 9 and 1/4 inches was awesome; the consistency unbelievable.
Records tumbled like bowling pins.
He won his first World Championship title in 1990, beating his mentor Eric Bristow in the final.
He added another BDO World title in 1992 before the formation of the World Darts Council (later the PDC) and has since landed 14 more, a tally that includes eight in a row between 1995-2002.
Officially he has won 102 televised titles and another 83 off the box.
They include 16 Matchplay wins, six Premier League successes and 11 Grand Prix victories in Dublin.
He has hit 11 nine-dart finishes on TV.
But at the start of this year he announced that he would retire post-World Championships. With a 57th birthday on the horizon, he'd had enough.
"I'm ready for what we call a normal life," he said late last year. "Where I'm not sitting on motorways every week and staying in hotels and having a bit of time at home.
"I've earned the right to sit back a little bit now and let the others take over. I don't want to be 60 or 70 years old and still on TV, I want to do other things now and have a normal life." 
There's a theory that his power began to wane in the final set of the 2015 decider against Gary Anderson.
Taylor had three darts in hand for double 16 – something he could do blindfolded – to make it 1-1, he missed. The Scot kicked on and won his first of two in a row.
We need your consent to load this Facebook contentWe use Facebook to manage extra content that can set cookies on your device and collect data about your activity. Please review their details and accept them to load the content.Manage Preferences
Since then the Power has surged on occasion but his wins became notable for their rarity.
Sitting at number six in the PDC's Order of Merit, he has become almost a shadow of his former self, a victim to age, his limbs no longer able for the intense season.  
The darts calendar now is packed, they travel across the world, Las Vegas to Auckland and back again. The travel takes its toll.
Taylor can arrive in Melbourne after a long-haul flight and face some young whipper-snapper, full of energy, with the drive and talent to take him down.
The man is a divisive figure and how he has dealt with becoming a mere darts mortal has given ammunition to his critics.
Sometimes cantankerous, strangely aloof during post-match TV interviews, Taylor's long goodbye has seen some highlights but there is a danger that recency bias may tarnish his legacy. 
His Matchplay win in Blackpool in July, where he destroyed Michael van Gerwen (world number 1), Raymond van Barneveld (9), Adrian Lewis (4) and Peter Wright (3) along the way, was a blast from the past. Darts magic.
A 16-4 win over Derry's Daryl Gurney, current Grand Prix champion, at the recent Grand Slam was described by John Part as "a time-tunnel back to 2001 / 2002 when he used to do that to everybody all the time."
But at times the undisputed greatest of all time has let his frustration at not being competitive get in the way of his judgement.
His etiquette on the oche left a lot to be desired.
Various displays of petulance over the last 18 months were unbecoming for someone who has changed the landscape of the sport.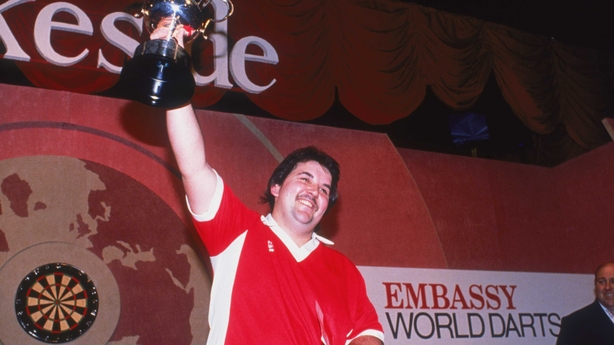 When Taylor won his very first World Championship in 1990 he drove home from the Lakeside in an Austin Princess car, bought for £30, with holes in each door.
He went on to earn an estimated £7m throughout his career and he appreciated every penny.
That's how it is for someone who grew up sleeping on the ground floor of a rented council house because the stairs had been condemned.
He was earning £74 a week and was handed a cheque for £24,000 when he won 27 years ago.
The fact that the winner of this year's event will take home £400,000 is a stark testimony to what the man has done for the game.
Alongside promoter Barry Hearn, and the late commentator Sid Waddell, he has advanced the sport to where it is now.
On one day of the 2014 Sky Sport extravaganza the event had more viewers than the Ashes.
From a derided pub game that had dipped to just two televised events per year at the time of the split from the BDO, it is now almost omnipresent.
The vista of two, often plump men, propelling three tungsten arrows at an 30mm x 8mm red strip is now so popular that the BBC and ITV both announced new deals this year.
Here it is, the 2017 PDC Christmas Advert... The Three Trebles!

RT to be in with the chance to WIN two tickets to the @WilliamHill World Darts Championship Final! #RTtoWin #Competition pic.twitter.com/F3A1bsuijn

— PDC Darts (@OfficialPDC) November 28, 2017
Taylor and his ability with three 26 gram arrows did this.
But winning titles for 27 years comes at a cost.
Most of the world's top sports stars hate losing. That's why they win so much.
As much as fans would like everyone to behave like Roger Federer or Katie Taylor, the reality is that the driving force that makes most champions is a ruthless streak, a vicious single-mindedness that asks or gives no quarter.  
That Taylor doesn't take losing well should come as a surprise to no one. More recently, however, even his reaction to victory has not been in the best of order. 
In the aftermath of last year's Champions League win, a new tournament on the BBC, he felt compelled to bring up a match from 24 years ago.
Mike Gregory missed six match darts to beat Taylor in the World Championship final.
Gregory had a brief stint in the breakaway WDC before returning to the BDO, a haunting decision given how events played out.
"The last time I was on BBC winning was in 1992 against Mike Gregory and I'm sure he's watching. To Mike Gregory - look at what you could have won," said Taylor.
It just seemed so needless.
The former factory worker, who made ceramic handles for toilet flushers, has been finding his decline hard to take.
DESTINY IT IS!

Phil Taylor clinched an incredible eighth PDC World Championship title in a row, and his 10th in total back in 2002 as he WHITEWASHED Peter Manley... Needle on stage too.

EIGHT DAYS TO GO! 🎯 pic.twitter.com/XiQDiMI0qj

— PDC Darts (@OfficialPDC) December 6, 2017
"No mercy, no let-ups, no exceptions," was Taylor's mantra as he crushed his opponents. Now he has to regularly deal with big defeats.
His current nemesis is Van Gerwen, a two-time world champion who last year obliterated Taylor's record three-dart average of 118.66 that had stood since 2010.
It was a sign of the times that MVG took it with such aplomb, 123.40 – like knocking two seconds off the 100m record, said an excited commentator on the night.
"Phil is the greatest ever but I think I'm the best darts player ever," is a phrase Van Gerwen coined late last year. His averages seem to bear that out.
The world number one had been deferential to Taylor for so long but even he has got fed up and says "it's just time to say goodbye to him".
And as the clock ticks down the contradictions that make up Taylor were more evident at last month's Grand Slam.
Taylor admitted in 2013 that Bristow had taught him to "unnerve opponents".
But still the self-confessed "winder-upper" castigated Gurney as a "zombie" after a 16-4 win.
Taylor called the Irishman a "disrespectful little shit" for not pouring him a glass of water on the stage.
He added: "Let him have a taste of his own medicine. Let him sit down and cry, I don't really give a shite to be honest."
Asked about a potential meeting with Van Gerwen in the semi-finals, Taylor said: "He's the best winner in the world...but when he loses he's the biggest mard-arse [whiner] who ever drew breath."
They did meet in the next round and Taylor's foul mood was evident as he began to lose ground. He took umbrage at MVG celebrating his successful outshots.
After a 16-8 win the Dutchman, unusually, revealed what happened backstage during a break.
"He tried a few of his tricks," he told Sky Sports.
"I just walked off, had a little nip of my drink and he comes to me, 'You shouldn't do this, you shouldn't do that' and I just said, 'you're a knob again'."
Former World Championship semi-finalist Wayne Mardle summed it up.
"You can't win," he said. "Phil's an odd one. He says 'show off, show off' when you don't show off. When you are showing off he says 'don't show off'."
And even going back to the 2016 Matchplay defeat to MVG there was the unbelievable sight of Taylor leading the crowd in the then-fashionable 'Thunderclap', a display made famous by Iceland's football team at Euro 2016.
The problem? Van Gerwen was in the middle of a visit. It's the kind of thing that, had it been done by an opponent, would piss Taylor off.
He has developed a habit of talking off-mic, not answering the question, name-dropping – Conor McGregor the latest to get an airing.
It's hard to watch and it's confusing. Instead of hailing another wonderful display of genius, viewers are wondering what he was on about in the interview.
It's a long way from how Rod Studd describes his interviews during his period of pomp.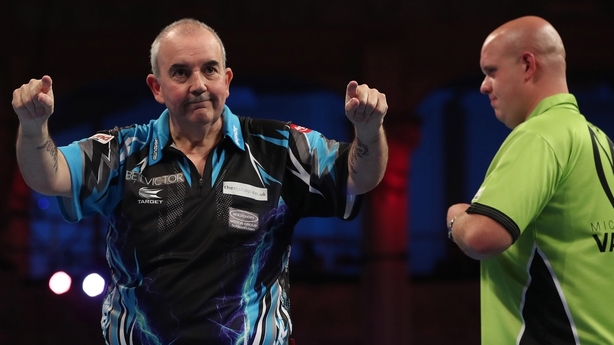 "An art-form," the Sky Sports commentator who has interviewed Taylor down the years, told RTÉ Sport.
"He was informative, he would always be gracious towards his opponent, he was dignified when he won.
"Some of his best interviews were when he lost, like against Van Barneveld in 2007 (in a sudden-death leg for the World Championship)."
He is rightly heralded for his achievements. In terms of domination of his code, he gets mentioned in the same breath as Tiger Woods, Stephen Hendry and Tony McCoy, whom he finished second to in the 2010 BBC Sports Personality of the Year.  
But now as viewers struggle to hear what he is saying in interviews people might be inclined to forget just how great he was.  
He was on top for so long, and now he has to deal with life after darts. 
Asked how he will fill the void, he gives unconvincing answers about playing in exhibitions and acting as an ambassador for the PDC.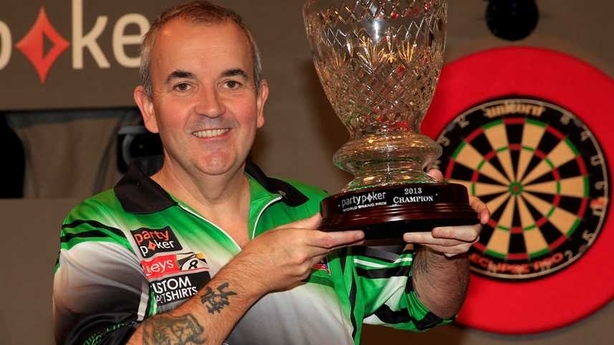 But the answer for his recent behaviour may lie in fact that we don't like to admit.
He's human.
He may have been a god on stage, crushing opponents at will, but our expectations of champions can be excessive to say the least.
Despite the wealth and success, like everyone else, he has had to deal with real life.
Personal problems? You're rich, deal with it. Family issues? But you've got five houses.
Time catching up with you? You're a famous sports star, get on with it.
It's unfair.
His marriage of 23 years broke up in 2014. The divorce was messy.
Taylor's beloved mum died, aged 74, in 2015. Last year two of his daughters told their story to a tabloid newspaper claiming that he had cut them off.
In 2001 he contested a charge of indecent assault on two 23-year-old women after an exhibition in Scotland in 1999. The judge found him guilty and fined him £2,000.
The conviction cost him an MBE and it still rankles.
It's only human nature to get frustrated as age steals ability. Everyone loses their powers at some stage and few, in whatever form it comes, accept it with grace.
Having to come to terms with being a mere contender, while dealing with personal problems, some of his own making, has probably manifested itself in what we see now.
A man raging against the dying of the light.
Now only debutant Rob Cross, himself chasing his own fairytale finish at the Alexandra Palace, can stop his march to more silverware.
But no matter what happens tonight, Taylor will walk away from his wonderland, simply the greatest player the world has ever seen.
SCHEDULE!

Here is the Schedule for the 2017/18 @WilliamHill World Darts Championship...

➡️ https://t.co/xwhfOaOauz#LoveTheDarts  #WHDarts pic.twitter.com/KAYnkFCL7f

— PDC Darts (@OfficialPDC) November 29, 2017