Thursday, 7pm, Sky Sports Main Event. 
A flashy montage with an edgy soundtrack, maybe a few Sid Waddellisms, a raucous crowd in fancy dress - men dressed up as nuns and such - Mardle and Part on analysis, strobe lights flashing, Master of ceremony John McDonald welcomes the 'millions watching around the world' to the Alexandra Palace, London, the players start their walk-on, cut to a Premier League star or a member of the royal family in the audience.
Game on! 
The opening night of the 2018 World Darts Championship in north London is a long way from Tipperary.
But as he prepares for his debut, the first match on opening night, at the premier event in the sport, Willie O'Connor, a carpenter from Cappamore, sits in the cosy confines of Tess Burke's bar in Borrisokane.
The 31-year-old is about to teach this reporter a lesson.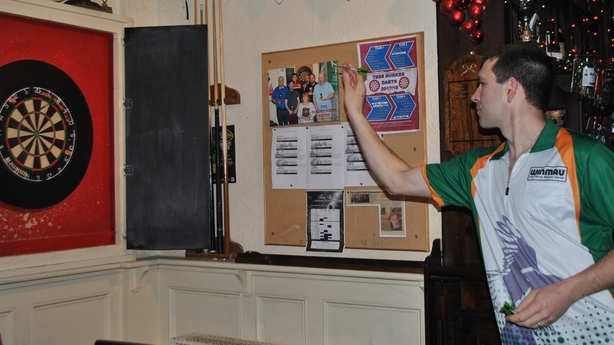 On his way to play a league match in Limerick, O'Connor takes some time out to sit down and talk about his game, his head, his preparation for the duel with Steve 'The Bronzed Adonis' Beaton, tweaking his own game and darts after Phil Taylor. 
At the start of the year O'Connor was losing matches he should have won, literally throwing games away, he says. Frustrated, he knew something needed to change – "my grip changed, my stance changed".
Fast forward to October and O'Connor claims the Irish Matchplay at Citywest, booking his ticket to Ally Pally in the process.
"It meant the world to me," he tells RTÉ Sport. "I failed to qualify a couple of times."
His first ever match at the Worlds, a tournament that has a total prize fund of £1.8m, will be the opening game on opening night.
That doesn't bother him.
"I'll take it head on. If you're not in, you can't win so I'm not going to complain about where I am or who I'm playing."
But before Beaton he must take care of business in Borrisokane.
After a few looseners, our game – first to three legs of 501 – begins.
Limerick's Willie O'Connor geared up for his Ally Pally debut by schooling @micilglennon at the oche #RTEsport pic.twitter.com/0dNA90fE4s

— RTÉ Sport (@RTEsport) December 13, 2017
Leg 1
Not wanting to undermine his confidence ahead of his big day I start with a couple of 45s and a jammy 70.
He shoots a ton and then fires in a maximum with his 22gram custom-made Winmau darts . I know I'm up against it now.
By the time he takes out 80 with two darts I'm way back on 170. The dream of the big fish dies. 
There's a newspaper clipping of a recent tournament he won at the venue beside the oche. "I can't remember when that was," he says modestly but the picture looks recent.
"Says here you won the final 9-0," I prompt.
"Oh, maybe I remember that," he says.
Has he imagined what it will be like walking out on the stage at the World Championships for the first time?
"No, not really. I'll treat it the same as any other tournament on any other stage I've ever played on.
"I honestly don't know how I'll react. You don't know until it comes.
"I suppose it's a frame of mind, get your mind right first.
"Practice all your different routines that you are going to get in your game, get all those things right and hopefully everything clicks."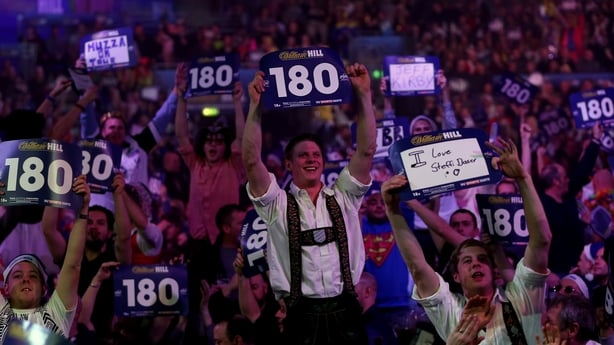 Leg 2 
Everything is clicking for O'Connor in Burke's and he is unfazed when I start mixing up a barrage of 26s: switching from 20, 1 and 5 to 5, 1 and 20, then 1, 20, 5. 
He knocks in a couple of 140s. Good darts, I mutter while trying to calculate what's left when you subtract 45 from 423.
By the time he pins double 16, I'm struggling to break 300.
The pressure is off in this contest. How will he deal with the pressure in the Palace?
"To me there's no hype. It's just another game, it is what you make it.
"As Mickey Mansell [the professional from Tyrone] says, 'it's as awkward as you make it and as simple as you make it'.
"I've got a decent record against Steve in recent times.
"When I heard the draw I said to myself I have a great chance.
"It'll definitely be tight but I feel very confident that I can win the game.
"I've changed my game up a lot. I'm only at the very bottom of what I can do at the minute. I'm showing big improvements.
"I've a lot in the locker. Hopefully it does come out."
O'Connor is one of four Irish players at this year's event, incidentally Taylor's last tournament as a pro.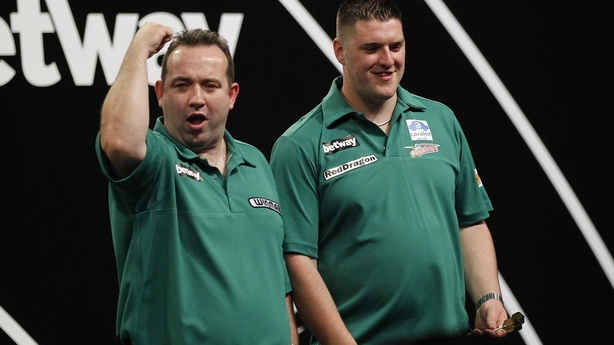 World number four Daryl Gurney, his Northern Ireland team-mate Brendan Dolan (ranked 36) and Carlow's Steve Lennon (66), also a debutant, are the others in the mix.
That's the biggest representation from the island since 2009 and it comes just months after Gurney became the first Irish player to win a major, the World Grand Prix in Citywest on the same evening that O'Connor clinched his place by winning the Tom Kirby Memorial Matchplay Championship. 
That event is named after the first Irish player to join the PDC and who went on to make it to the World Championship quarter-final in 1994.
He acknowledges that the current healthy state of Irish darts is down to what those that have gone before have done.
"Even going back as far as Tom Kirby himself, Jack McKenna, all fantastic players, you look back at everyone.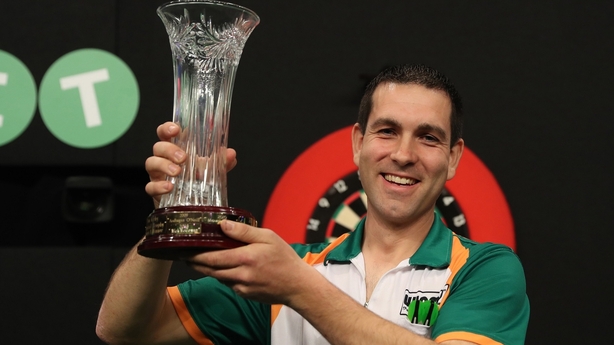 "Brendan Dolan, absolutely. Mickey Mansell, Mick McGowan, Daryl, all these lads are an inspiration to everybody.
"All these lads have done massive things for the Irish game."
It's a game that the O'Connor, nicked-named The Magpie, almost gave up for good at one point.
There was mysterious incident back in 2009. After a solid season, O'Connor reckoned he was an automatic pick for the Ireland squad for the BDO World Cup in Canada.
Then he received a phone call to say it had been decided that he wasn't being used.
Nothing more came by way of an explanation.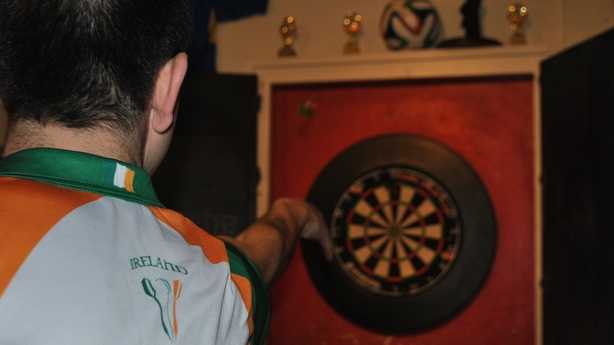 "It pushed me on to bigger things," he says.
"It pushed me on to the PDC. I wasn't really ready for the PDC but I wouldn't be here today if it wasn't for them so I don't really mind."
Ranked 63 in the PDC order of merit, O'Connor, who stands almost 6' 2", recently overcame a wrist injury and he'll arrive at the London venue in very good form.
Although he missed a match dart before losing 10-9 to Justin Pipe in the last-16 of the Players Championship Finals last month, he had already accounted for James Wilson – a win celebrated with a dangerous-looking hitch-kick hop off the stage – and Premier League regular and world number 8 Dave Chisnall.
He also reached the same stage of the UK Open back in March. 
"It definitely gives you a good boost going on stage," he says and adds that he won't alter his practice routine too much.
"Knowing that you're okay, that your head is okay for the stage.
"I keep it fairly casual. I keep it the same, I don't want anything to change. 
"I'm not going to make it something bigger than it is. Otherwise you'll go in with a big swelled head and you'll blow up."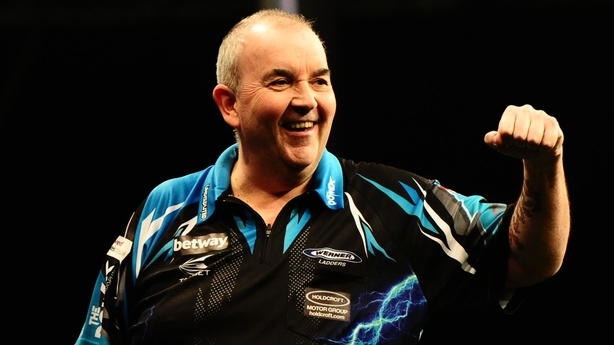 No matter what happens and who wins – Michael van Gerwen is an overwhelming favourite to claim his third title and second in a row – this year's event will be remembered as Taylor's swansong.
The Power hasn't been the same in recent years. The last of his 16 World titles came in 2013 and although he came very close in 2015, losing to Gary Anderson 7-6 in the final, he has been unable to recreate the consistency that was once his trademark. 
Will he be missed on the circuit?
"He's the best player of all time but the game can go on without him now," says O'Connor, a Republic of Ireland international, who is fiercely "proud" to have represented his country at every World Cup of Darts since it began in 2010.
"The game wouldn't be where it is today only for Phil Taylor. He's the best player ever to live and is and probably will be the best player ever.
"I don't think anyone will ever come close to what that man has achieved."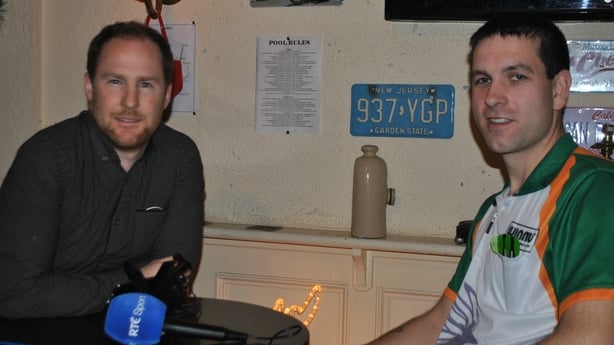 Leg 3
In a bid to confuse him I thrown one of my arrows out of the scoring area altogether but O'Connor is on a roll now and hits another maximum.
I just want to get out of here. It's quick and painful as he lands a double top to claim a 3-0 win.
We shake hands and the rest of the players, who were waiting patiently line up to chalk and then have a shot at O'Connor.
They make more of a contest of it but he dispatches them with a smile and a minimum of fuss.
As I line up a video shot I ask, "do you do 180s on request?"
"I'll give it a go," he replies.
60! 60! 60!. First time. Ah here, he was going easy on me. 
We need your consent to load this SoundCloud contentWe use SoundCloud to manage extra content that can set cookies on your device and collect data about your activity. Please review their details and accept them to load the content.Manage Preferences