Raymond van Barneveld is bidding to extend his fine run of form in the Betway Premier League when he doubles up alongside James Wade at Dublin's 3Arena on Thursday (Live blog on RTÉ.ie).
Dutch star Van Barneveld is on the season's best run after winning four successive games during March, and could move top of the Premier League table as he competes twice in Dublin.
The 2014 champion will play great rival Phil Taylor first, before returning to the stage against left-hander Wade for the night's final contest.
"I'm happy with how it's going," said Van Barneveld. "I've won the last four matches now and I've got to take it one game at a time this week.
"It's a big night for me and I'm excited. The fans are fantastic everywhere and always in Ireland, and I love that.
"I want to take advantage of that and I'm enjoying it, and if I'm enjoying myself then Raymond van Barneveld is dangerous!"
Taylor sits a point behind Van Barneveld following back-to-back wins, and the 16-time World Champion is excited by what could be his final big-stage battle with Van Barneveld.
"I'm going okay - I've got 11 points and the aim is to get into the Play-Offs," said Taylor. "That's what I'm working towards and every point is crucial.
"It's going to be noisy in Dublin and I'll look forward to it, especially as I'm playing Barney. I always look forward to playing Barney and I enjoy it."It was close when we last played and I love playing him more than anyone. He's like Ronnie O'Sullivan or Eric Bristow, it's special, and I love the occasions."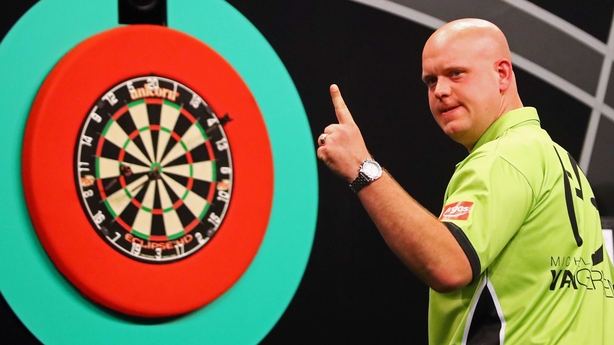 The night's opening game sees Wade taking on league leader Michael van Gerwen, with the World Champion in confident mood after picking up the season's biggest margin of victory with a 7-1 defeat of Dave Chisnall last week.
"I'm feeling good and I'm top of the table, and I want to carry on with these performances," said Van Gerwen.
"I've played okay so far this season but there's more in the tank to come and I'm going to need it later in the tournament.
"I've got to make sure I focus on the game with James and I want to get another two points in front of a great crowd in Dublin. I've got great memories there and I want to keep believing in myself and keep my performances going."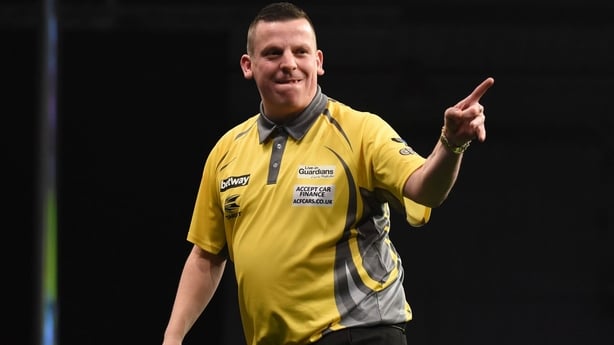 Chisnall sits in eighth place going into the second phase of the season, and is five points adrift of the top four ahead of his key clash with high-flying Peter Wright.
"It's a massive night for me," said Chisnall. "If I can get a result I believe I can get on a good run to put the pressure on the others.
"I haven't been playing that badly but it's been frustrating for me, but it's still in my hands and I've got to get the results."
The night's other game sees Gary Anderson and Adrian Lewis clash for the second successive week, with the Scot having picked up a superb 7-3 victory a week ago.
"I was really pleased with the win last week and the average was better than I thought, but this is a new game and anything could happen," said Anderson.
"When Adrian's on form we all know how good he can be and he's been playing well recently, so I'm looking forward to it. We're all fighting to get in the top four now and every game's important now."
The Betway Premier League at Dublin's 3Arena will begin at 7pm on Thursday, live on Sky Sports and screened worldwide through the PDC's series of international broadcast partners.
Betway Premier League Night Ten
James Wade v Michael van Gerwen
Raymond van Barneveld v Phil Taylor
Dave Chisnall v Peter Wright
Adrian Lewis v Gary Anderson
James Wade v Raymond van Barneveld
Follow all the action with our live blog on RTÉ.ie Sport and the News Now app from 6pm