"I never will chase his titles. Phil is the greatest ever but I think I'm the best darts player ever."
Michael van Gerwen is not going to set himself up as a hostage to fortune by proclaiming he's after Phil Taylor's incredible record of 83 major titles, 16 of which are World Championship wins.
He's too smart for that.
Despite a phenomenal 2016, in which the Dutchman won 25 PDC titles, Taylor's records are out of reach, he says.
Long ago The Power cemented his status as the "greatest" so MVG knows he must build his own legacy.
Taylor's legend will be utter domination; Van Gerwen's wants his to be the gold standard.
What does the Dutchman mean when he says he's the "best"?
"If you look at [Phil's] average and his game when he was on top, he always used to win with an average between 105 and 110," says Van Gerwen.
"I showed in the Premier League this year and the year before I can regularly get over the 110 average. I also broke his record and things like that."
In a 7-1 Premier League win over Michael Smith back in February, Mighty Mike hit a barely believable average of 123.40, and had missed doubles that would have given him a 130+ average. The previous record, held by Taylor, was 118.
HISTORY MAKER!@MvG180 sets an all time new high average for televised darts of 123.40

A moment in history... https://t.co/BJgOM7qEyf

— PDC Darts (@OfficialPDC) February 25, 2016
One commentator said it was the equivalent of a sprinter knocking two seconds off the 100m record.
"I didn't break his records because I'm a worse player than him," he says, "probably because I'm a better player, and that's arrogant but I think I'm telling the truth and some people don't like it, but I like it.
"I'm never going to win 16 world titles, simple as that. I'm never going to win [that many majors].
"For me what's difficult is there are a lot more good players now than 10 years ago when Phil won the 24 tournaments so you can't really compare.
"I got a lot of respect for Phil but time has changed.
"I hope I can set new levels, new targets [not just] for myself but for everyone else."
That's an honest and mature reading from the 27-year-old, who has 20 majors to his name.
For all that, he has just a solitary World Championship title - victory over Peter Wright in 2014 - and just one other appearance in the decider, his 2013 defeat to Taylor.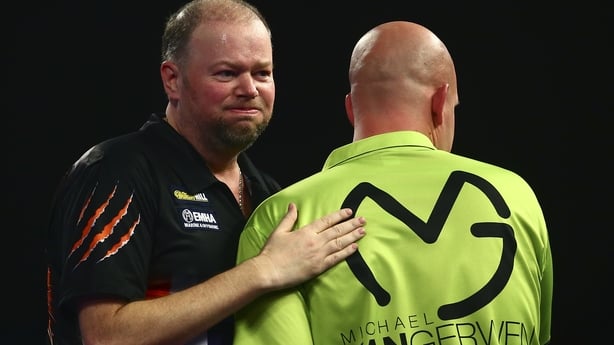 Turn back the clock to the last days of 2015 and hot favourite Van Gerwen is interviewed after his "painful" defeat to Raymond van Barneveld at Alexandra Palace [above].
Yes, he would "throw all the others ones [18 titles] in the bin" in exchange for the World Championship, he said afterwards, unable to hide his disappointment.
But when he was asked a similar question after picking up the Grand Slam title last month, his 25th for the year, his answer was an unequivocal no.
That tally in itself is the achievement, the setting of a standard so high that back-to-back world champion Gary Anderson was brushed aside in the Grand Prix final in Dublin in October. He looks untouchable.
A Champions League final loss to Taylor in September is the only blip this year.
However, last year's defeat, which was a surprise despite Barney's decent record in those match-ups, was not entirely unpredictable.
MVG's 2015 had been quite similar to this year. With two notable exceptions: defeat in the finals of the Premier League and the Grand Prix.
The third-round loss to his compatriot last year was the third time in high-pressure games that Van Gerwen had, by his own high standards [he averaged 105 in defeat to Barney], underperformed.
Having topped the Premier League table in 2015 he was beaten by Anderson in the final.
Last year in Dublin, he faced surprise finalist Robert Thornton in Tallaght; he lost 5-4.
So he had something to prove and he atoned for those final losses with wins over Taylor in the league [11-3] and Anderson in the Grand Prix [Five sets to two].
He created another record in that match, an average of 100.29 in double-in format final.
Backstage at the Citywest, he heaved what looks like a sigh of relief as he hugged a friend.
Michael van Gerwen EXPECTS to win the 2017 World Darts Championship!: https://t.co/MdLYQ2KdjT via @YouTube

— Michael Van Gerwen (@MvG180) December 14, 2016
Now there's just one more box to tick this season.
He'll start his quest on Saturday evening against either Canadian Ross Snook or Finland's Kim Viljanen.
That should be an easy game but in last year's first round he got the fright of his life when qualifier Rene Eidams came back from 2-0 down to force a tie-breaker.
It briefly threatened to become the biggest sporting upset of a year that saw Japan beat South Africa in the Rugby World Cup.
Van Gerwen held his nerve on that occasion but when he met Van Barneveld it was the five-time world champ that won through in a classic.
But it's all lining up to become a perfect year and he describes anything less than victory, for which he's an 8/11 favourite, in London on 2 January as a "disaster".
It's hard to make a case that this won't be his time to become a double world champion.
IRISH IN ACTION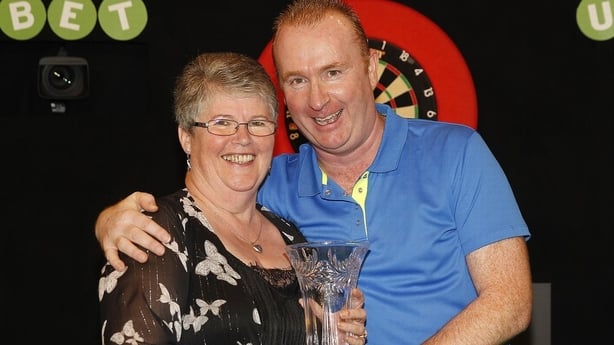 Mick McGowan will the first Irish man in action at this year's championship.
The Balbriggan native, current ranked at 72 in the world, faces Wales' Jamie Lewis in the second match of the opening session, from 7pm tonight.
McGowan qualified courtesy of victory at the Tom Kirby Memorial in October at Citywest. It will be his fourth appearance at the premier event.
Sunday sees Northern Ireland's Daryl Gurney [ranked 24] face Holland's Jermaine Wattimena, while 2011 Grand Prix finalist Brendan Dolan [23] starts his campaign also against Dutch opposition in the form of Christian Kist, the 2012 BDO champion, on Tuesday.
Tonight's schedule [best of five sets]
Jamie Caven (29) v Kevin Painter
Jamie Lewis (30) v Mick McGowan
Gary Anderson (2) v Mark Frost
Michael Smith (11) v Ricky Evans