Phil Taylor and Dave Chisnall will compete in the partypoker.com World Grand Prix final tonight, following their semi-final victories over James Wade and Justin Pipe at the Citywest Hotel in Dublin.
Taylor continued his bid for an 11th World Grand Prix victory with an imperious 5-1 defeat of two-time champion James Wade in their last-four contest.
The world champion took the game's first two sets before Wade hit back in the third, but the fourth proved crucial as Taylor punished his opponent for a string of missed starting doubles by taking the set without reply to move 3-1 up.
Taylor then took the next six legs without reply, hitting finishes of 110 and 100 as he sealed his place in the final with an impressive 96.55 average.
"To be in the final is a dream come true," said Taylor. "It would be my 11th title if I can win this and I'm there in the final.
"I feel good and it was a steady performance. I didn't think James came out of the blocks as well as he could have. He showed patches of what he can do but he didn't click."
Chisnall, meanwhile, won through to his first major PDC final with a 5-2 comeback win over Justin Pipe.
"I didn't think James came out of the blocks as well as he could have" - Phil Taylor
Pipe started the better in their semi-final clash by taking the opening set 3-1, with Chisnall levelling by winning the second in the same manner only for the Taunton ace to take the third by the same scoreline.
Chisnall, though, punished missed doubles from Pipe as he took set four 3-1, and he then swept through the fifth without reply to lead for the first time.
Chisnall then took the sixth set 3-1 as he took his tally of 180s for the game to nine, and he added a tenth in the seventh set as he took the first two legs before landing double four to seal a fine comeback and his place in the final.
"I'm over the moon to win that because it was a tough game," said Chisnall. "From the start I wasn't getting off with my starting doubles and I couldn't get a rhythm.
"When I found a rhythm, I started hitting the 180s and that kept me in the game - my doubles were terrible and that's what I'll be practising on tomorrow!
"I've beaten Phil before and I know what I have to do, but it's a different story in a double-start tournament. It's a little bit harder, and I'll work on my game in the practice room on Sunday afternoon.
"It would be wonderful to win this title but I've got another game yet."
Chisnall won both the German Darts Championship European Tour event and a Players Championship in September and reached the quarter-finals of the World Matchplay in his rise to seventh in the world following a slow first half to the year.
"I've beaten Phil before and I know what I have to do" - Dave Chisnall
"Dave's a cracking player and a lovely lad, and his dedication is unbelievable," added Taylor. "Fair play to him because he's put the effort in, done everything right and he's in the final.
"Since he slipped a little bit, he's worked harder. He's put the effort in and that's why he's reaping the rewards.
"It will be a different type of game in the final because Dave's like another Gary Anderson - if you get him at his best, stay at home! He's exceptional."
A former Lakeside Championship finalist, Chisnall has won eight PDC ProTour titles since joining the PDC circuit in 2011, and admitted that he is happy with his progression into the world's top eight this year.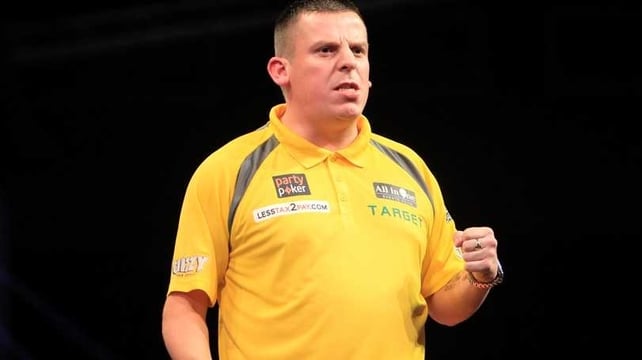 "My first year was one of my best years and last year was quite good, but I had a bit of a slow start this year," he said.
"I've been practising a bit more ahead of this tournament, I had Wes Newton down for a couple of days and he's a good player and we built from each other. I've pulled through and I'm in the World Grand Prix final now, so I'm happy."
Tonight's partypoker.com World Grand Prix is preceded by the decider of the island's leading domestic event as Connie Finnan plays Colin McGarry in the Tom Kirby Memorial Irish Matchplay final.
The winner of the tournament will qualify for the Ladbrokes World Darts Championship in December, with Finnan - who reached the second round of the World Grand Prix earlier this week - looking to repeat his 2011 success in the event.